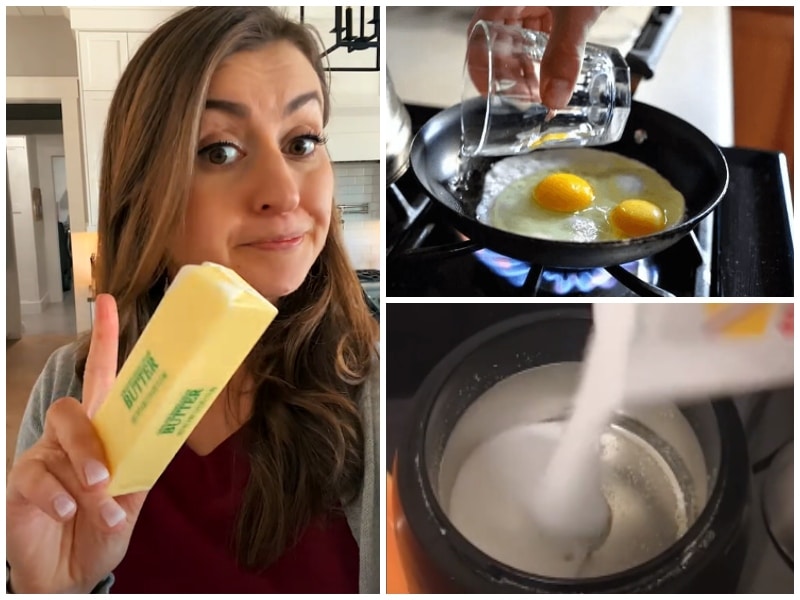 Savoring a delectable home-cooked meal is a universal delight, yet the prospect of extended hours laboring in the kitchen might dampen this joy for many. It's a balancing act to craft a culinary process that combines efficacy with expediency, making meal preparation swift and seamless. The secret lies in mastering an array of seemingly trivial tweaks and tricks that can significantly abbreviate cooking and prep time, most of which conveniently don't necessitate additional purchases. We've curated an array of remarkably clever kitchen tactics that promise to elevate your next kitchen encounter to new heights of convenience and efficiency. So, if you're poised to dazzle your loved ones with your kitchen artistry, let's dive into this treasure trove of remarkably proficient hacks.
This article was originally published on absolutelyconnected.com and has been republished here with permission.
Peel Garlic By Shaking It In a Jar
The efficacy of this innovative technique may hinge on your requirement for numerous garlic cloves simultaneously. People who tried it say, "It's an absolute marvel. In numerous gastronomic establishments I've been part of, the preparatory staff regularly relied on this trick, shaking a horde of garlic cloves between two small pans." Such an ingenious method, passing muster in professional kitchens, should undoubtedly be integrated into your home cooking repertoire.
Abandon the tiresome chore of unpeeling individual garlic cloves with a knife's edge or the futile attempt of extricating the skins with your nails. The simple requisites are a lidded jar or a pair of small, inverted metallic bowls. Introduce your garlic cloves, agitate with gusto, and behold! Fresh, peeled garlic, minus the stubborn, lingering scent on your fingers.
Peel Fruit Using Your Microwave
Fruit peeling can be a real pain, especially if you have to peel several fruits for multiple people in one go. If you want to save time by making the fruit easier to peel, use the microwave. The peel will become much easier to remove by placing the fruit in the microwave for as little as 20 seconds.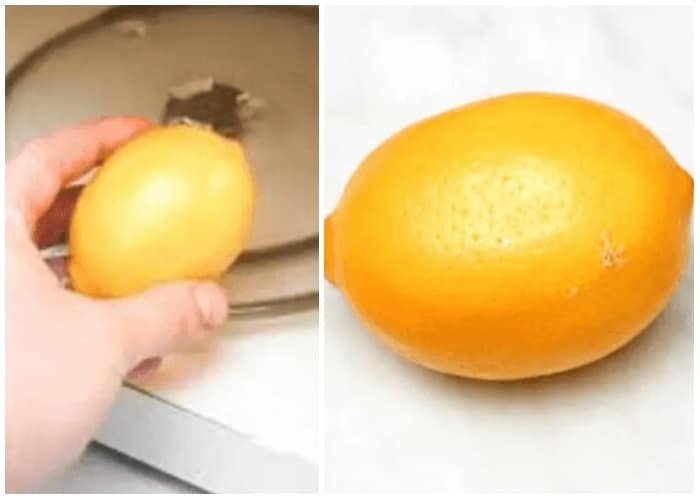 It works because the heat loosens the peel, making it much easier to remove. This hack works wonders for oranges. It is minimal effort for the sweet, sweet prize of an orange peeled with ease. No more juice-covered tables and sticky fingers.
Parchment Paper Can Be Used To Make Cupcakes
This is something that can happen to anyone. Let's say you come across a simple muffin recipe and decide to test it out with a small batch. But then you remember you do not have a muffin tin or cupcake liners. Rather than running to the shop for last-minute cupcake cups, just use parchment paper and your problem will be fixed in a flash.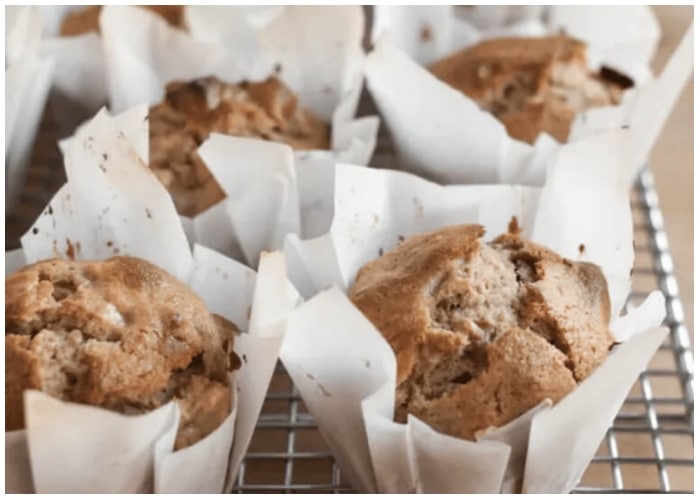 First, cut a sheet of parchment into five-to-six-inch squares. Then, simply pour the batter in and watch your cupcakes or muffins rise while you bake them. You will never run short of liners ever again!
Keep Your Plastic Wrap In The Refrigerator
It is quite inconvenient when you are trying to store your food, and the plastic wrap simply sticks to itself. What if there was a method to keep this from happening? Here we bring you a hack for this!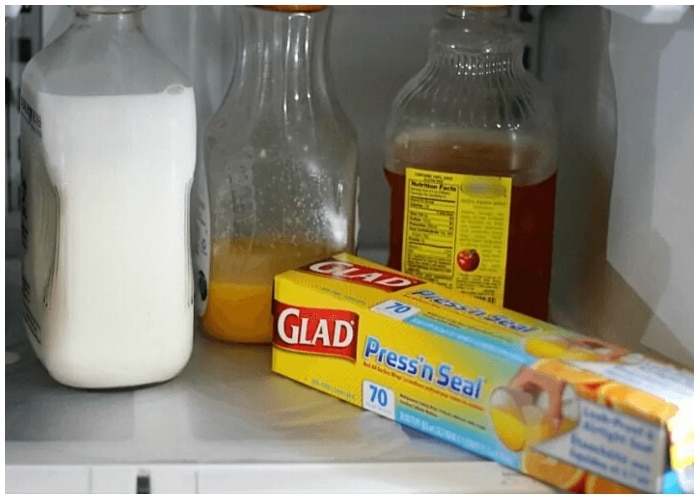 If you keep your plastic wrap cold, as in the fridge, it will stretch much better and more evenly the next time you use it. Due to it being made of thin sheets of polyethylene combined with a few extra adhesives, when chilled, it temporarily loses some of its stickiness, making it easier to wrangle onto a bowl of leftovers.
Use a Wine Bottle as a Rolling Pin
Despite your unwavering conviction that a rolling pin resided somewhere in your kitchen, it vanished into the ether just when the crucial task of kneading pizza dough or crafting sugar cookies or cinnamon rolls beckoned. So what's the remedy for this culinary quandary? Salvation lies within an unexpected hero: a wine bottle with the built-in convenience of a naturally tapered grip.
Your improvised rolling pin must be hygienic, but beyond that, it replicates the traditional apparatus perfectly; there's no call for embellishing its surface with any special coating. As rolling pins are not an exorbitant expenditure and require minimal upkeep, frequent recourse to this trick might signal the need to invest in the real thing.
Pits Your Cherries In An Easier Way
Removing the pits from your cherries can take a long time. While this may not be a big problem if you are simply enjoying a snack, it can become very time-consuming if you need to prepare a large number of them for a dish or for a group of people.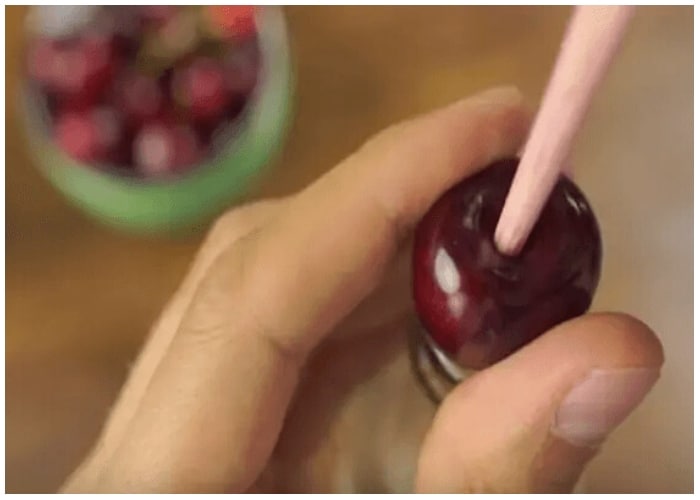 First, pluck the stem, then place the cherry on top of a bottle with the indented side facing up. Hold the fruit, then push a chopstick straight down until the pit comes out from the other end. This is the least messy and fastest method besides using a cherry pitter.
Clean Wooden Cutting Boards With Lemon And Salt
Wooden cutting boards are fantastic, but they can be difficult to keep clean since wood is a porous material. If you do not clean them properly, bacteria can build up over time, and the worst part is that you might not even realize it. It can become a health hazard.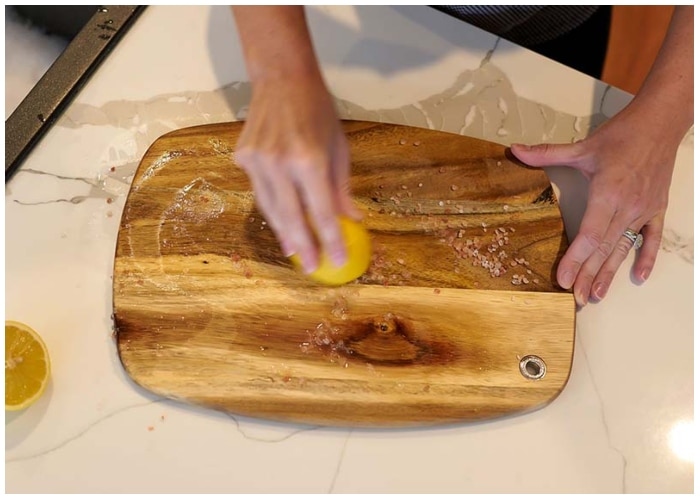 Simply cut a lemon in half and dip it in regular coarse salt. Go ahead and rub it on the cutting board thoroughly until fully clean. Rinse the cutting board with warm water. Lemon juice and salt will leave your cutting boards smelling fresh, removing any possible bad odors and stains.
Prevent Your Microwave From Dehydrating Your Food
Microwaves make our lives easier by speeding up the cooking process, but they may also make food drier. Put some water in a cup and place it in the microwave next to the meal you are preparing to cook up to combat this.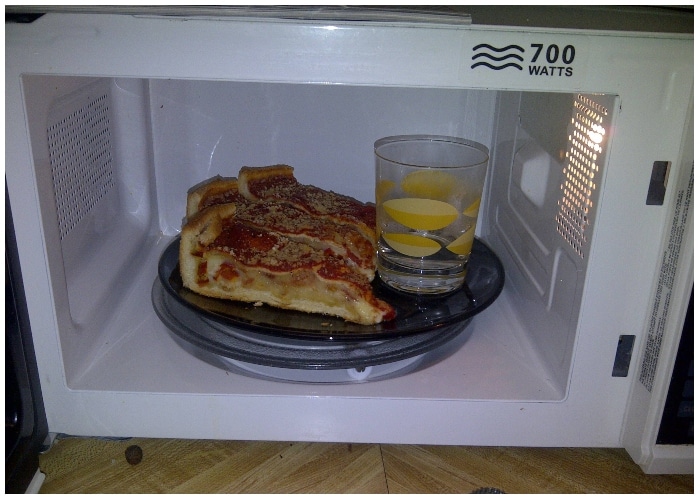 If what you are making is traditionally cooked in water or steamed, like pasta, rice, or vegetables, adding extra moisture can keep the dish tasting fresh! Simply cover the dish (or wrap the food) with a damp paper towel or hand towel. The extra water contained, will create steam in the microwave and quickly revamp your dish.
Use Salt To Clean A Cast Iron Pan
Your iron pans may rust over time if you do not take adequate care of them. You might have to buy another one right away. To remove stubborn bits of food, pour 1 cup coarse salt into the still-warm skillet.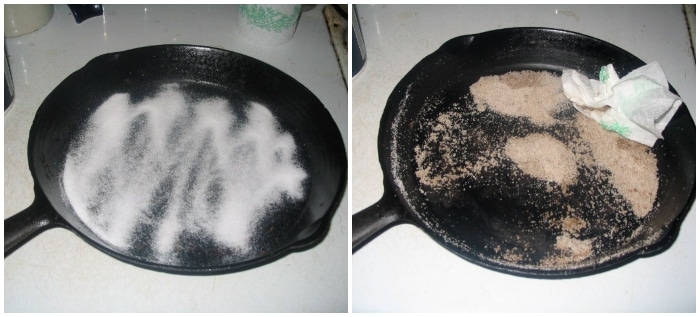 Use a folded kitchen towel to scour. Discard the salt and rinse the skillet with hot water. Dry immediately with a kitchen towel, or heat the skillet over a medium-low flame to evaporate the moisture. You will notice a big difference in the results between scrubbing the pan with salt and using regular dish soap. It is also a cheaper method.
Use Dental Floss to Cut Cheese or Baked Goods
This unique strategy may not substitute for every instance where a knife would traditionally be wielded. However, dental floss is a revelation when the culinary objective is cleanly dissecting malleable items like cheesecake or goat cheese. Its slender profile eliminates the resistance a typical knife blade might encounter, and neat segments are effortlessly obtained with a swift looping and drawing motion of the floss.
"It's also exceptionally effective when preparing cinnamon rolls," some people say, with dental floss's delicate touch preserving the integrity of softer items during the slicing process. Opt for the unadorned, waxed variety over the textured alternatives.
​Remove Seeds From Vegetables Faster
De-seeding squashes can be a time-consuming process. To avoid making a mess, you may have to scoop them out slowly, but it will take quite some time. Because the edge of the ice cream scoop is sharp, it cuts through the fibrous insides of the squash better than a regular spoon. Just a couple of scoops will get all of the seeds and strings out in a flash.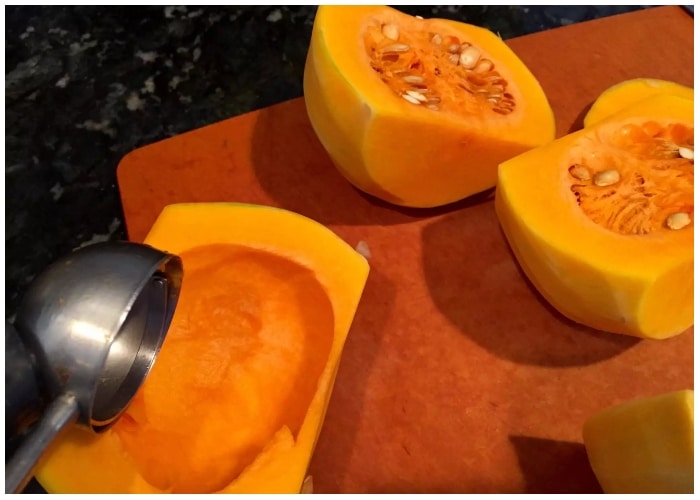 If you have trouble cutting the squash in half lengthwise before scooping, pierce the tough skin a few times with a fork and then zap it in the microwave for a minute.
​Make Stainless Steel Even Shinier
When we use something made of stainless steel for a long time, it might become extremely dull. In fact, you may have noticed that if you don't use the proper cleaning chemicals, some of the item's surfaces start to get really dull.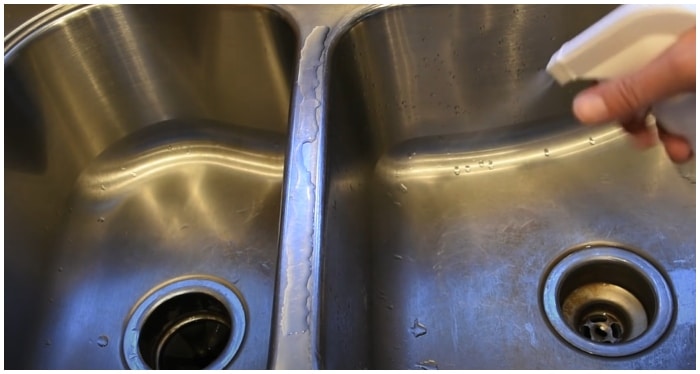 This, however, can be remedied with a simple DIY concoction. Simply combine some water and vinegar and spray it over the surfaces you wish to clean. For everyday maintenance and cleanup use one part white vinegar to one part water in a spray bottle. Spray down your stainless steel surface and simply wipe off with a dry cloth.
​Soften Your Brown Sugar
Brown sugar is another item that may deteriorate over time. After a while, the sugar begins to clump together and harden, making it difficult to continue using it. What was once a soft, fluffy package of brown sugar granules will harden into a dense brown lump. It's still safe to eat, but there's no way you can measure it accurately for a recipe until it's soft and grainy again.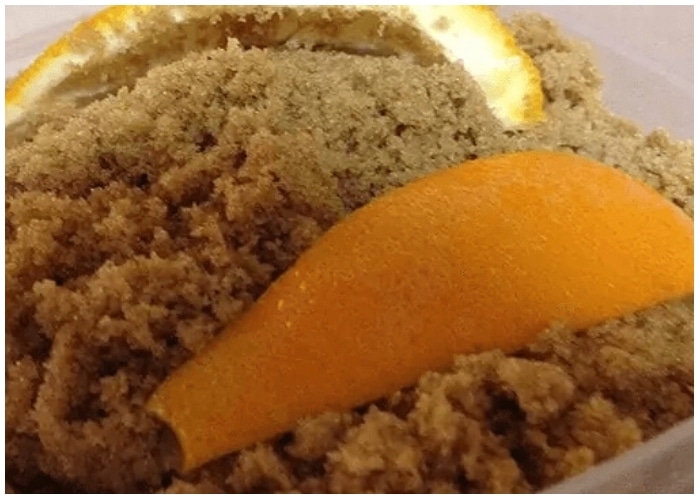 However, if you put an apple slice or an orange peel inside your bag of sugar and store it in an airtight container, it will stay soft for a long time.
Use Water To ​Make Breakfast Eggs
A perfectly basted egg is a difficult undertaking that demands focus and talent. As a result, we will teach you a trick on how to make the perfect one. Simply crack an egg into a pan and begin pouring water over it. Then, place it on the stovetop, and watch as the egg slowly cooks to perfection right before your eyes.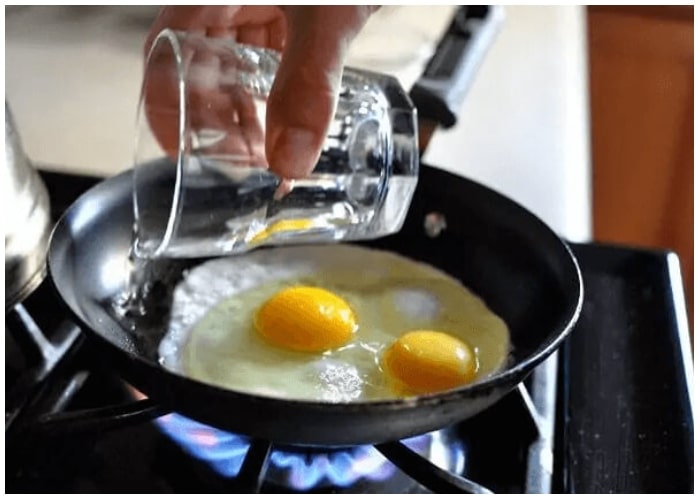 Water-fried eggs have no added calories and taste as good as their oil-fried counterparts. Pour 1/2 inch of water into a skillet and place over medium heat. You need approximately five minutes to fry an egg in water.
Dice or Mash With a Cooling Rack
"This particular trick is a cherished favorite of mine," people shared on social media. They are cautious about emphasizing it's not a universal solution for every culinary task, especially those that demand meticulously uniform cuts. Still, it's a godsend when the objective is puree preparation. Pushing your chosen ingredient through the grid of a cooling rack not only simplifies the mashing process but it offers the bonus of skin separation.
"For instance, if I'm roasting a squash with an ultimate goal of pureeing, all it takes is a firm push against the cooling rack with the skin side up, making separation effortless," they explain. "Similarly, when prepping avocado for guacamole, this technique excels not only in skin removal but also in transforming the flesh into manageable morsels ready for mashing."
​Peel Your Eggs Easily
There's nothing quite like perfecting the art of egg peeling. It's true that the task might be aggravating and time-consuming, but it doesn't have to be. So, the next time you do it, try putting a dozen eggs in the steamer basket while it hangs over boiling water for about 15 minutes. The eggshell will slip off.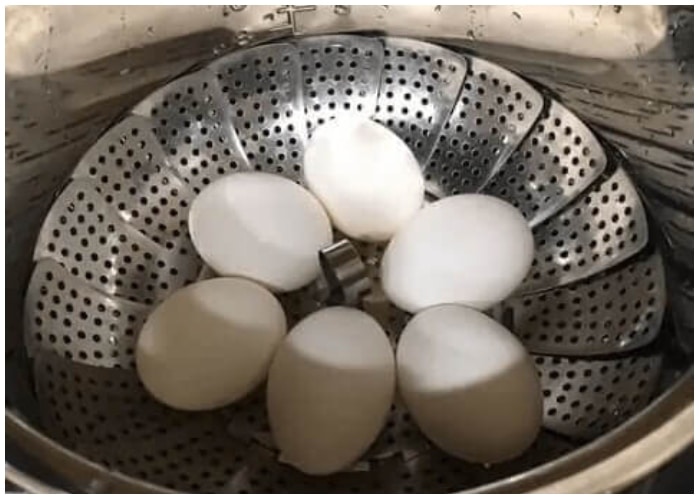 When the steam vapor penetrates the shell, the egg membrane pulls away from the shell and essentially loosens, making the egg easier to peel. Also, the steam will cook your egg more gently, resulting in a more tender egg white and creamier yolk.
Keep Ginger in the Freezer for Easy Grating
"Dicing fresh ginger hasn't been part of my kitchen choreography for countless moons, given its irksome nature," another cooking lover admits. But she doesn't condone a complete ginger embargo. "My modus operandi involves keeping it in a state of permafrost," she elucidates, "and whenever the recipe calls for it, I simply retrieve my microplane, grating the desired quantity."
This ingenious approach eliminates the need for peeling the gnarly exterior of the frozen root, a resounding victory for anyone engaged in combat with ginger's ungainly form. "It's a method of unparalleled ease," she concludes.
​Prevent Water From Boiling Over The Pot
If boiling water spills all over your stove, it can make a major mess. However, you can simply lay a wooden spoon over the top of your saucepan to avoid it. When the water starts to boil and is on the verge of spilling over, the wooden spoon will immediately stop it.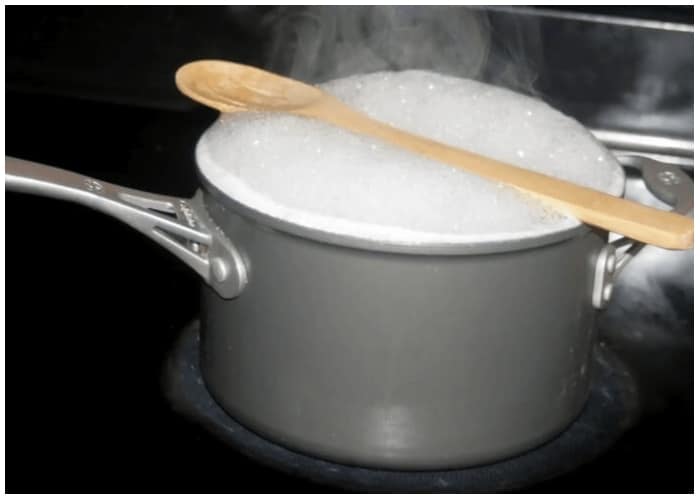 A dry wooden spoon destabilizes the bubbles when they come into contact with its water-repellent surface. This makes the boiling water retreat. If the bubble touches something whose temperature is below 212°F, the steam will condense (change back into a liquid) and break the surface of the bubble.
Freeze Herbs To Preserve Them For Way Longer
How many of us have watched our herbs rot away before we have had enough time to use them all? There appears to be a technique to keep them from going bad or drying out so rapidly.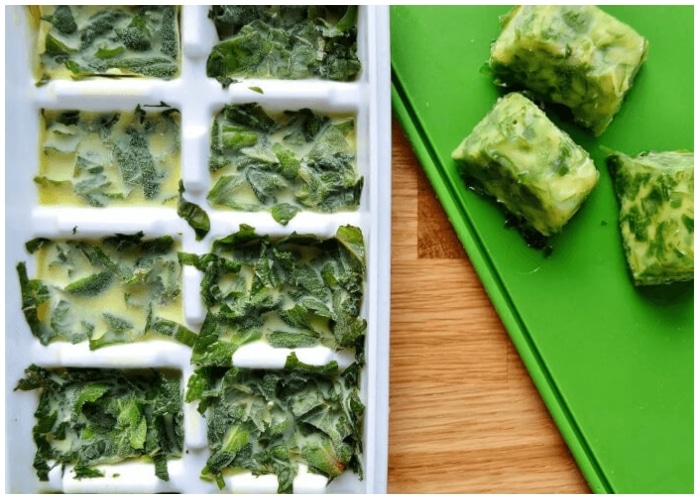 Using an ice cube tray, herbs that will be used for cooking can be frozen in olive oil or butter in convenient one-ounce cubes to trap the flavor in fresh herbs for use all year long in soups, salads, stir-frys, pastas or marinades. You can preserve them in olive oil for up to three months in your fridge, enjoying the same freshly-picked flavor.
Create Your Own Pastry Brush
There are some items in the kitchen that we may require immediately, but we do not have them on hand. However, there are simple ways to make useful DIY products. You can create a makeshift pastry brush from parchment paper.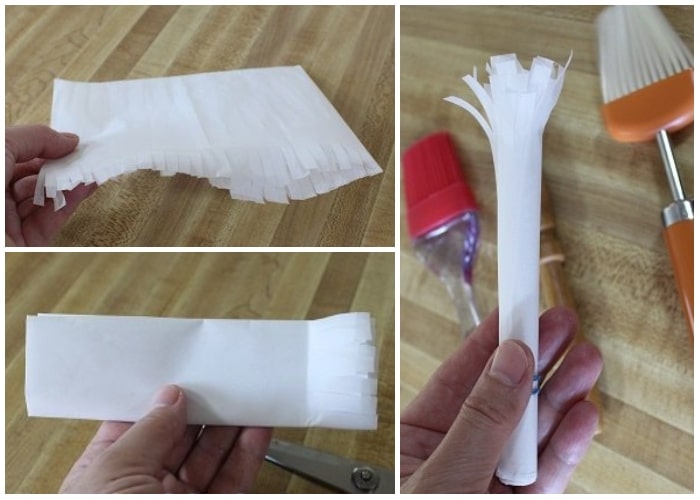 To do this hack, cut a long piece of parchment, about 10 to 12 inches. Fold the paper over into a rectangle and then once more into a smaller rectangle. Then cut a fringe into the paper with scissors and use the side as a brush. This makeshift brush can one be used one. Please throw it away after use.
​Make Your Own Powdered Sugar
Many recipes ask for powdered sugar, either to make them look nicer or to make them sweeter. Powdered sugar, on the other hand, isn't something that everyone has on hand. So, if you find yourself in need of it and don't have any on hand, you can make your own. Simply smash some granulated sugar with a spice grinder.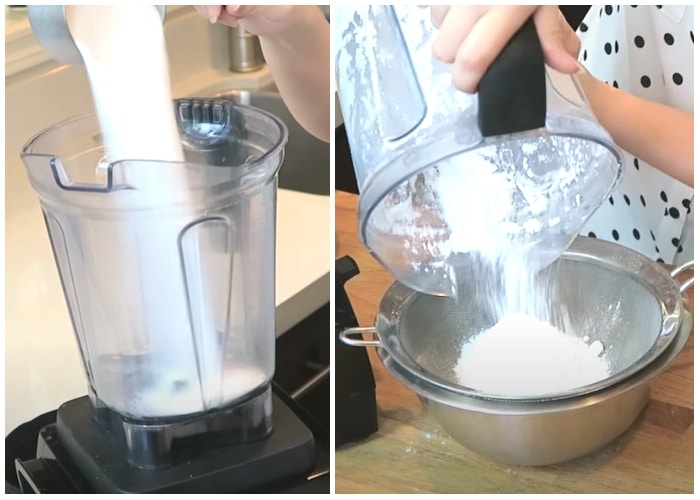 Process it until it's fine and fluffy, which should take about three minutes depending on your device. You can also mix together 1 tablespoon of cornstarch or arrowroot powder and 1 cup of granulated sugar or sweetener of choice and blend.
Use Ice Cubes To Prevent Your Food From Burning
One of the most prevalent cooking annoyances, especially among home cooks, is burning while sautéing anything. So, if you see that your meal is browning much faster than it should, simply add an ice cube or two to the pan to assist it cool down.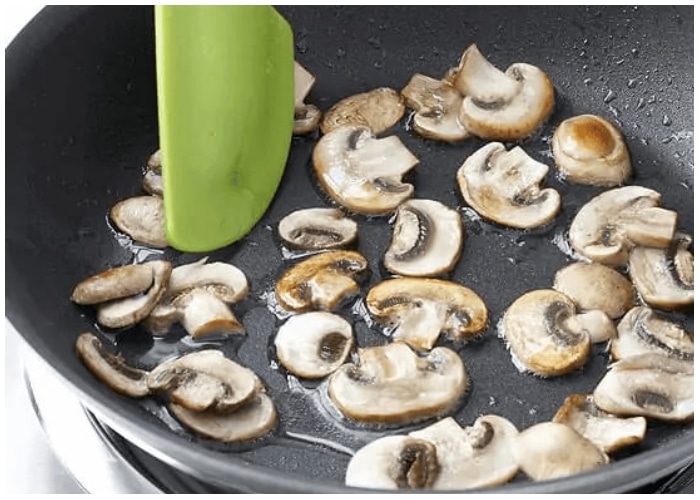 The water will swiftly evaporate, and you will avoid the food from burning. This will buy you time to get ahead of things and avoid burning the food. The good thing about ice cubes is that it will not affect the flavor of the meal you are cooking. This cooking trick will come in handy!
​
Make A Muffin Tin Meatloaf
Meatloaf is delicious, but it takes a long time to prepare. So, if you want to speed up the process or just try something new. Place a handful of prepared meatloaf into each muffin tin. Press your thumb into each meatloaf ball, making a space for toppings. After that, bake it for 15 minutes at 450 degrees Fahrenheit and you will be good to go.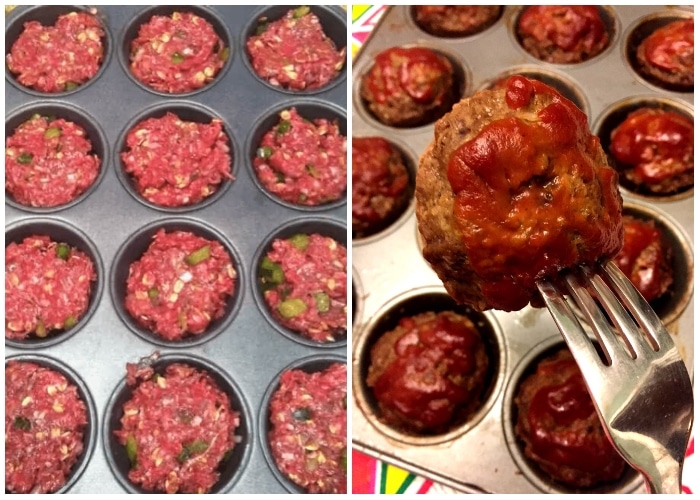 This recipe is an ideal dinner when you're short on time. The muffins take about a third of the time to cook compared to a full meatloaf and somehow seem like a lot less work.
​Give Your Grains Some Flavor With Tea
Grains might have a dull flavor, so if you want to add some flavor, try different types of tea. Simply soak your brown rice, quinoa, bulgur, or millet in tea-infused water before cooking. You can use any tea bag, but for a first try, we recommend Earl Grey, Lapsang souchong, or chai.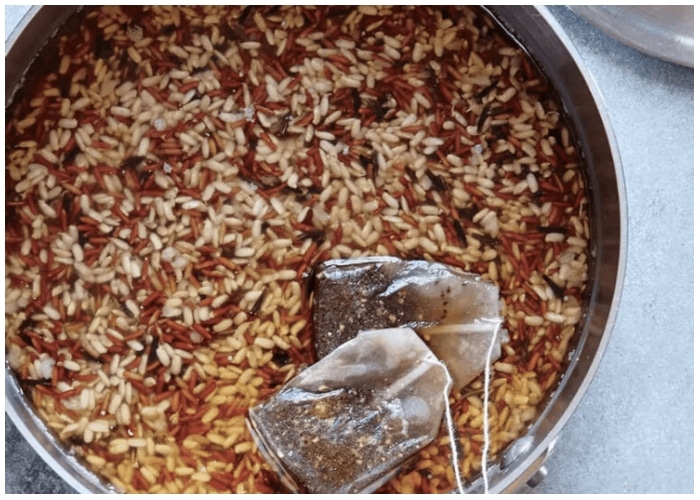 Traditional black and green tea, as well as rooibos and herbs, are all excellent choices for cooking grains. Bright and grassy green tea and matcha go very well with rice; rooibos with red quinoa; smoky lapsang souchong with farro or wild rice. Another simple and cheap cooking tip.
Store The Rest Of That Wine
We occasionally fail to finish that bottle of wine and find ourselves unsure on what to do with the remainder. So, if you do not intend to drink it but still want to use it up after a few days, try this useful hack.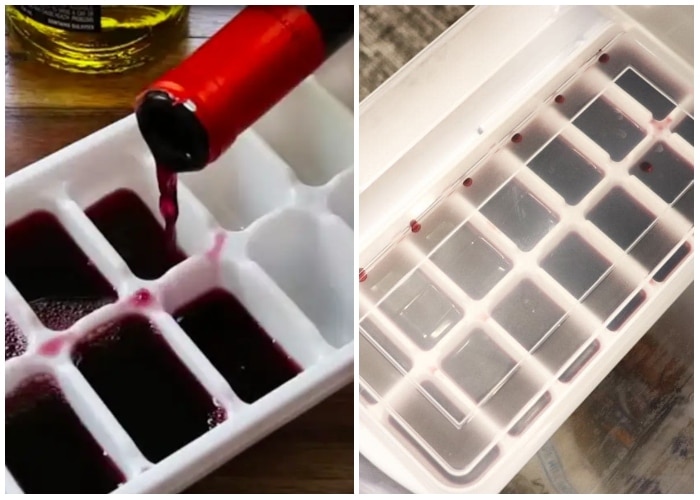 Simply pour the remaining wine into an ice cube tray and place it in the freezer. The cubes can then be used in wine spritzers, cooking recipes, or even sangria. One cube is about the equivalent of two tablespoons, but you may want to measure to see how much your particular ice cube tray can hold.
​Create Your Own Pour Spout
You will not find simple pour spouts on every carton or package you buy at the grocery store. This can result in spills and messes, and you may decide not to use the product at all. Instead, use a serrated knife to delicately cut off the corner of the box for a makeshift spout. You will notice that you are not spilling as much as before.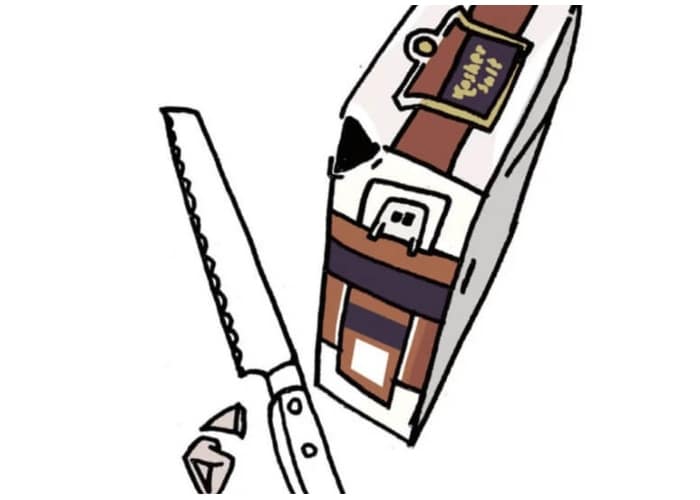 Another solution would be to move the contents of the box to a mason jar with a spout for better manipulation. However, that would require initiating another project that would take longer to complete.
​Chop Up Squash Easily
Butternut squash is tasty, but preparing it in the kitchen can be a challenge. However, there is a tip you may do to make the chore easier and even enjoyable. Simply heat the squash for two to three minutes in the microwave.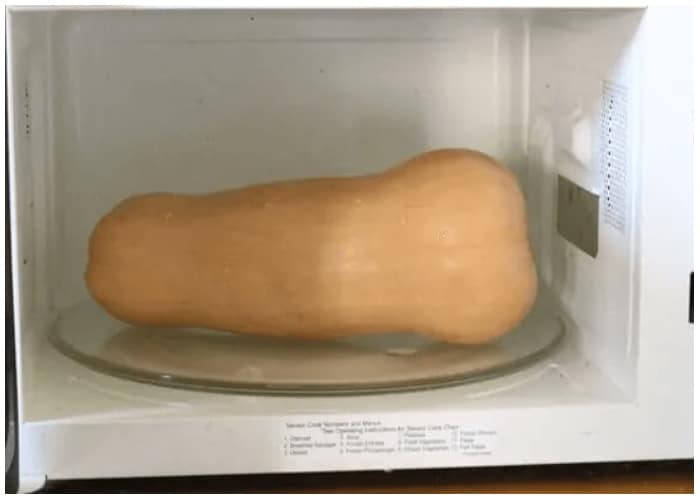 Start by making several large slits through the skin with the tip of a sharp knife. This helps the air release as your squash heats up (so your squash doesn't explode when you microwave it). Next, microwave the squash on high for approximately 3-5 minutes to soften the skin, which makes it easier to peel, seed, and cut.
​Prevent Your Tomato From Rotting
You can use this little and simple tip to make your tomatoes survive longer than they normally do. When storing tomatoes, simply arrange them to stem down. They need to stay dry at room temperature, ideally in a single layer and out of direct sunlight.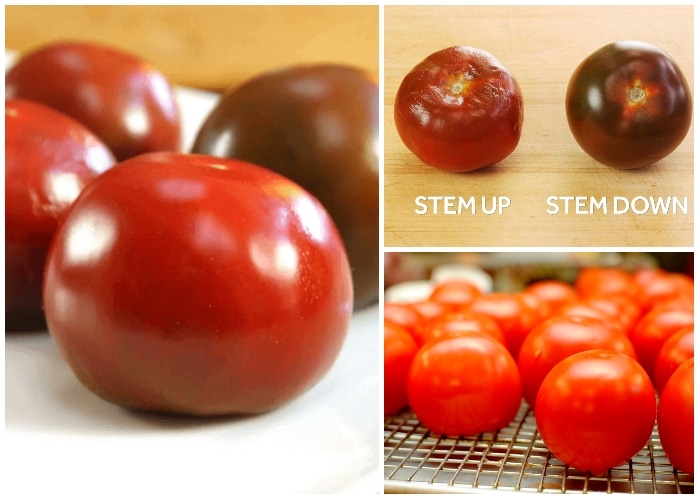 And most importantly for keeping them fresher longer, store them stem side down while they finish ripening on some paper towels in an open container such as Tupperware, a shoe box, or a cardboard flat. This will keep moisture and air from easily entering the stem scar, allowing them to last a little longer.
Use a Paper Bag To ​Ripen Your Fruit Faster
Sometimes all you want is for your fruit to ripen faster, and there's no way around it. Fruits like avocados, peaches, and plums, for example, might take their time ripening and suddenly be overripe all of the sudden! Simply place the fruit in a bag because it will trap the concentrated ethylene gas, causing it to brown more quickly.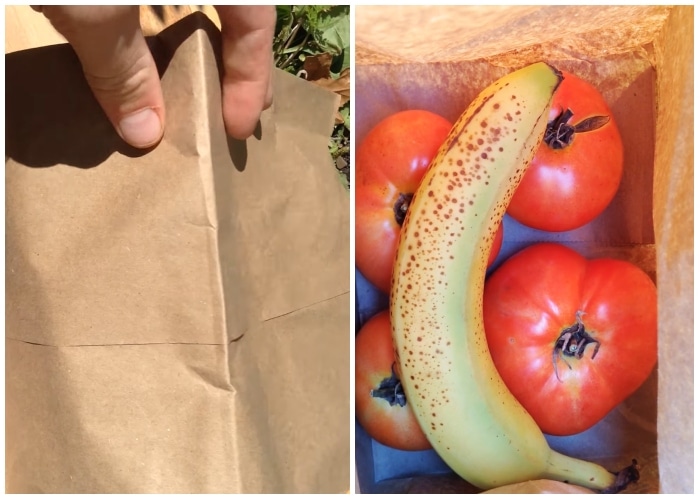 Ethylene will build up and circulate within the bag, speeding up the ripening process. To speed things up even faster, we recommend adding in an apple or banana since they release ethylene gas the most! This hack is a game changer.
Use Lemon Juice To Prevent Your Fruit From Browning
Fruit cutting and storage offers both advantages and disadvantages. It makes eating it a lot simpler, but it also speeds up the browning process. There is, however, a simple solution to avoid this. Simply squeeze some lemon juice on top of the chopped fruit, or make a honey-water mixture and pour it on top. This should keep it from browning too quickly.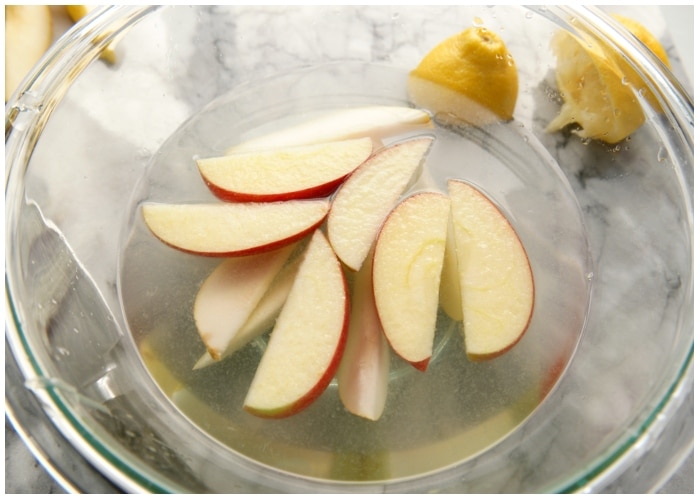 This method is great to prevent apples from oxidising. Create a water bath for your apple slices with a ratio of 1 tablespoon of lemon juice to 1 cup of water. Soak the apple slices for 3 minutes.
​Remove Pieces Of Eggshell Easily
Try something else instead of poking your fingers in each of your eggs to get rid of pieces of eggshells. Using an eggshell is the quickest way to remove a smaller piece of eggshell. Apparently this is because the sharp edge of the eggshell is able to cut through the whites.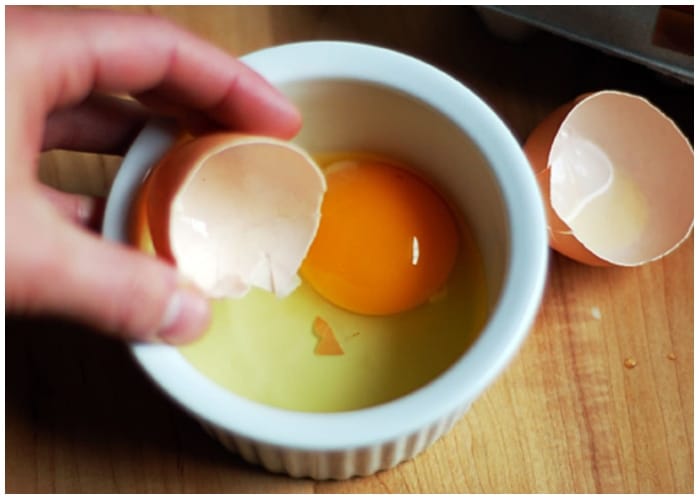 You may make the eggshell serve as a magnet that can easily scoop other small bits if you do it carefully, entirely transforming your egg game! The good thing is that you don't have to stick your hands in the egg, so there is less mess to wash off
​Get Rid Of Excess Fat In Food
Stocks, sauces, and stews have a lot of fat, which no one really wants. Sure, it's very tasty, but it can't possibly be good for your health. To remove the layer of fat that floats at the top just chuck in a few ice cubes. The fat goes cold and immediately sticks to the ice cubes.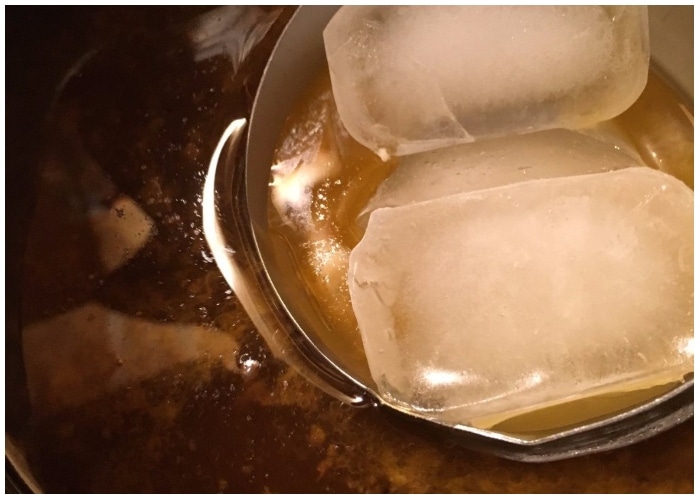 Scoop out with a slotted spoon and throw away, then just bring your casserole/gravy or whatever back up to heat. You can also leave the casserole in the fridge overnight and take off the fat once it is fully solidified at the top.
​Peel A Potato By Boiling It
Though peelers were groundbreaking when they were first introduced, it turns out that there are better ways to peel a potato. After washing your potatoes, cut a line around the center of each potato with a paring knife. You just need to cut through the skin. Then put them in a large saucepan and bring them to a boil.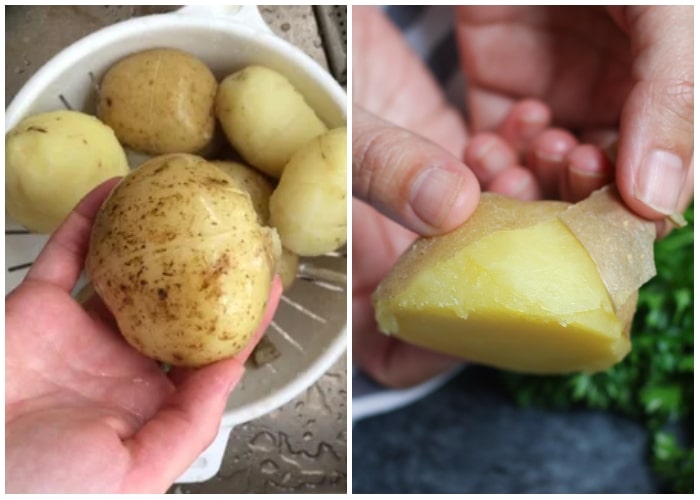 When the potatoes are tender, remove them from the boiling water and transfer them immediately to an ice bath. Let them rest in it for at least 3 minutes. You'll immediately notice that the skin starts peeling off on its own!
Pit Stone Fruit Easily
The fruit that's the brightest and juiciest of all this time of year is the stone fruit. We are talking about peaches, cherries, nectarines, plums, and apricots. To pit a drupe fast and easy, stick a sharp knife into the fruit along the seam that runs from top to bottom until you feel the pit.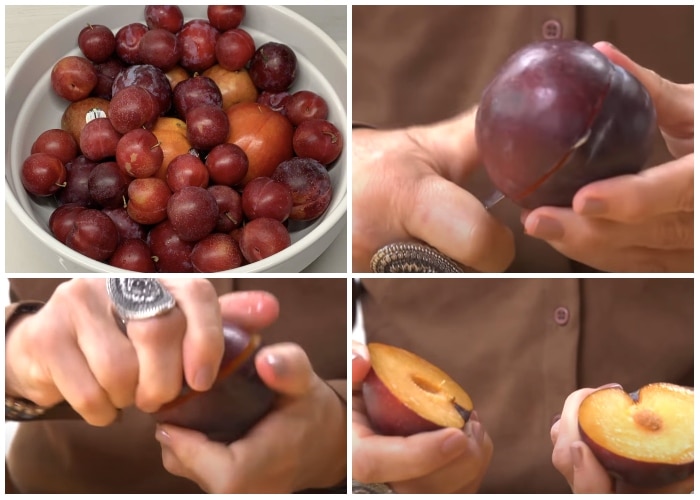 Run the knife around the pit at the midpoint of the fruit so that you have two equal halves. Then, twist the two halves in opposite directions until you feel the flesh detach from the pit. Finally, use a butter knife to remove the pit!
Extract Even More Lemon Juice By Doing This
It's not always easy to get the most out of a fruit's juice, especially when it comes to lemons. Make sure to use a lemon that has been previously chilled in the fridge, because it needs to be cold. Without slicing it, microwave the lemon for 15 to 20 seconds or place it in a bowl with boiling water for 5 minutes.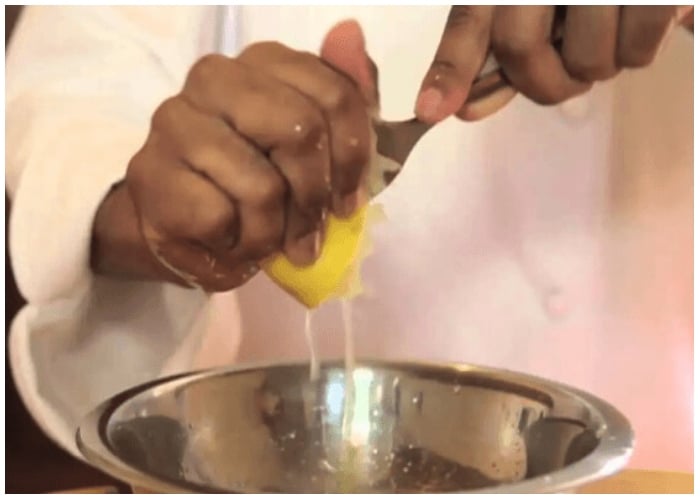 The warmth loosens the stiff outer body, resulting in more juice. Finally, cut it lengthwise and squeeze it with a fork to extract as much juice as possible. The amount of liquid that comes out will surprise you!