This article was originally published on absolutelyconnected.com and has been republished here with permission.
Becoming a pet parent is not as easy as it may seem. Everyone faces various situations with their pets, whether a new owner or an old one. Chewing, scratching, pee stains, and loose fur are only some of them. Start with some handy tips and tricks, and get your ways straight. These hacks here are super-easy and helpful for day-to-day dilemmas with pets. They will help you bond better with your pets and improve their mental and physical health.
These 30+ tips and hacks will increase your affection for your pet and make you wonder why you didn't think of them sooner.
1.
Cat Station
If you want to give your cat ample room to play, hide, and jump, there is no better idea than this cat station. It looks good and functional. This is a great idea.
Use Ikea cubical shelves; you can make them as large or wide as you like. A scratching pad can be added to one side of the cabinets. You can attach a scratching board from an old cat tree at the bottom. It looks very cozy too.
2. Front Clip Harness for a Fun Run
Most of our dogs tug on their leash whenever we take them out with a harness on. This can ruin the fun of a great afternoon. To solve this problem, we need a simple solution. We simply need to buy a front-clip harness.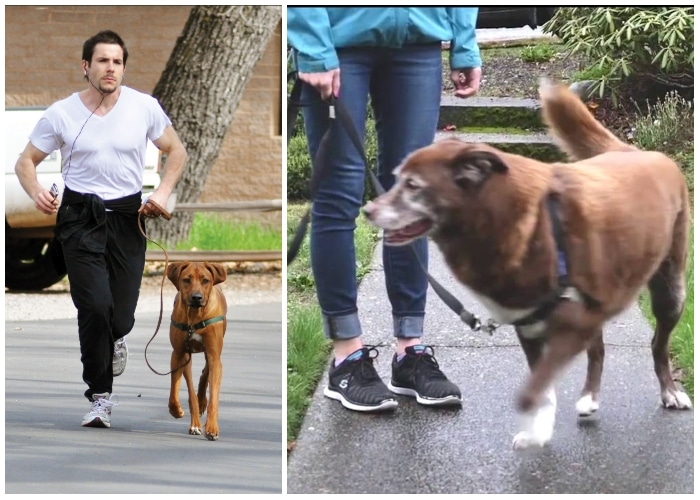 The back-clipped harnesses encourage additional pulling. We can swap out the retractable leash for a normal 6-foot leash so the dog can understand what loose leash walking is like.
3. Appreciation Helps Quick Potty Training
Potty training your pet is one of the most important and difficult parts of the grooming process. When we are potty training our pets, we need to pay proper attention. We should reward them every time they go to the liter to do their business.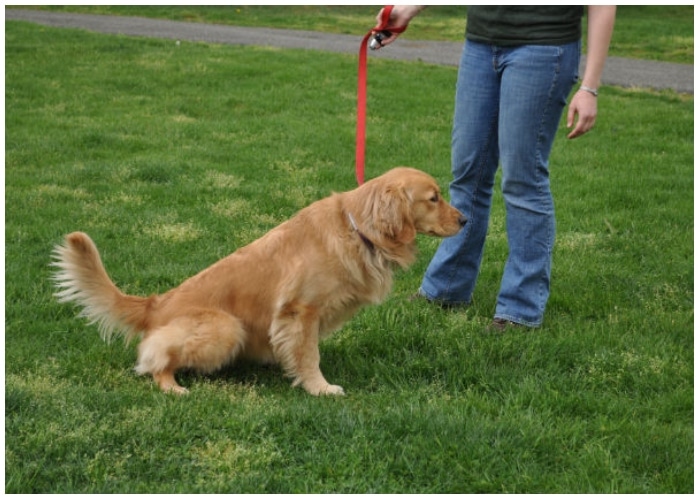 They will catch on quickly if we treat every pee and poop in the litter as if it's the finest thing that has ever occurred. That will motivate them.
4. Microchip Works as a Permanent Identifier
Some of our pets tend to be freer and "wild." They want to go on their very own adventures. So to keep track of them and make sure they are not lost, we can use microchips with their neckbands.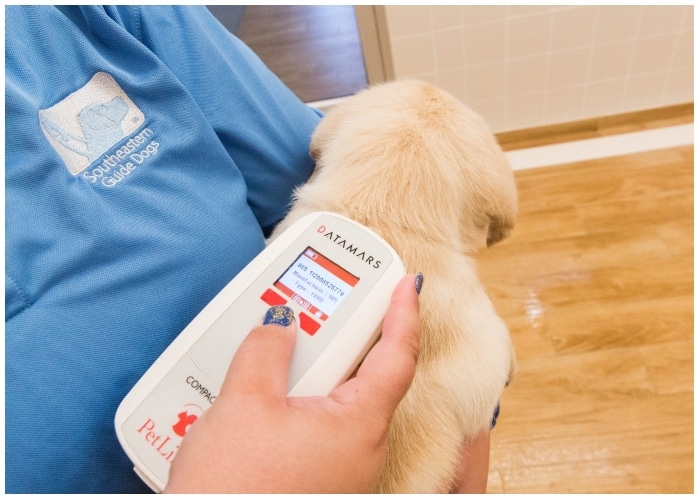 A scan of the pet's microchip will reveal personal information, allowing for a quick reunion. However, we need to make sure we keep the information up to date with the microchip provider if we relocate.
5.
Feed your cats away from their water
While water is an essential element for humans, it is not as necessary for cats to have it readily available at all times. In fact, it is better to keep water separate from your cat's food. Cats have evolved to drink water from separate sources from their food, and they may be less likely to drink if their water and food are too close together.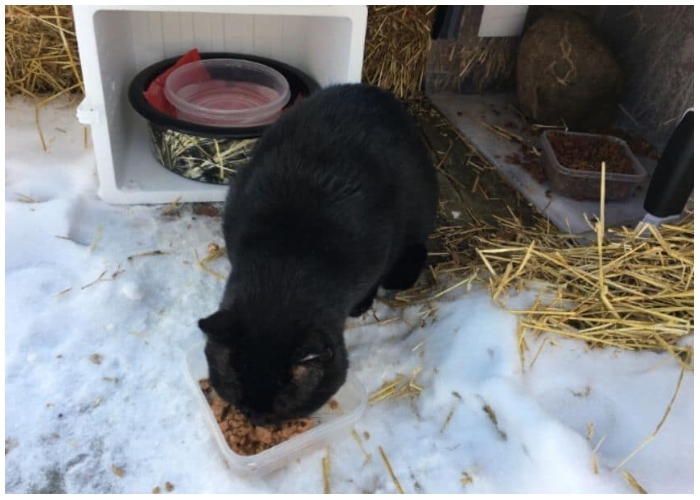 It is important to have separate places for water and food in your home for your cat, as they may perceive water and food as incompatible if they are placed near each other. This can help ensure that your cat stays hydrated and healthy.
6. The White Towel Challenge
Whether your pet is outgoing or likes staying indoors, getting fleas is a common phenomenon. Fleas are, without a doubt, very irritating and harmful to pets' health. Therefore, it is important to check for fleas once in a while.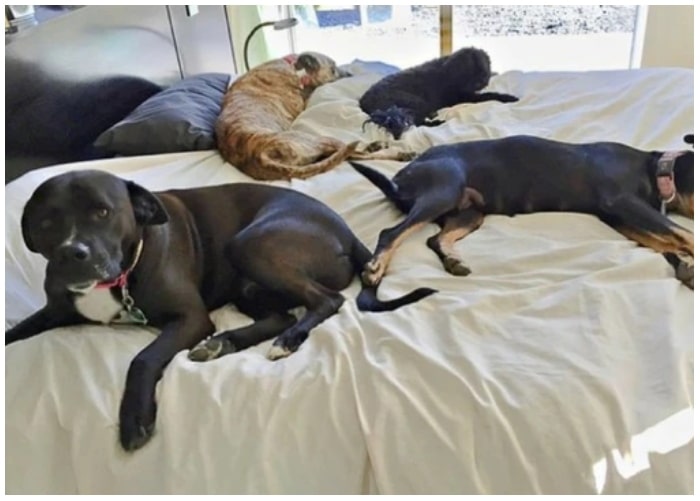 Here is a hack to check the pet for fleas. Have them lie down on a white towel and brush their fur. Any loose flea debris that falls from the pet is easily visible on the sheet.
7. Pools are not Always Great for Fun
While some dogs love to swim, not all dogs are good swimmers. Moreover, swimming pools may be quite harmful to some dogs. Sometimes they end up getting water stuck in their ears, which could lead to infections.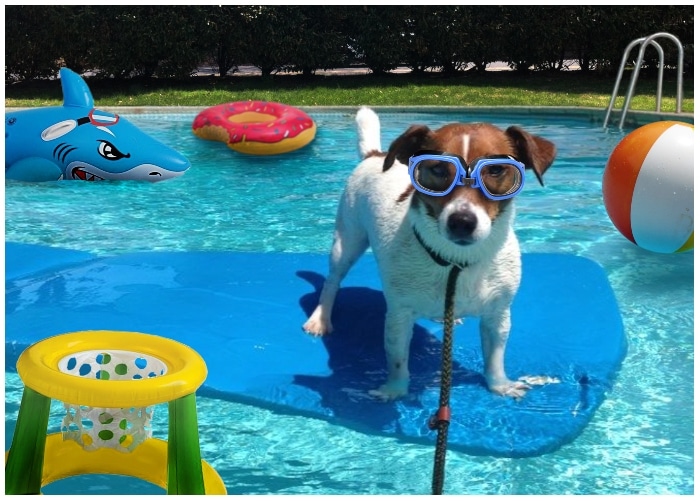 If our dog is out in the yard near the pool, we need to keep an eye on them and make sure they know where the pool stairs are so that they are safe.
8. Watch Out from Hot Pavements
Summer is the perfect playtime. However, the hot pavement may easily burn the paws of dogs. Therefore, before stepping out, we must place the back of our hand on the pavement to test if it is too hot for the dog.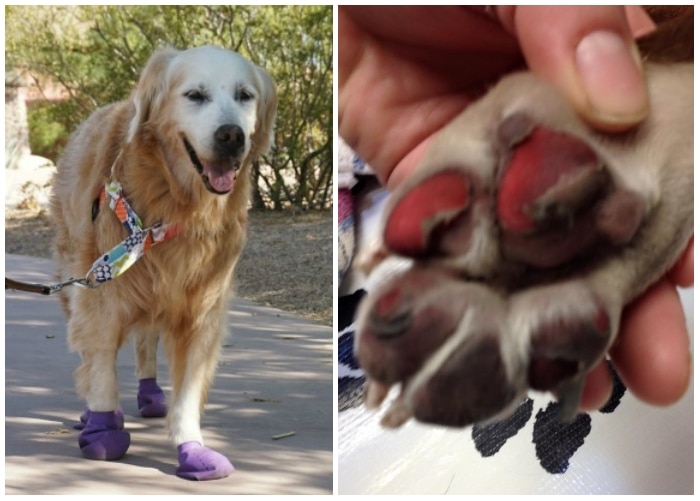 If we cannot hold it there for 5 seconds, it is too hot for the dog. Then, we need to consider walking them, on the grass or until the sun sets on really hot days.
9. Clicker Training Helps Mark Good Behavior
Praising pets is essential for their growth as well as for bonding with them. The timing of the appreciation plays quite a role there. If we cannot praise them right at the moment when they make something nice happen, they will not be able to receive the message. That's why we should keep a clicker handy.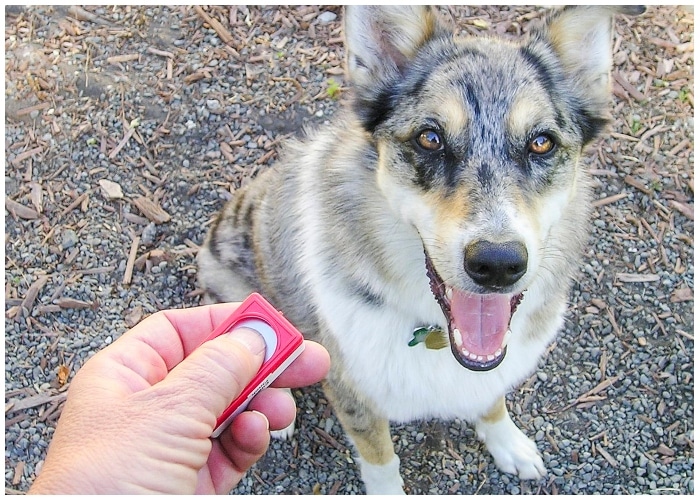 We can begin clicker training to make it much easier to reward them for excellent conduct.
10. Make a Habit of Brushing Teeth
Dental problems in pets are not rare. Therefore, brushing the dog's teeth on a daily basis can help us avoid costly dental appointments in the future. In addition, we should add brushing as a practice in the grooming sessions of our pets.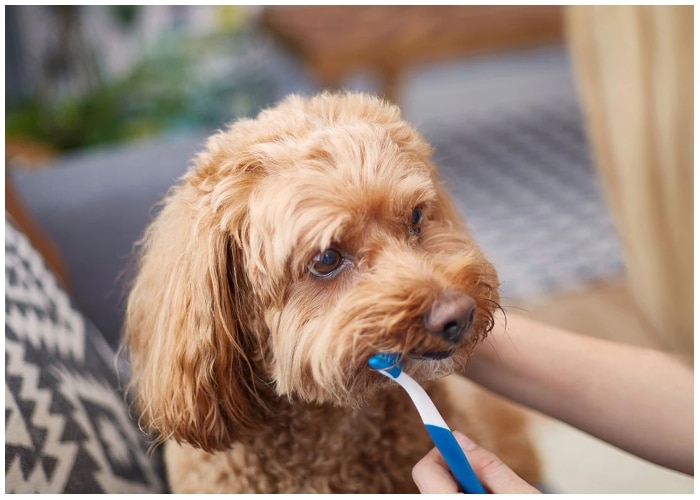 Of course, we can always use a human toothbrush, though there are also special ones for dogs and cats. If we get special brushes from them, these need to be picked carefully.
11. Keep Vaseline Handy for the Winter
We hear a common complaint from pet owners that their pets have dryness in their paws during winter. There are paw bums available in the market. Some make their dogs wear shoes in winter.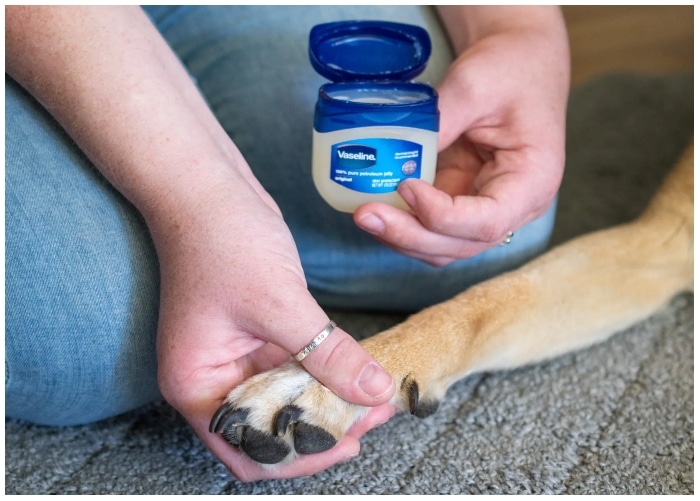 However, if neither can be arranged, we can use Vaseline. Petroleum jelly is proven to soften the paw skin of pets in winter.
12. Soften Dry Food with Lukewarm Water
A lot of pet owners choose dry food for their pets over wet food. However, sometimes the pets are not too comfortable eating dry food. They may even face difficulties swallowing.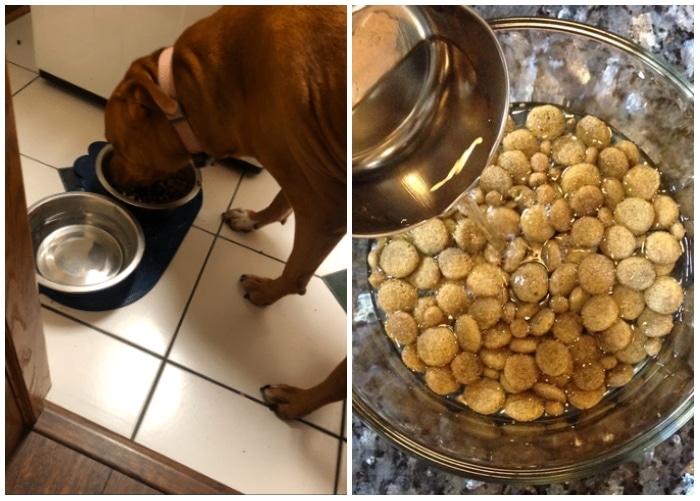 In addition, some pets do not have to shape enough teeth to chew. Therefore, we can use just a cup of lukewarm water with dry food to make it softer.
13. Prevent Cat Scratches with Double-Sided Tapes
Nothing is more aggravating than returning home to find the cat has clawed the furniture. Getting a scratching pad will usually help them stop scratching furniture, but if it does not work, try placing the double-sided tape on the areas where they scratch the most.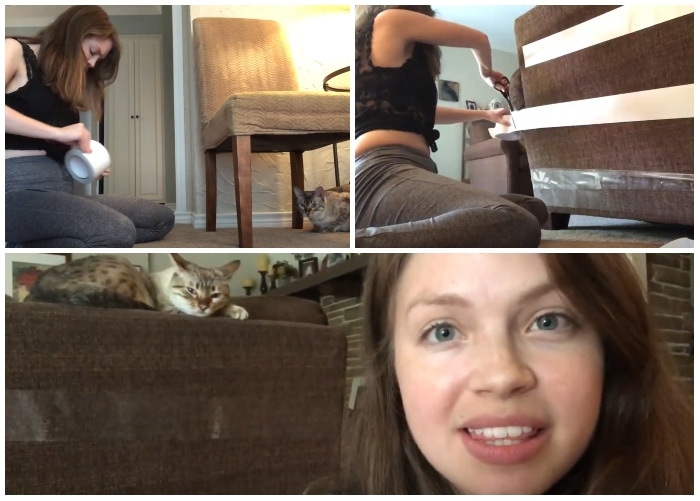 Cats prefer to avoid sticky surfaces, so they will most likely avoid the area.
14. Fill a Kong
These are some easy and inexpensive ingredients you can add to a Kong. You can make multiple Kongs and freeze them for later. You can also use leftovers from family meals. It costs little to enrich your pet's life.
Start by putting some carrots in, followed by kibble and cereal. This will allow you to prevent any suction. You can then place the banana, pumpkin, or yogurt inside, leaving a large hole at the center. Place an apple slice in the center. Then, freeze the apple and place yogurt or pumpkin around it.
15. Pill Pockets For Medication
Feeding medicines to pets is so difficult. Dogs will only consume items they are familiar with. Pills and medicine, however, do not fit under this group. So, rather than forcing it down their throat, the simplest solution is to buy or manufacture our own pill pockets.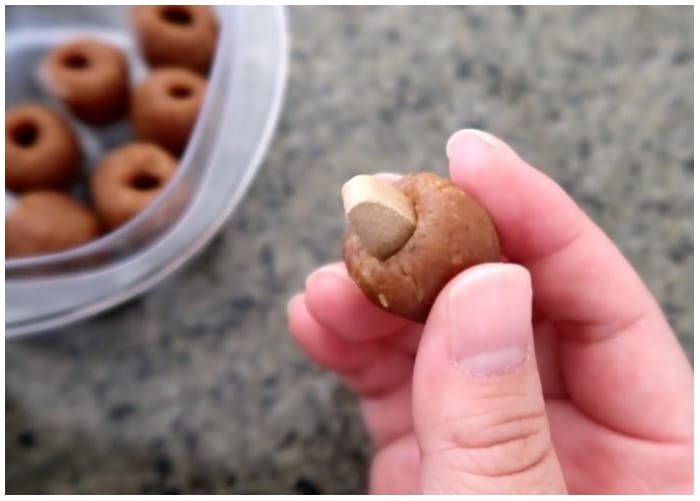 These ingenious tiny nibbles assist in concealing the tablet while still tasting wonderful.
16. Ingenious Woolworths Bag Hack for Doggy Nail Clipping
Tired of struggling with your dog during nail-clipping sessions? One TikTok user has found the perfect solution using a Woolworths shopping bag! This clever dog owner discovered a brilliant hack for clipping her Italian greyhound, Honey's nails, using a Woolworths green enviro bag.
By suspending the bag from a hook on her patio, the dog owner managed to secure it comfortably inside the bag, with strategically placed holes for her head and feet. With the dog safely nestled in the innovative contraption, this creative pet parent could now pamper her pooch with ease and make nail clipping a breeze!
17. Transform Your Pet's Playtime: Create a Milk Bottle Bungee Toy!
Are you noticing your beloved pooch getting weary of the same old treats or indifferent to their usual kibble? Here's a fun-filled solution: The "Milk Bottle Bungee" toy. This game is inspired by the popular 'Spin the Bottle,' but we'll use a milk jug instead, bringing a fresh twist to your furry friend's playtime. Materials Required: A clean milk jug; A sharp knife or a pair of scissors; A carabiner; A bungee cord; A sturdy rope; Your dog's favorite food or treats; A hook (for indoor use)
Unleash the DIY Magic: 1. Clean the milk jug thoroughly to ensure it's residue-free; 2. Cut small holes randomly around the jug – just enough for the treats to fall out; 3. Attach the carabiner to the milk jug's handle, then fasten the bungee cord to the carabiner; 4. Tie a rope to the milk jug's handle, making it long enough for your dog to grasp; 5. Choose an outdoor location – perhaps a sturdy tree branch. Hook the bungee cord to it, ensuring the jug hangs at a height where your dog can just reach the rope; 6. Pour your dog's favorite food or treats into the jug; 7. Show your pup how to pull the rope, and watch as they get thrilled when the food drops out. For an indoor version of this toy, simply hang it from a hook on the back of a sturdy door or inside a closet.
18. Instead of Brushing – Home Routine for Cleaner Teeth
Step 1: Soften Plaque. Daily, sprinkle Plaque Off on your dog's food to soften plaque and tartar build-up. This product works by breaking down the bacterial biofilm that causes plaque and tartar through enzymes in kelp. Softening the plaque allows for easier removal during chewing.
Step 2: Remove Plaque Mechanically. To effectively remove plaque, provide your dog with abrasive items to chew on daily. Try giving raw, meaty bones that have been soaked in low-sodium chicken broth or bone broth for added flavor and softness. Another option is to give your dog a bully stick to chew on for a few minutes each day. To boost dental health, occasionally dip the end of the treat in organic coconut oil, which has natural anti-bacterial properties.
19.
Plug The Hole In a Frozen Kong With Coconut Oil
This is the first Kong stuffing tip we want to share with you. It's amazing, and after doing it for one time, you will love making frozen stuffed Kongs using bone broth. We tried to fill the hole with a small treat for so long, but it never worked. Then this hack came to our mind. We fill the Kong's bottom with coconut oil and freeze it. After it, you can quickly add your Kong filling to the freezer and then top it with water or bone broth.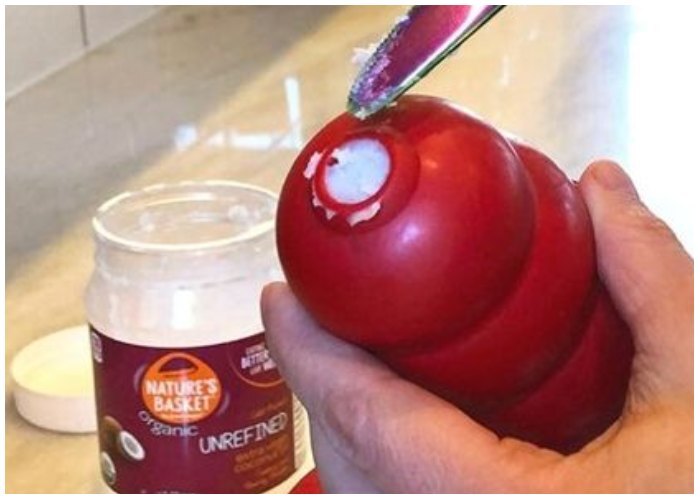 Why coconut oil? Coconut oil is excellent for your dog's health! It will quickly melt if they begin to lick it. This allows Kong's hole at the end to prevent a vacuum from forming. Many prefer it over peanut butter since it's clear. "My dogs love to lie on the carpet, no matter how many places they can relax and enjoy a Kong," said one Redditor who tried it. "This ensures that I don't get peanut butter stains on my rugs."
20. DIY Odor-Control Cat Litter Solution
Revolutionize your cat's litter experience with Borate Technology, a cutting-edge antimicrobial agent that combats odor-causing bacteria and keeps your home smelling fresh! Who could resist that? This 42 lb lemongrass citrus-scented litter is available in a resealable, easy-to-carry bag, guaranteeing your cherished feline enjoys the cleanest, most sanitary environment possible.
For effortless litter maintenance, try this ingenious, mess-free technique: Head to your local dollar store and buy 6-8 aluminum pans that fit securely inside your litter box; Using a Phillips-head screwdriver, cautiously punch several holes in the bottom of all the pans except one; Stack the perforated pans on top of the solid one and place them in your litter box; Fill the pans with Fresh Step Total Control Litter with the Power of Febreze; At the end of each day, simply lift the top pan out of the litter box. Dispose of its contents in your garbage and set it aside for the following week. This simple, effective method will make your daily litter box routine an enjoyable, hassle-free experience.
21.Muffin Pan + Tennis Balls
Here's an excellent way to recycle a muffin pan you don't use anymore. Place some kibble into a few molds, then cover them with tennis balls. Your dog will love looking for the treats!
Tennis balls are used to conceal food. You can also use rubber balls for your dog if it is easier to pick up in their mouths.

22. Outdoor Food Must be Ant-Proof
Having outdoor pets might be enjoyable, but putting food for the pets outside can be a concern. This is due to one simple reason: ants! The ants will go into the pets' food, and they might end up eating ants.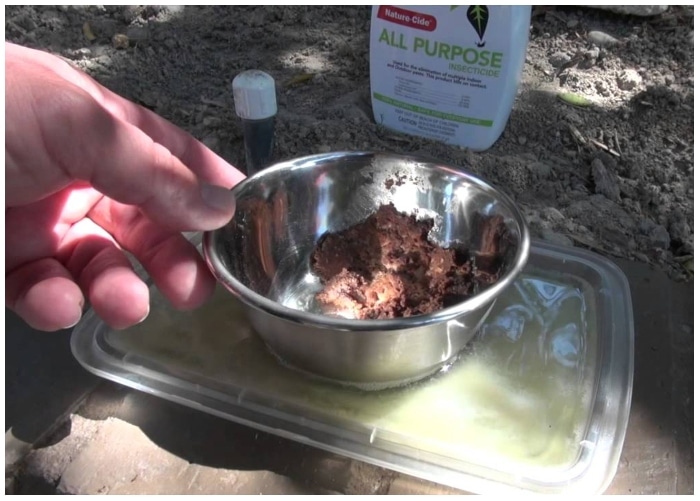 To avoid this, we can simply draw a line around the meal with chalk. This is going to keep the ants away!
23. DIY Cat Litter Box: Customized, Easy-to-Clean Solution for Your Feline Friend
In this engaging DIY project, we'll show you how to create a big cat litter box using a Tupperware bin, a low-edged dishpan, and a pad to catch any extra litter. Materials: Large Tupperware bin (with a lid, if preferred); Low-edged dishpan; Non-slip pad or rug (for litter-catching); Permanent marker; Utility knife or box cutter; Sandpaper (optional). Instructions: Begin by selecting a large Tupperware bin that will comfortably accommodate your cat's size; With a permanent marker, draw a U-shaped opening on one of the longer sides of the Tupperware bin. This will serve as the entryway for your cat.
Make sure to create a wide, low opening that will be easy for your cat to access, even if they have mobility issues; Carefully use a utility knife or box cutter to cut along the marked lines, creating the entryway for your cat; Place the low-edged dishpan inside the Tupperware bin; Place a non-slip pad or rug in front of the entryway of the litter box. This will help catch any excess litter that might be tracked out of the box when your cat exits, keeping the surrounding area clean and tidy; Finally, introduce your cat to their new, customized litter box. Give them some time to explore and become comfortable with the new setup.
24. DIY Tents with Old T-shirts
Cats are curious tiny animals. They enjoy squeezing themselves into small nooks and crannies. To help them out, a 15 "x15" sheet of cardboard, two metal coathangers, and a shirt are all we need.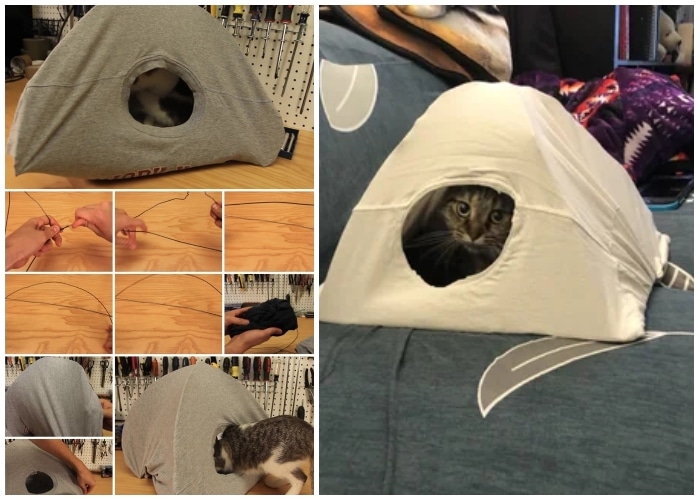 First, cut the coathangers' hooks and bend them into a double arch. Then secure them to the cardboard with tape, pull the shirt over, and presto! An instant cat tent!
25. Regular Shampoo for a Good Bath
Many people believe that treating their pets requires the use of a specific shampoo. This may be true if they have a flea infestation or another skin issue, but normal shampoo would be enough in most situations.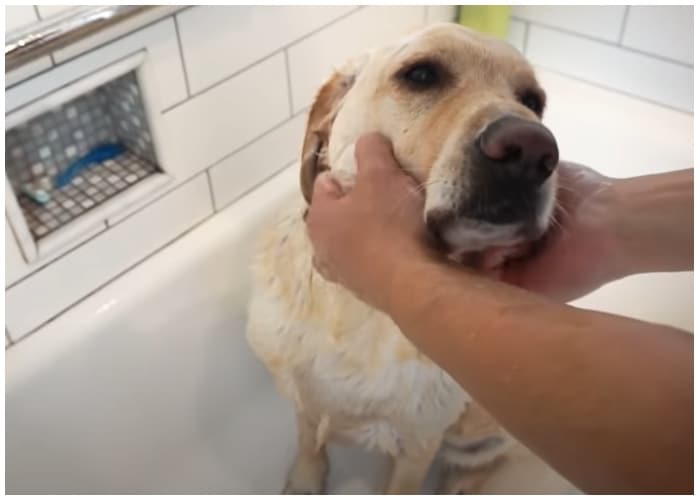 All we have to do is mix the shampoo with water before using it. Typically one part shampoo to four parts water gives fantastic results right away.
26. Green Tea for Smelly Litter
While there are ways to make personifications for cat litter, one tip simply suggests switching to green tea litter for a better-smelling house and cat. In addition, mixing green tea extracts with kitty litter can assist in generating better-smelling litter boxes.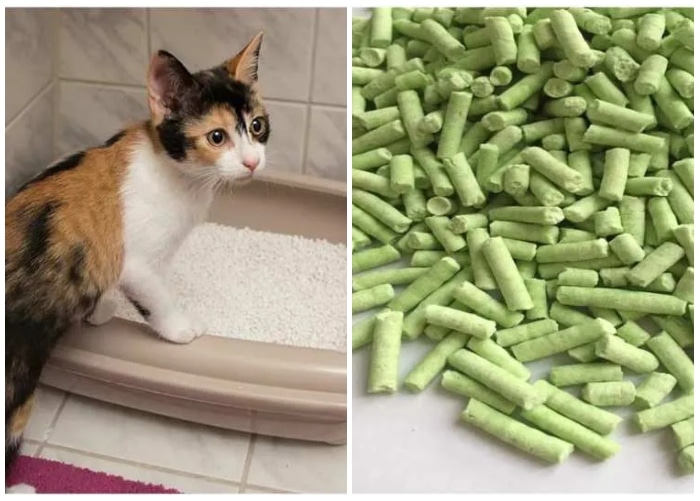 When the litter smells good, it is easier to clean it up. Grounded green tea leaves are the best.
27. Keep the Door Scratch-Free
One of the annoying things that you can (and probably will!) encounter as a dog owner is scratches on the doors of your home. However, there's a simple way of preventing this.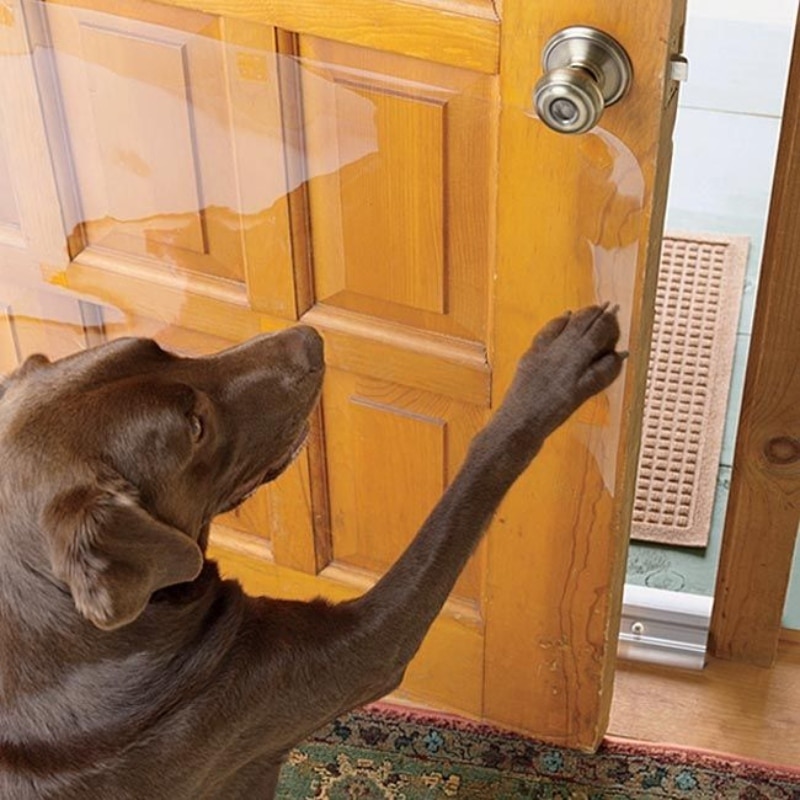 Dogs usually scratch doors instinctively. They observe human beings opening and closing doors holding the doorknobs, and they try doing the same thing when they come across a closed door. This is why you're more likely to find scratches around the doorknob. Once you figure this out, you can easily prevent your dog from scratching the door by putting a scratching pad around the doorknob. If you want to be extra careful, cover the height up to which your dog can reach.
28. Get A Spill-Proof Bowl
Watching your dog eat might be one of the cuter things, but cleaning what the dog spills afterward can be a pain. This is why we recommend getting a spill-proof bowl.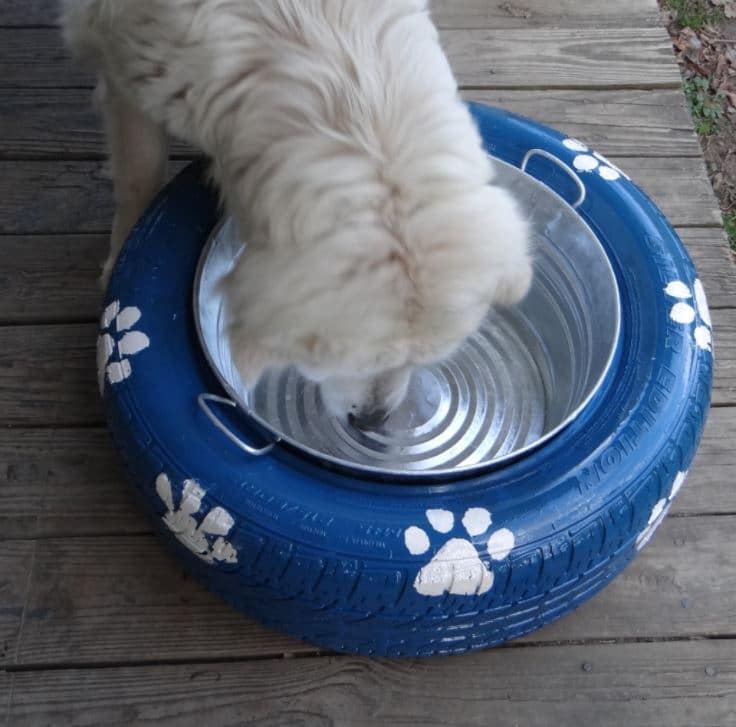 There are a lot of spill-proof bowls on the market right now. These are designed cleverly to prevent any food or drink from spilling while your dog has them. Plus, they will allow your dog to enjoy his or her meal comfortably as well. However, there can always be an accident, so it's recommended that you put some paper around the bowl.
29. Alternating Toy Choices for Interacting
Dogs, like humans, grow tired of new things after a while, and their toys are no exception. By varying their access to them, we can keep their attention.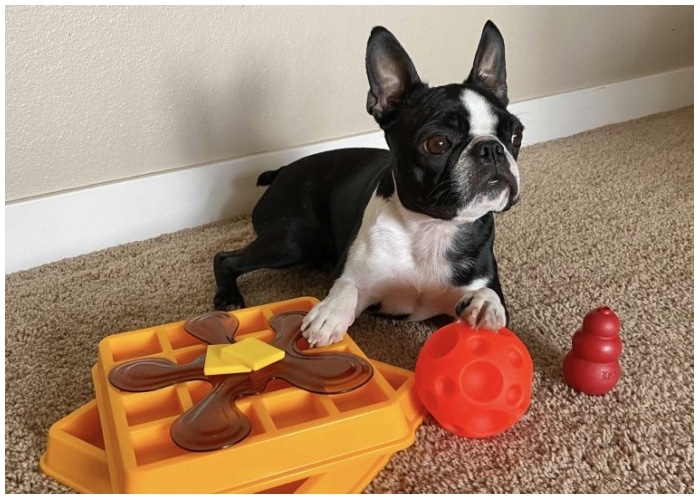 For example, after a month of not seeing their blue ball, the dog will have a whole new respect for it the next time it appears. Likewise, we can change the colors or the shapes of the toys for a sense of variation. Happy pupping.
30. Grow Your Own Catnip
Man isn't a cat's best friend. Catnip is. If there's one thing cats love more than themselves, it's catnip. They love this stuff due to the presence of the chemical nepetalactone, which is found in great quantities.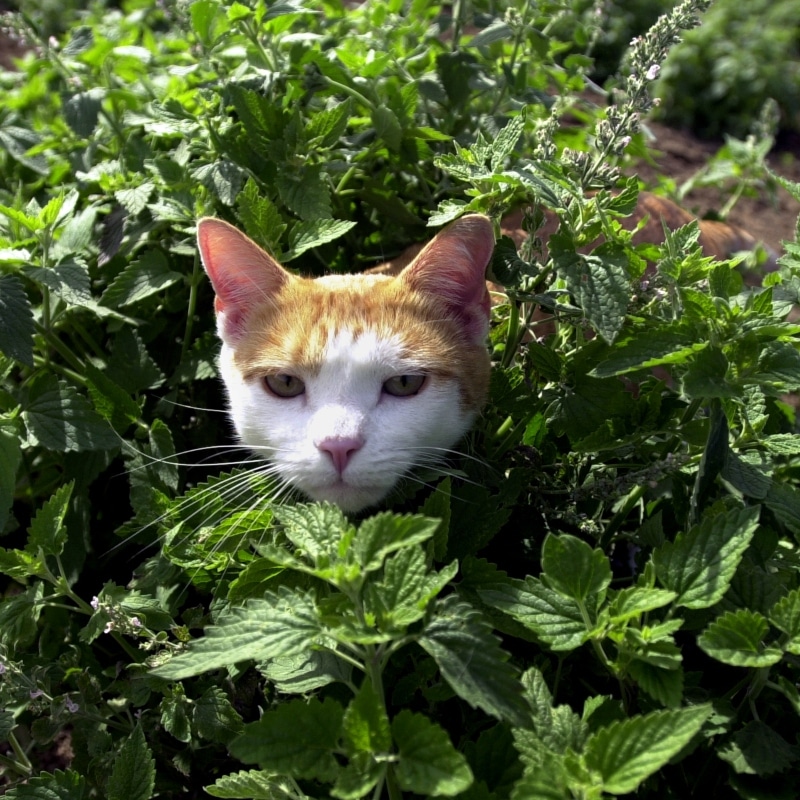 Nepetalactone stimulates multiple responses in their brains, and this includes positive ones such as hunger and sexual responses. Thus, cats are usually very calm when they're around catnip. So, if you want to keep your cat calm without much effort, we highly recommend growing your catnip.
31. Balls Aid in Alleviating Eating Disorders
Dogs are known for being fond of whatever food you throw at them. However, sometimes they may exhibit some sort of food disorder even if you're feeding them properly.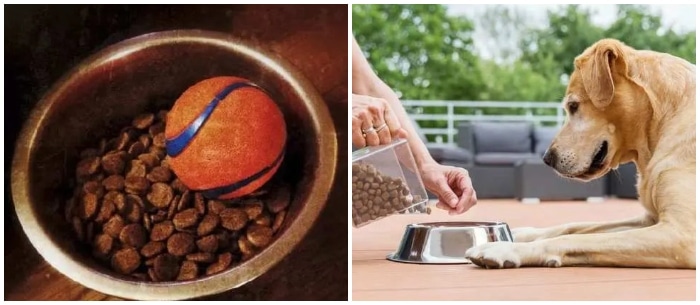 This is a major problem, and it should be solved as soon as possible so that things don't spiral downwards any further. Thankfully, the solution to this is rather simple. Try putting your dog's favorite ball into the food. This will encourage your dog to eat more.
32. Snout Soother For Pet's Boopable Snout
A snout soother will let us keep our pet's snout supple, hydrated, and oh-so-boopable at all times. Snout Soother provides the most effective treatment for mending and calming snouts that are dry, cracked, or covered in scales. This balm not only nourishes the dog's sensitive nose but also treats cracked or damaged skin, skin overgrowth, & hyperkeratosis. With the help of Snout Soother, we can relieve their discomfort, protect their snout, & repair their nose!
Because it is completely risk-free and made from natural ingredients, Snout Soother can be reapplied whenever it is required during the day. Because the body naturally heals and repairs itself while sleeping, Snout Soother is most effective while applied shortly before bedtime.
33. Carry Carabiners If You Have Your Pet by Your Side
If you ever go out for a walk with your dog, then you should carry some carabiners with you. These small accessories can help you strap your dog to a pole or a beam and allow you to roam freely.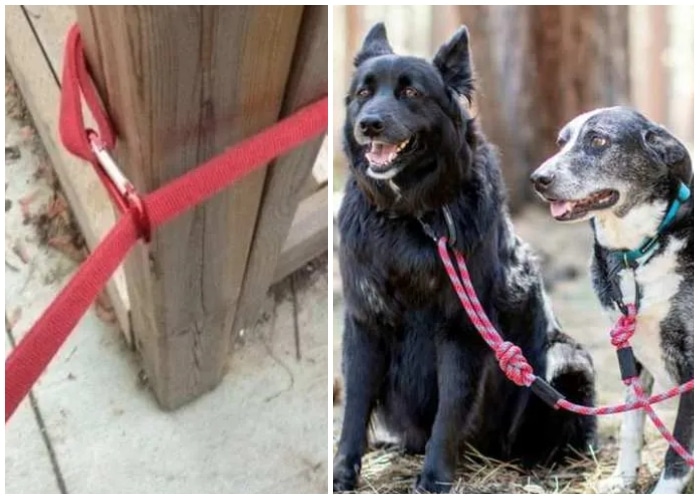 If you have multiple dogs with you, carabiners will allow you to join the belts of the dogs together. In this way, you'll have a smoother time carrying the dogs with you.
34. Dog Food Drawer
Although this hack isn't a simple one, it's one of the most effective ones on this list, and it can improve your quality of life by many folds. If you feed your dog in the kitchen, we highly recommend getting a dog food drawer.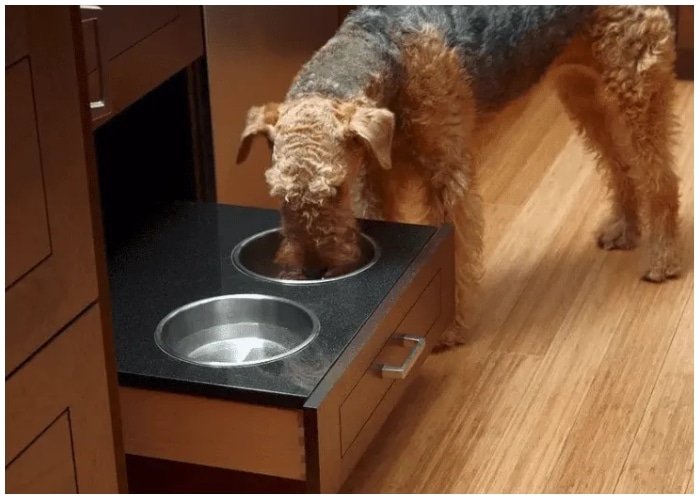 A dog food drawer is exactly what it seems to be. It's a drawer where you can store your dog's food for a certain time. How this helps is that it allows you to prepare the feeding bowl before the feeding time. When the time arrives, all you'll need to do is open the drawer.
35. Know When and How to Use a Squeegee
We all love to let our pets roam around freely in our homes. However, dealing with the shedding furs of our pets can be a nightmare. In such cases, a squeegee can make things much easier.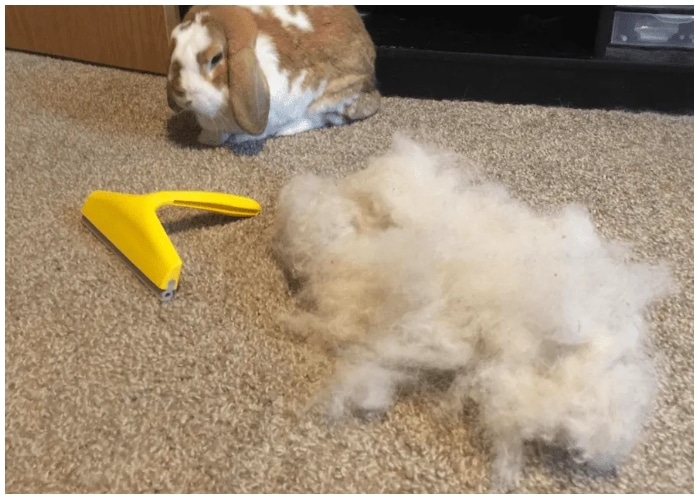 A squeegee is great for a lot of things, and it's one of the best tools when it comes to pulling pet hair out of furniture, carpets, and clothes. This is why we highly recommend using one of these for cleaning your home of pet hair regularly.
36. Dryer Sheet for Picking up Dog Hair
Picking up dog hair from all around the house is a painful task indeed. But, with some easy hacks, the task becomes much easier. One of the best things to use is dryer sheets. They have a magical ability to take up stray dog hair on cloth.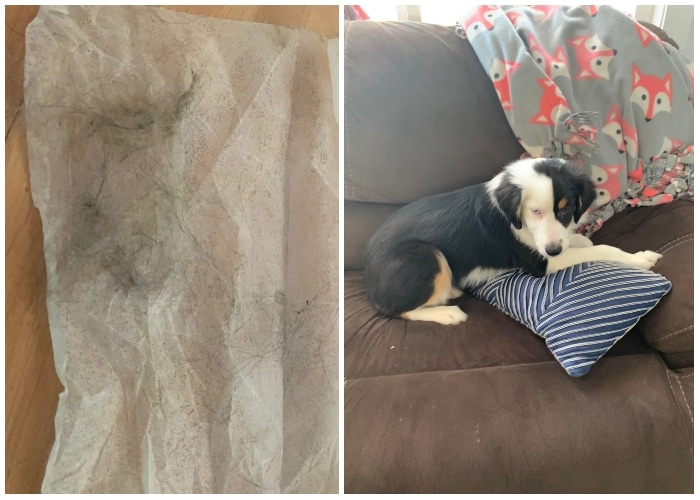 Simply wipe a dryer sheet over your couch or any other area where pet hair gathers and watch it stick to it. We think it gets as simple as that.
37. Immunity-boosting Allergy Supplement
Other wonderful pet hacks could be supplements that strengthen the immune system and treat allergies. This allows dogs with skin sensitivities to live normal lives without having to scratch themselves for injuries. These tasty chews include a dosage of probiotics in addition to other nutrients to help boost a dog's immune function, ease digestion, support healthy skin and hair, plus add shine.
This simple hack could save pets from sores, scabs as well as itching. So it could be a lifesaver for all the pet owners out there since this would make taking care of pets much easier.
38. Switch Rewards for Elevating Training
We need to add a variation to the kinds of treats we have for our pets. For example, instead of merely praising a new trick, we can reward them with some tasty snacks for a tug-of-fun activity.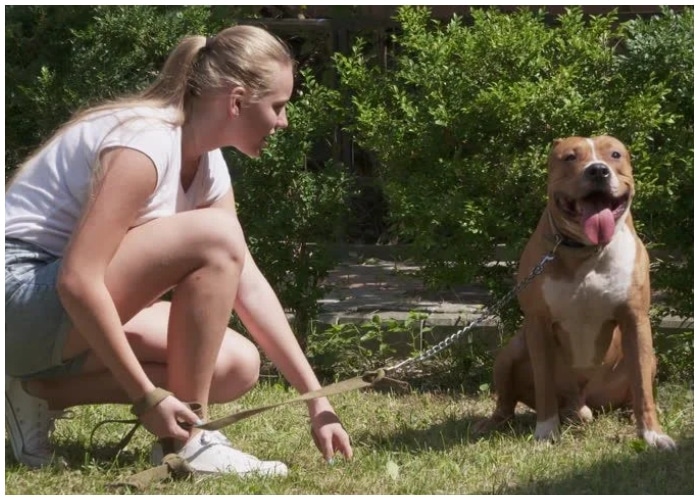 By varying the rules and rewards, we can make training sessions more enjoyable for our pets and ourselves
39. A liquid tartar remover
Another little pet hack is using tartar remover in liquid form for dogs that have a dire need to have their teeth cleaned but will not allow anyone to wash their teeth or come near them with a toothbrush. This is more like a dog mouthwash. Just by adding this to their water, we can see a reduction in the plaque on our dog's teeth and also their bad breath.
After using it continuously for a week (one capful per bowl of water), we should have seen a noticeable difference in the color of the dog's teeth. After three weeks, his molars would have almost entirely lost their plaque buildup. After a few months of use, the plaque that had built up on his canines would become soft enough that it could be brushed off, which would have previously been impossible. Why couldn't human mouthwash be like this?
40. An ear treatment for cleaning the pet's ears
Now we have a pet hack that is as simple as an eardrop for the pet's ears that will remove any accumulation from the poor pet's ears and help avoid irritation and inflammation. Eardrops like these are designed to guard against a wide range of bacterial & fungal illnesses, including yeast & staph infections, among others.
Pets who have chronic ear infections could be saved from a lot of pain by this simple treatment. And as pet owners, we could also save ourselves from spending huge amounts of money and bearing all those hassles with vet appointments.
41. Samples of dog pee can be collected in a simple manner like this
Urine tests from the dog might need to be collected for testing occasionally. In most cases, the veterinarian would ask to assist in this area if the dog is experiencing health problems and need others' assistance in some way. At first glance, the job could appear to be difficult, but in reality, it will not be that difficult!
This simple and affordable option from Amazon could solve pet owners' problems. Although it appears to be a standard-issue little ladle, its construction is unique. Be sure to mark it, though, so that no one in the home uses it for anything edible! We don't have to point out that this appliance has no place in the kitchen.
42. Avoid petting unfamiliar dogs
Children have a natural affinity toward dogs because of their cute appearance. Children have a natural desire to pet dogs, especially if they are unfamiliar with the breed, which can put them in danger. Every year, there are over four million reported cases of dog bites in the United States alone.
Teach the children to stay away from unfamiliar dogs and always inquire about the owner's permission when petting a dog they have not met before. Just as we wouldn't want strangers reaching out to touch us, dogs do not often appreciate it when people they don't know try to touch or pet them.
43. Reduce the appearance of drool stains
We can't stop the drooling that occurs in dogs. However, the biggest disadvantage associated with canine drool is that it frequently leaves stains on clothing and furnishings. Even though there are some things we can do to reduce the amount of drooling, we should still be aware of how to remove the stains it can cause.
Scrubbing something vigorously with a brush is not only difficult but also time-consuming. Acquire some magic erasers from the store, and then sit back and watch it work its wonders. With a single wipe, the pet's drool stain will go completely. As a result, the next day will not begin with weary arms but rather a clean couch.
44. Doggie pool made from a kiddie pool
Kiddie pools aren't limited to the use of children only. Have faith in what we say! Kiddie pools also amuse puppies and dogs. The Boykin Spaniel, German Shepherd, American Water Spaniel, and English Setter are just a few examples of dog breeds that go to the water with greater fervor than others.
They spend hours at a time having fun in the water. Set up a plastic kiddie pool within the yard to provide the dog with a location to cool off during the summer as well as a way to burn off some of their boundless energy. They're not only cheap but also simple to set up.
45. There is no need to buy a bed for the pet
There is a wide range of prices and quality when it comes to dog beds. If money isn't an issue, there are many options to buy from. But if money is an issue, then there are other ways.
Pet owners don't have to go out and spend a lot of money on a bed for the pet because they can construct one out of things that are already lying about their house. Anyone has hit the proverbial jackpot if they own a large number of worn-out sweatshirts. Just make a cozy bed out of it for the dog. It's not difficult at all!
46. Give an arthritic dog the love and attention he deserves
Arthritis, or joint inflammation, is a prevalent problem not just in humans but also in dogs. Massage & exercise can help arthritic dogs feel better, as can monitoring the dog's weight & food as well as discussing treatment options with the veterinarian.
Pet owners might also consider making a sling for the dog as an additional support option. It has the potential to have an enormous impact. Simply by ripping off the side seams of grocery bags, one can quickly transform them into dog slings. This procedure, which may be completed within five minutes, converts the bag into an effective support sling.
47. Pool Noodle As Cone of Shame
Oftentimes, after surgeries, vets suggest that dogs wear medical collars. But most dogs seem to hate them! They act as if someone put them in a medieval torture device! Hence, a little innovation goes a long way, and pool noodles work great as alternatives for cones of shame!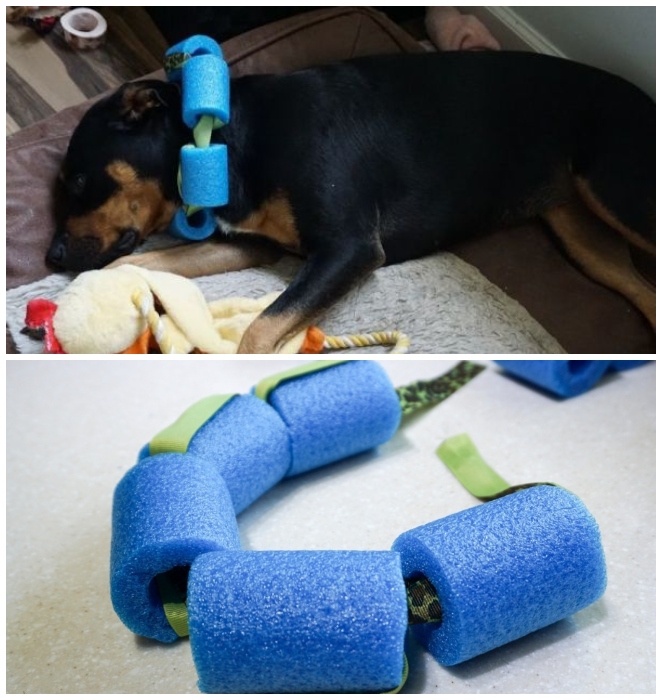 Other than being extremely inexpensive, they are easy to make. Just cut them into 2-3 inch long pieces and thread them using a ribbon. Be sure to loop the ribbon back through the pool noodle to prevent it from sliding around, and it should be good to go. If the thickness is right, the dog won't be able to lick or chew at their stitches.
48. Food And Water Dispenser For Stray Dogs
If there are stray dogs around the neighborhood that need to be fed, there is a new way to do it. One man, out of the kindness of his heart, installed two pipes at the corner of his building- one holding dog food and the other water. The L-shaped pipes were always filled with more food and water so that all the dogs remained well-fed.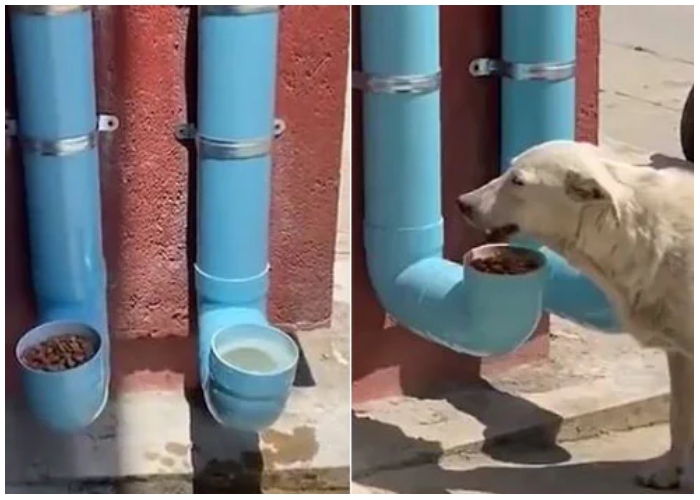 Those who want to feed their local stray cats and dogs, or maybe even their pet animals, but do not want to constantly fill up their bowls can try this out. This hack works great for people who have multiple pets and need a quick and efficient way to feed them all.
49. Baking Soda Makes the Pee Smell Go Away
Often dogs pee on the carpet. This happens mostly when our dogs are new to getting potty trained. Even if we clean up right away, it is difficult to get rid of the smell. Using baking soda is a quick hack.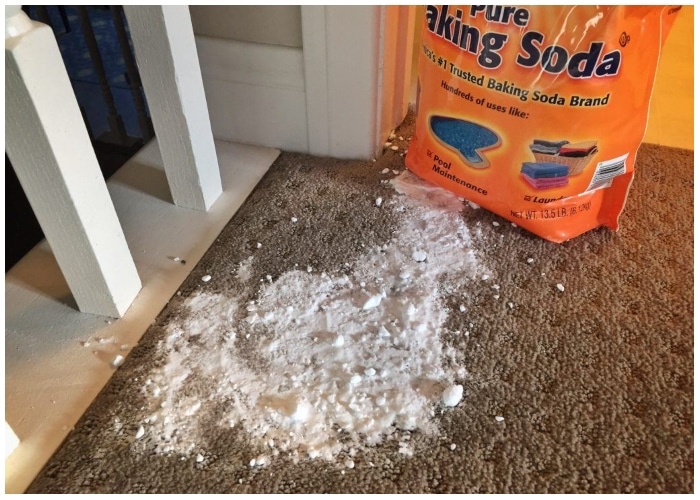 First, wipe the area with baking soda, which works well to remove smells. After applying baking soda to the affected area, we need to wait for 20 minutes. And then we can just vacuum it up.
50. Walnut Covers up Scratch Marks on Furniture
Whether it is cats or dogs, our pets seem to love starching the surface of any furniture. We can try all we want, but they just will not listen. So, here is a way to cover the scratches. Simply by using walnuts.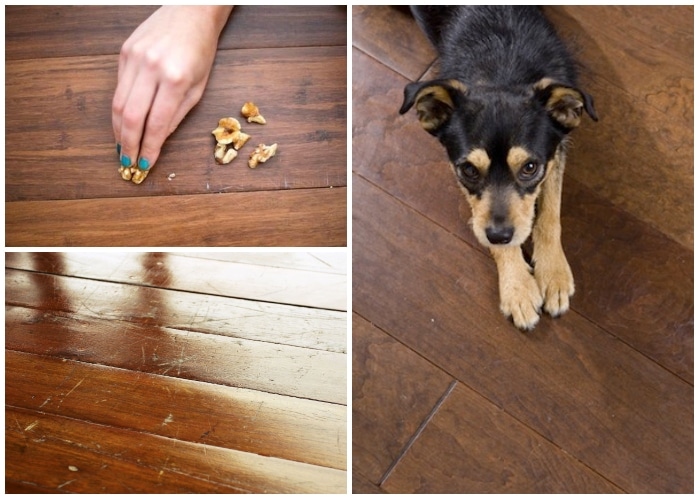 We need to smear a walnut over them. We can conceal them. Walnuts' natural oils soak into the wood, making them an easy method to hide minor scratches in our furniture.
51. Chasing Bubble for a Nice Afternoon Run
Most dogs enjoy chasing things. This is practically their favorite playtime. We can make it interesting in many ways. Playtime is good exercise for pets. Chasing Bubbles is an excellent way to do that.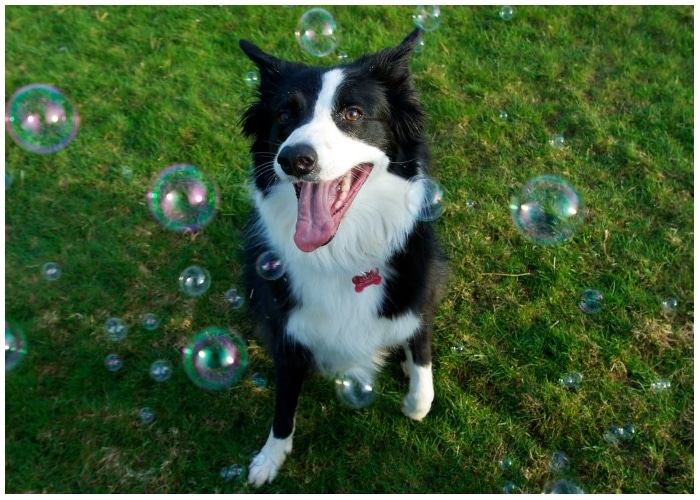 We can take advantage of our dog's natural instincts and train him to chase bubbles. This will be both fun and easy exercise. Other than chasing, this will allow them to bounce and play. It is a good exercise for their heart.
52. Packing Tape Handy for Picking Up Loose Pet Fur
Petting dogs is blissful, but once they are off our lap, the clothes seem to disagree. Clothing attracts a lot of dog hair. And lint rollers are not always handy. To handle the situation, we have a quick hack- packing tape.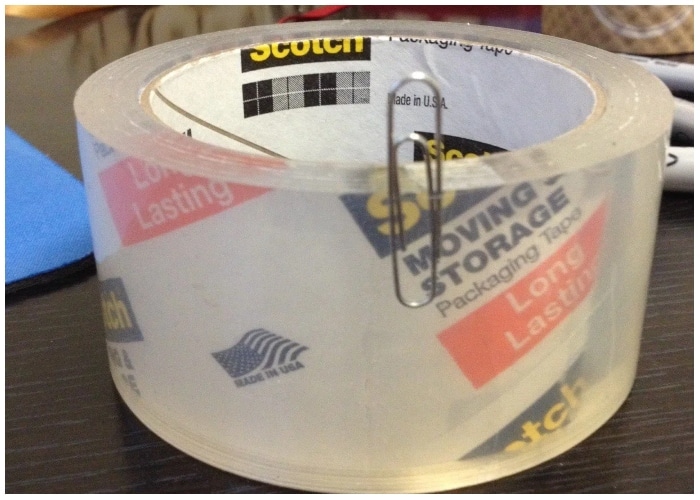 Using packing tape to pick off all the dog hair that goes all over your clothes is one of our favorite life hacks for dog owners. So spend all the time with the pet now.
53. DIY digging box
Dig, dig, dig. Is it the only thing we've ever noticed our dog doing? To a dog, digging is an enjoyable pastime, and it also serves as a stress reliever. Therefore it's only natural that they would do it. Dogs with issues related to boredom and separation anxiety are frequently the much more active diggers.
The destruction of the garden and the plants' uprooting are two of the potential negative outcomes that can result from continuous digging. One should construct a unique digging box for their canine companions and instruct them to do their digging there rather than in the gardens or the well-maintained yard.
54. Wrinkle Paste to Prevent Moisture From Building Up
This is a simple wrinkle treatment that is not only effective in removing tear stains but also prevents moisture from accumulating in the folds of the skin. This is enormously beneficial for squishy-faced types like Frenchies, pugs, and bulldogs, but long-haired species can also benefit from it. Wrinkle Paste works by creating a water-repellent layer on the surface of the skin. This barrier keeps dampness, yeast, fungus, as well as other bacteria away, which in turn results in wrinkles that are happy, protected, and have a pleasant scent.
Because it is so mild and risk-free for the pet, one doesn't have to worry about using it as frequently as they need to to get the most out of it, which is another reason why we like this product.
55. Upgrade Vehicles with Restrainers for Dogs
We understand that dogs enjoy peering out car windows, but it is a risky habit. They might be hit by debris, causing damage to their hearing, and there is always the possibility that they will spot something and jump out.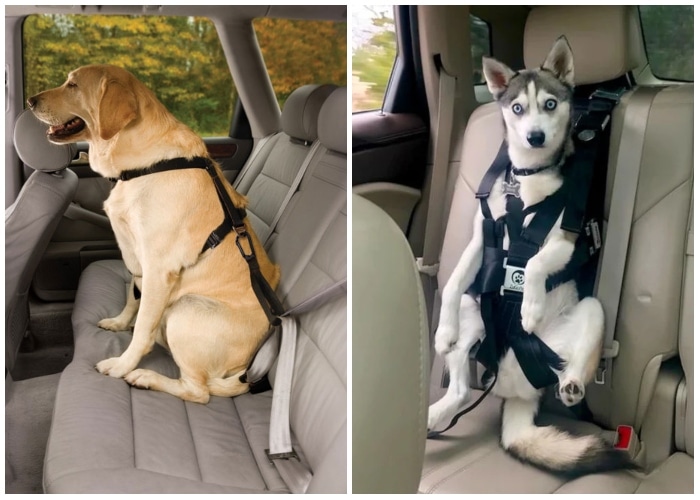 It is a good idea to have the dog confined in the car if we are going to be traveling faster than 20 mph. Safety is the most important thing for pets.
56. Keep Garbage Off Limits for the Pets
While it may seem self-evident to store cleaning supplies securely, one of the most serious risks to a pet's health in the house is garbage. This is because they sometimes tend to sniff in the garbage.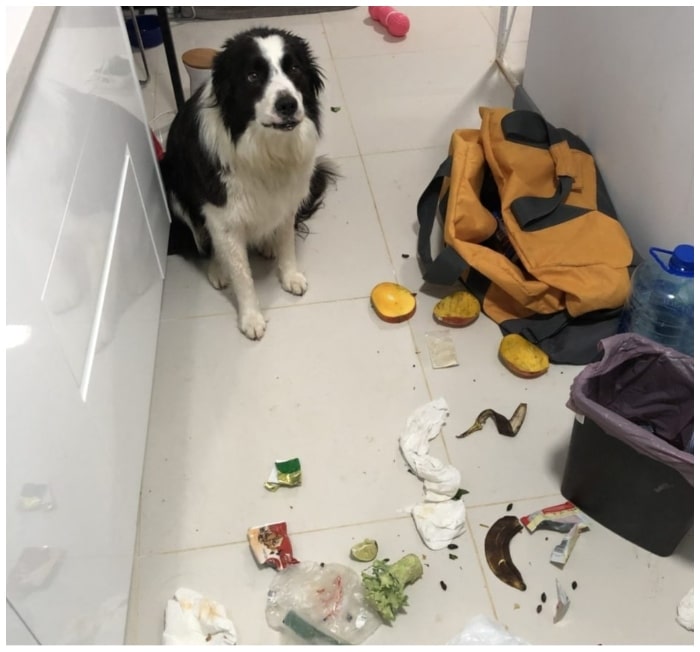 If the pet gets into the trash, we can seal it with kid-proof locks or hide it in the closet or garage while we are not home. But we need to make sure that the pets do not have access to the garbage.
57. Neck Pillow
This hack is so easy that you can find everything you need if you have a travel pillow that fits around the neck. Depending on your dog's size, an inflatable neck pillow can help you keep your dog safe and comfortable during recovery.
Some have buttons that can be kept on. If yours does not, you will need to find another way to attach it to your dog's neck. Just sew tabs into the seams to attach a neck-shaped pillow to your pet collar.
58. Treats that are Creative
There are a lot of ways to create creative treats that your pet will simply love. We will discuss the easier method today!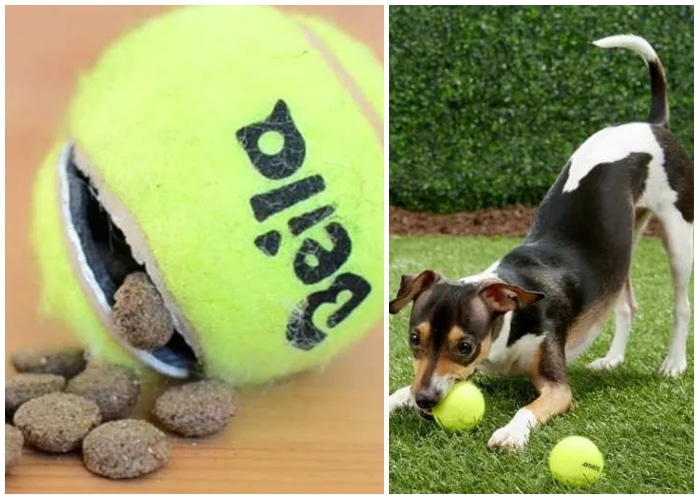 Just take a tennis ball. It can be either new or used. Cut it on one side so that there's an opening. Now, all you need to do is fill the ball with your pet's favorite treats. This will make the feeding session much more enjoyable for your pet.
59. DIY pet shampoo
Make your own homemade pet shampoo with just a few simple ingredients. Mix together 1 cup of water, 1/4 cup of apple cider vinegar, and 1/4 cup of baking soda. This shampoo is gentle on your pet's skin and coat and can help to soothe any itching or inflammation.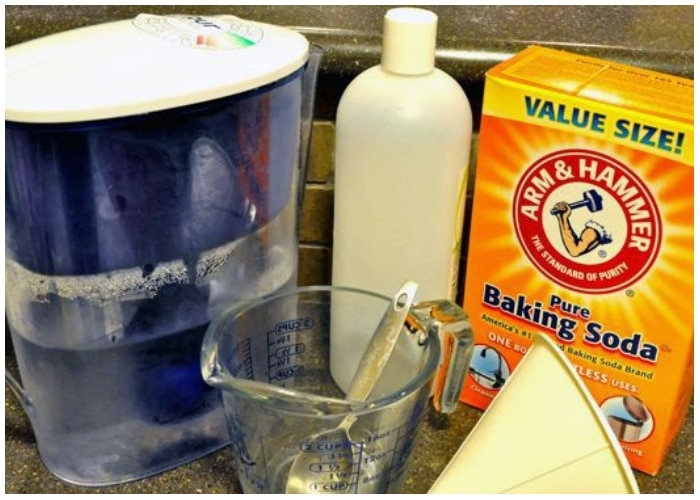 It is also a cost-effective alternative to store-bought pet shampoo. Plus, using natural ingredients such as apple cider vinegar can promote healthy skin and coat.
60. Feed Them with Parsley for Bad Breath
Most of us brush our pets' teeth so that they don't have bad breath. However, it's not possible to groom your pet every day, and it's okay to skip brushing once a week or so.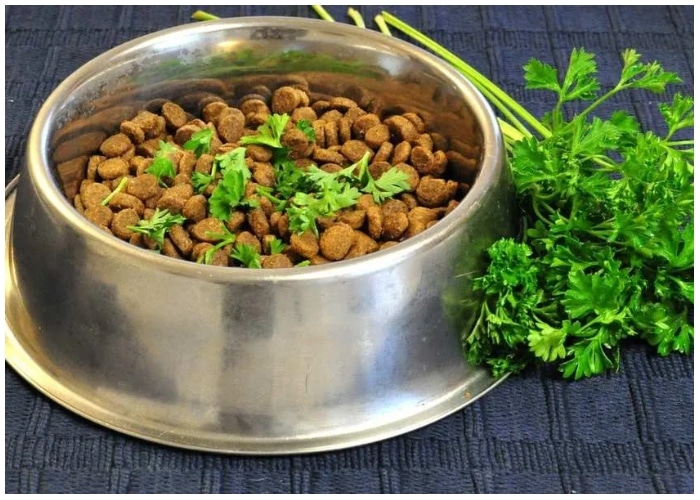 In such cases, you can add a bit of parsley to your dog's food. Doing so will prevent your pet's mouth from smelling bad. Parsley not only neutralizes the smell but also kills the bacteria in your dog's mouth. This is why we highly recommend doing this.
61. Use popcorn as a ball in a game of catch
It's in a dog's nature to enjoy games like catch & fetch. It seems several breeds of dogs were developed with the express purpose of retrieving dropped objects. As a result, many dogs still delight in following after objects, grabbing them in their teeth, and returning them to their owners.
Any dog can be taught to catch, so don't fret if it doesn't already. Throwing toys at their faces is indeed the wrong approach to take. Unseasoned popcorn is better for this function because it is tasty and light. In addition, it's tempting to them as well.
62. Innovative Collars for Preventing Escapes
A lot of pets tend to wiggle through fences in order to escape, no matter how well they are kept. This is only an instinct many animals bear with them, and it's natural if your pet is trying to escape.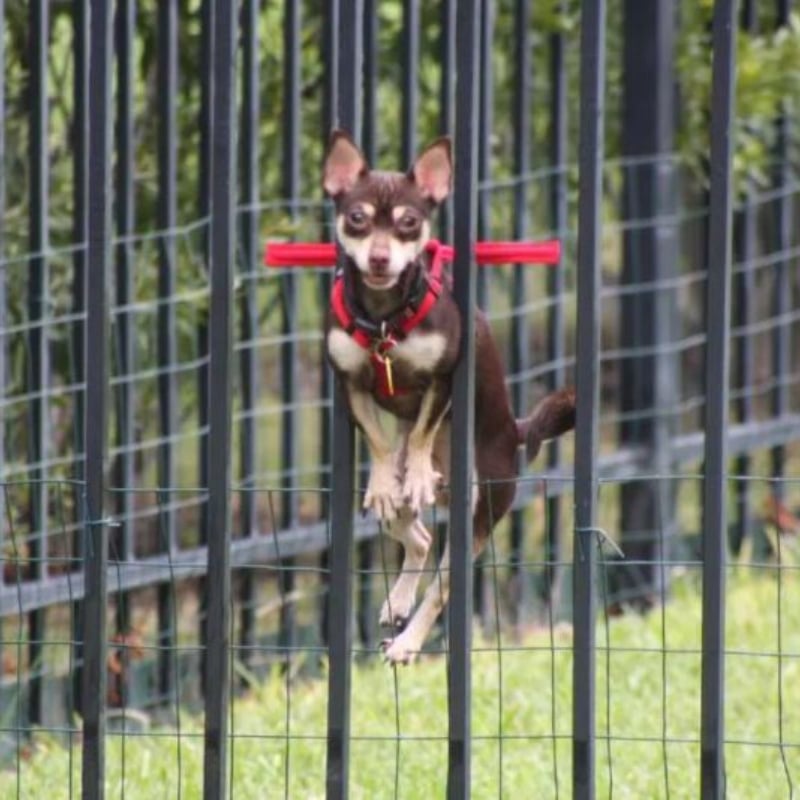 However, this, too, can easily be prevented by getting a specially-made collar that comes with horizontal extensions. These collars will prevent your pet from escaping as they will get stuck at the fence, thanks to the horizontal extensions. The best part is this method will give your pet adequate freedom and won't hurt it while trying to escape.
63. Handy Tear Stain Remover
Excessive tearing in dogs, often known as epiphora, is the cause of tear stains. Tears from the dog's eyes should normally go into the nasolacrimal duct, which is located in the nasal cavity. Tear stain removers for dogs are made to eliminate stains caused by tears that remain on the coat & attract dirt as well as bacteria or yeast. A miniature comb that can be used to gently disentangle the fur surrounding their eyes, which has become clogged with eye gunk.
Users won't need to get their hands dirty since this brush is made of stainless steel and will carefully remove the gunk for them. Once the fur has fully grown out, users can cut away any affected areas to prevent the stains from spreading.
64.
Place a box on your desk
While cats can be adorable, they can also be a distraction when you're trying to work remotely. Cats often like to be close to their owners, so they might try to perch on your desk or keyboard. To prevent this from happening, you can give your cat a designated spot on your desk.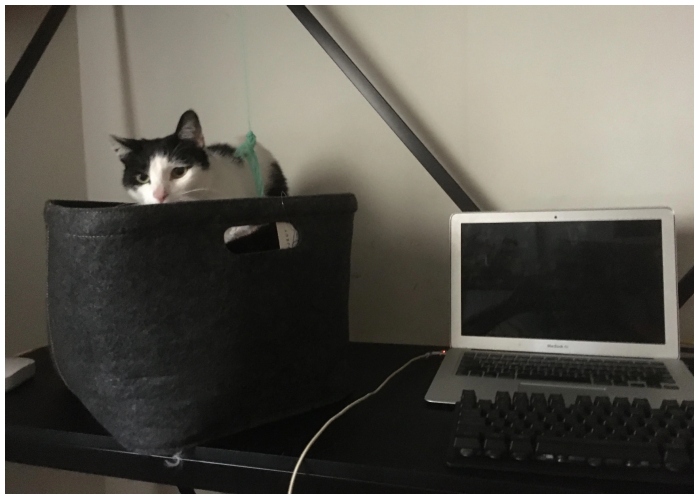 A great option is to provide an open box for your cat to sit in. Cats often enjoy these types of spaces and may even prefer them to your keyboard. By doing this, you can keep your cat nearby while still being able to focus on your work without distractions.
65. Turn Old Clothes into Tug Toys
Those with cuddly pets are the lucky ones. Playing with tug toys is one of the favorite games of most pets. We do not need to buy these toys while we have a few spare t-shirts hanging around.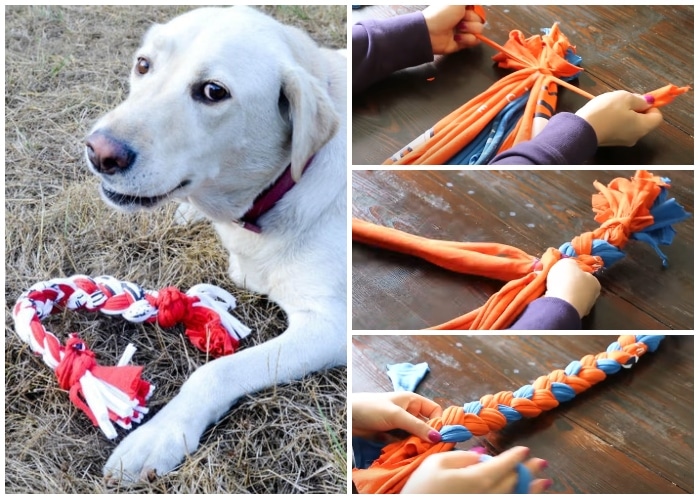 Rather than tossing out an old t-shirt, we can simply braid it into a tug toy to make our own toy. Trust me, the pets are going to love these homemade tug dogs. Fun and efficient.
66. Simple Frozen Dog Treats to Make
Treating your pet can help them grow and stay happy. However, we might not always have treats handy to appreciate the pet. Here is a hack to solve this problem. We can make some frozen dog treats at home.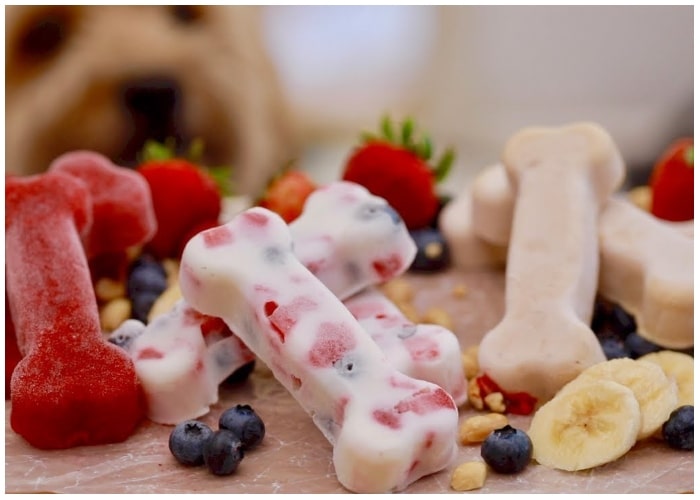 The process is simple. We need to freeze some broth on ice trays for a refreshing treat for our dogs on hot summer days. They are going to love it.
67.
Ring The Bell For Service
It's easy to teach your dog to ring the bell to signal that they must go outside. You can hang a bell such as this by the door and shake it every time you take your dog out to use the potty. If your dog responds to a particular phrase, such as "Let's get outside" or "Time for potty," you can use it while ringing the bell.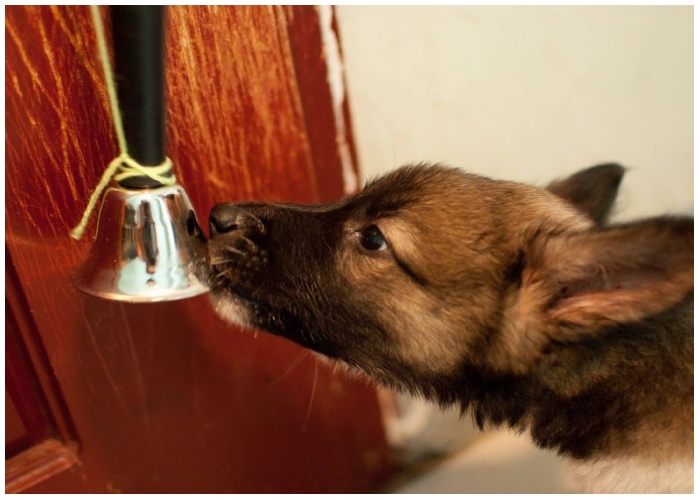 After a few days, you can get your dog involved. Begin by having them push the bell into their nose or paws. Then reward them with head scratches and verbal encouragement as they go outside or take them to the park. Avoid rewarding them with treats, as they could learn that ringing the bell earns them a treat. After several weeks or days of following this pattern, your dog will start to ring the bell to alert you that it's time for outside.
68.
Use A Shower Cap
Dogs can feel irritated when shampoo and water drip down their faces and into their eyes. Keeping them from getting too wet while washing their hair can be challenging. A cheap shower cap will do the trick.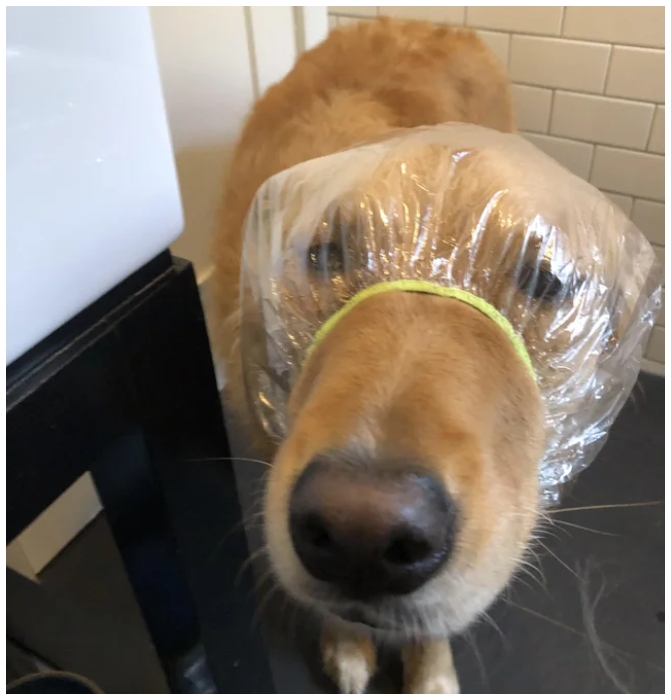 Placing a cap over your dog's head that covers its ears prevents the soap and water from getting into its ears. It acts as a little umbrella for their face. It will not only protect their eyes and calm their nerves, but it will also make them look great.
69. DIY puzzle toys
Keep your pet entertained and mentally stimulated with DIY puzzle toys. You can make your own puzzle toys by hiding treats inside empty cardboard boxes or plastic bottles or by creating a scavenger hunt using small toys or treats.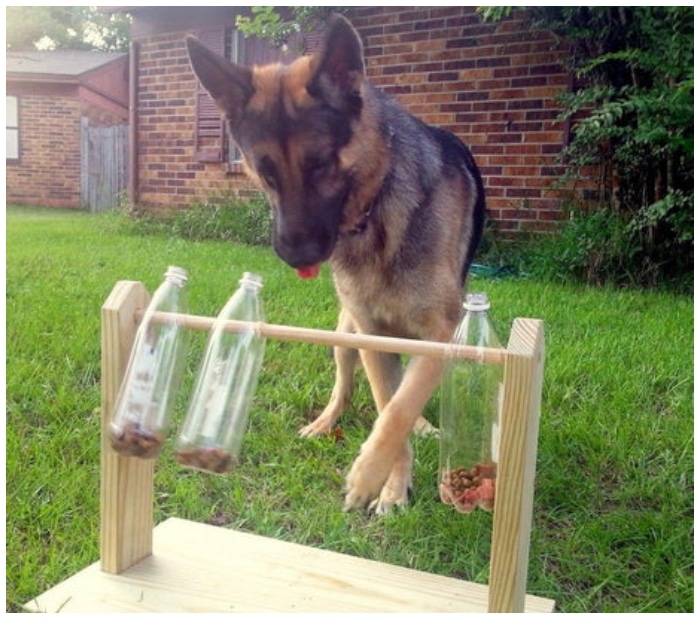 This is a great way to keep your pet engaged and active and can also help to reduce destructive behavior. It can also help pets to stay mentally stimulated, which can help to prevent behavioral issues from arising. Plus, it's a fun and interactive way to bond with your pet.
70.
Shallow plate for cats that eat fast
Cats who eat too quickly may be at risk of getting sick. One way to prevent this is to alter the way you feed your cat. Using a shallow dish can help slow down your cat's eating speed and encourage them to savor their food.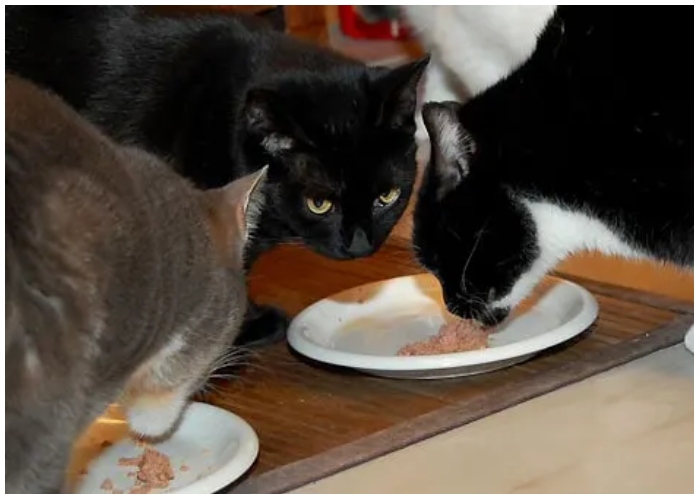 Shallow plates take longer to finish than deep plates, which can help reduce the amount of time your cat spends eating. Additionally, flat plates can help decrease whisker stress, a condition that occurs when a cat's whiskers touch the sides and bottom of the bowl. By using a shallower dish, you can help keep your cat healthy and happy.
71. Food Dispensing Toy for Fast Eaters
Some of our dogs eat too quickly. This is not a good sign. Eating quickly can cause problems in their digestion. We can slow them down with a food-dispensing toy.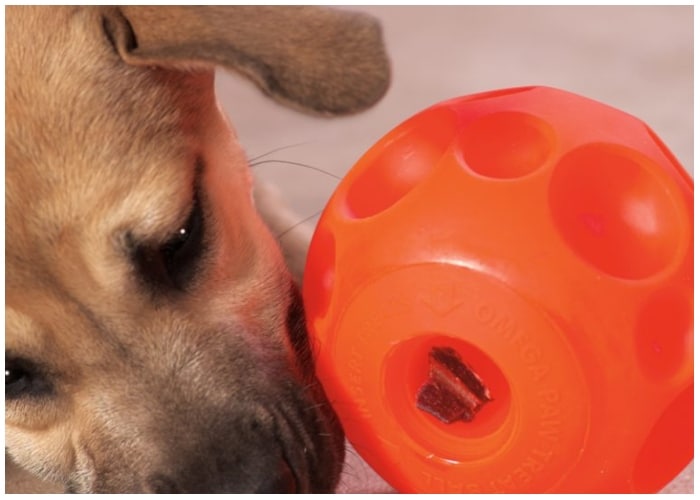 A substitute for the food-dispensing toy can be a few tennis balls in their bowl. This not only keeps them from eating too quickly but also gives them a good mental workout. This is a good step for dogs to have healthier minds and bodies.
72. Flour or Cornstarch Stops Dogs Nail from Bleeding
Cutting the nails short for the pets is a tricky job. Unfortunately, not all of us can ace this job. Although this is sensitive, most of us end up cutting our nails too short. And then the blood shots are visible. Do not panic. Keep a quick med ready.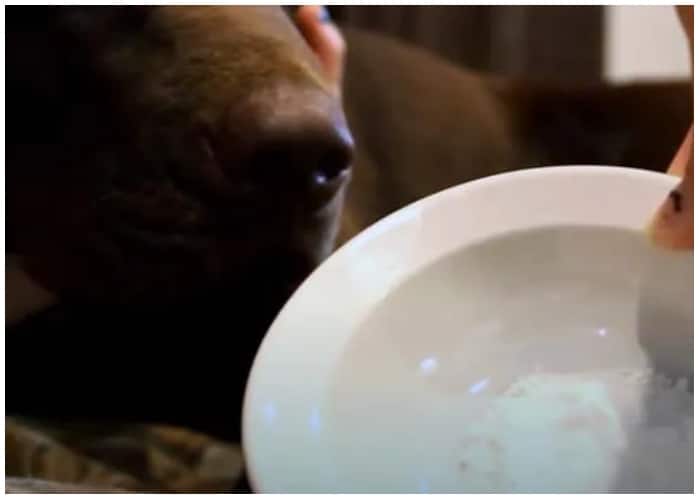 First, make a thick paste by mixing flour, baking soda, or cornstarch with water. Then apply it to the nail with moderate pressure for a few minutes.
73. Drawers Make Good Pet Beds
The dog drawer is not only a fantastic method to save space and keep the home appearing tidy, but it also provides a neat and comfy bed for the dog.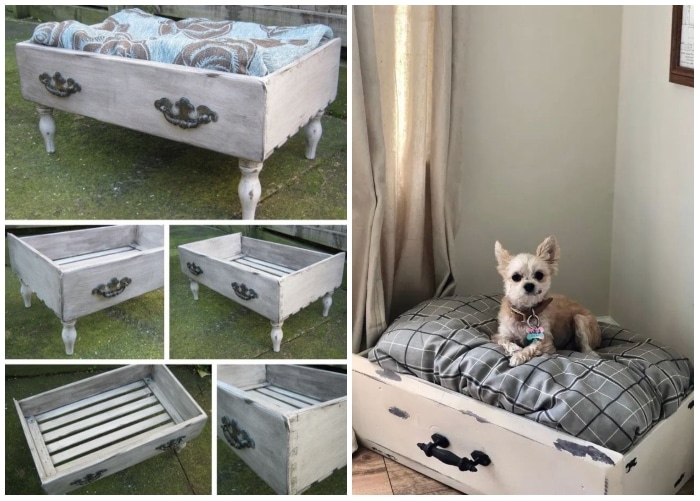 To prepare this, just remove the drawers or shelves from a dresser and place a dog bed within. This is one of the cutest hacks we have on the list.