If you're living in a small house, you know how challenging it can be to keep everything organized and make the most of your limited space. But don't worry – we've got you covered! In this article, we've compiled a list of 35 tips and tricks to help you maximize the space in your small house. From smart storage solutions to furniture hacks, these ideas will help you transform your cramped living quarters into comfortable and spacious homes.
So whether you're a small house dweller looking for inspiration or just looking for ways to make your space feel bigger, this article has something for everyone. Also, it will guide you on how to take advantage of every inch of your home without having to get rid of any of your favorite belongings.
Living and Dining
If you are really short on space, combine your small living room and dining room to be one. This dining table behind the couch is a great idea, especially for those who end up eating all their meals in front of the TV anyway!
You will need to acquire a specially thin table the exact length of the sofa. Once that is done, simply place the table behind the sofa and add a few chairs. You might not have enough room to make the table in a traditional way, but if you are watching TV, a plate and a glass fits just nicely.
DIY Non-permanent Solution to Create Walls or Room Dividers Around Your Bed
Using wood is a great option if you're looking for a DIY, non-permanent solution to create walls or room dividers around your bed. With a few basic tools and materials, you can create custom, sturdy, and stylish dividers that can easily assemble and disassemble. To begin, you'll need to gather your materials. You'll need several pieces of wood cut to your desired height and width, as well as hinges, screws, and a drill. You may also want to consider using decorative elements like paint or wallpaper to customize your divider.
First, decide on the layout and size of your divider. Cut the wood pieces to size using a saw, making sure to create matching pieces for each side of the divider. Once the pieces are cut, sand the edges to ensure a smooth finish. Next, attach hinges to the sides of each piece of wood, spacing them evenly apart. Once the hinges are in place, connect the pieces of wood using screws, making sure that they are aligned properly and securely fastened together. Once your divider is assembled, you can decorate it as desired using paint, wallpaper, or fabric. You may also want to consider adding shelves or storage compartments to make your divider even more functional. Finally, place your divider around your bed to create a private, intimate space. Because it is non-permanent, you can easily move or disassemble the divider when needed.
The ultimate bed storage
The Malm storage bed is a classic solution for under-bed storage. That's correct, you can't talk about small-space design without discussing IKEA.
Some of their best-selling items, such as this bed, feature smart storage solutions. It is also convenient that you don't have to spend a lot of money to receive it. You get a queen-sized bed plus a large storage container in one piece for a few hundred dollars. The gas piston and spring system make it easy and safe to open and close the bed without putting strain on your back. And that means you don't have to be super strong to access the storage. These beds are also a great option for guest rooms, allowing you to store spare bedding and blankets under the bed until family or friends come to stay. The IKEA Malm bed is 100% wood from more sustainable sources.
Take a seat!
This university library (which we wish we knew its location) devised a novel approach to keep the lounge area free of chairs. The fabric block seats are stored vertically in the wall and appear to be comfortable.
The pun enthusiasts among us can't help but appreciate how the phrase "taking a seat" in this room transcends metaphor and is actually what individuals need to do in order to sit down. Folding chairs are comfortable, easy to transport, and are a great option for several different situations. They are generally used for seating in areas where permanent seating is not possible or practical. You will be able to keep a cute dining setup intact during dinner parties and then have room to walk around when it is back to just you and your roommate. Folding chairs come in many colors and materials. You can find nice ones for an affordable price.
A painted air conditioning unit
You can go ahead and buy all kinds of items that are secretly storage units as well as whatever else they're meant to be, but dealing with what is already in the space is one of the best ways to make it appear a lot more spacious.
Consider painting the air conditioning units as a wonderful trick. They appear to vanish by painting them the same color as the wall. By painting your air conditioner with spray paint, you can get rid of the yellowish appearance it acquires over time. Two coats of enamel spray paint are usually sufficient for adequate coverage. It is recommended that you purchase enamel formulated to paint appliances at the hardware store. Take care not to spray inside the ventilation slats on the side since it could damage the circuits. Overspray entering the unit could coat condenser coil surfaces and affect cooling efficiency and performance.
Glass furniture
There are some pieces of furniture that you simply cannot live without. A wonderful table is something that every home requires, even those with very limited room. There are, however, some tables that take up less space than others and some tables that appear to take up no space at all.
Choosing a table with a round glass top can make a room appear much larger than any other option. Glass tables are easy to clean and maintain. Whether it just needs a quick wipe or you have spilled some milk onto its entire surface, it will be quick to clean that up. All you need is a damp or wet cloth and a bit of dish soap. Be aware that placing very hot or very cold items, such as saucepans or barbecues, directly on the glass surface can break it. Extreme temperature differences over small areas can lead to shattering.
Mirrors on the walls
This is a trick you've probably heard about before. Mirrors on the walls of smaller rooms are proven to make the spaces appear larger.
You may be put off after seeing it perform poorly in cheap apartments, but trust us when we say it can be styled in a way that it's stylish and efficient. Mirrors on the walls in a room with a clean design simply reflect that greatness. A tall mirror draws the eye upward, instantly making the room feel more spacious. There is a multitude of optical illusions that can be created with tall mirrors. A mirror in the kitchen can help a cook keep a lookout for what's happening in the dining area behind them. It can also create the illusion of a window that opens onto the room beyond. A hallway mirror welcomes visitors by the entry, making it an aesthetic addition.
Comfy window seats
Turning a window into a temporary seating area is a great way to free up some room. They are comfortable, one-of-a-kind, and provide a plethora of possibilities for arranging a small space. It can be used as a nook to read a book.
Window seats can also be utilized for storage, as shown in this photo, giving them a true double whammy for those rooms that are simply too small. Designing a reading nook can be a really pleasant experience, since it is the one and only place you can actually adjust to yourself. You can also use an empty closet to turn into a reading getaway. It is actually the cheapest solution you could come across. All it takes is to add some comfy seat, ideally cushions or bean bags. However, keep in mind you will need lots of extra lighting to help you read.
Store hats behind the door
In a tiny living area, knowing how to use the backs of doors will save you much time and money.
You can have the perfect area to keep all of your hats by using an ordinary shoe rack on the back of a door. This will free up a lot of space in your closet, which is always a good thing for those of us who have lots of clothes. You can take two hanging shoe organizers and hang them in a closet, then fill the compartments with all of your hats. Each section is deep enough to hold 3 hats. Not only will these easily hold all of his baseball caps, but they also easily store his bucket hats too. These hangers are simple to install, and they keep the hats accessible. A small hat rack mounted to the wall in a hallway can also be a storage possibility.
Storage on wheels
If you live in a small house, wheels will come in very handy. It's not only convenient in the sense that you may shift objects from one location to another fast, but it also means that your storage does not have to be permanent.
Certain objects will need to be moved into other rooms as you make improvements to your home, as each room will simply not have enough space. With the wheels under their feet, these storage baskets can be moved around stress-free without leaving a scratch on your floor. You can choose to remove the wheels if you wish to place them somewhere indefinitely and put them back on if you want to use them again. A trolley is the next best option. You can use it to organize anything from craft supplies to groceries to toys to cocktail paraphernalia.
Roll in the drop-leaf kitchen island
The drop-leaf table is the perfect piece of furniture for compact kitchens with limited space. The practical foldable table can be moved about the kitchen with ease. So, when you need it, just pop it up, or place it to the side for easier movement.
It comes in various styles, sizes, and materials, with numerous drawers and useful compartments, so you will never run out of storage space. You can place your island against a wall or in the center of your kitchen – either way, the drop leaf feature will be a great addition. You can use it to seat extra guests or make more room while prepping dinner. Most people add kitchen islands for their social benefits since they are an ideal lunch spot for families, a brunch nook for couples, and a place to entertain in the evenings with wine and snacks.
Maximize your fridge space
Things can quickly become cluttered in small refrigerators. Egg cartons are stacked next to greens, and yogurt containers are pressed together. Without organization, it's more difficult to find what you're looking for, and food spoils faster owing to improper storage and temperature.
Storage boxes, which are hung on the existing fridge shelves, fix part of the problem. You can now have different boxes for greens and for, milk products, etc. As a bonus, keeping food in containers can also make cleaning easier. As everything is off the shelves directly, there should be far fewer spills or smears – and the vast majority of fridge organizers can simply be popped in the dishwasher. As far as material, transparent plastic containers give you a clear view of contents, so you know when it's time to restock. Also, food storage can help prevent foodborne illnesses caused by harmful bacteria.
Bed on the wall
This is a terrific method to ensure plenty of closet and storage space and a comfy bed that looks like a little cave.
This design is particularly well suited to those spaces that are narrow and rectangular. You don't squander any more valuable floor space than necessary because everything fits on one wall. This provides space for your kids to play or a desk and chair for schoolwork. A Murphy bed can help you save space throughout the day or when the bed isn't in use. It also provides the impression of a larger and brighter room because they only fold out when needed. Murphy beds are popular because they conserve space. They also blend in with the environment without compromising elegance. A Murphy bed is always advantageous, whether you live in a 900-square-foot apartment or a large house.
Get your kitchen cabinets organized – quickly and easily
Transform Your Kitchen Cabinets with This Simple, Affordable Solution: No Tools or DIY Skills Needed. Discover the magic of Under Shelf Wire Racks – a game-changing addition to your kitchen organization game plan. You've probably seen them on Pinterest or at your favorite home stores, but you're missing out if you haven't tried them yet!
We began our journey with just two wire racks for one cabinet. After effortlessly hooking them in place, we were blown away by the instant transformation! Naturally, we had to grab another pair for the adjacent cabinet. It's time to level up your kitchen organization game with these versatile, budget-friendly wire racks!
Under the stairs
Here's another version of a storage method that we've already discussed. But it's such a terrific and versatile design that it's worth repeating and looking at its different versions.
The form and number of drawers you can fit under your stairs can vary depending on the size and type of steps you have. As a result, it's likely that you'll require a professional to create this storage area for you. That is a significant investment, but if there is one place in a small home where you should splurge, it is on items that will make it more space efficient. A headboard with a foldable work desk is a clever space-saving idea. This way, one can just drop down the platform and work right from the comfort of their bed. When not in use, it can be folded back to create a flushed finish to match the aesthetics.
Enjoy Additional Storage Under The Bathtub
Cleaning products can be hidden behind the base and head of a tub, so they are close at hand, or bulky shampoo bottles that won't fit in a medicine cabinet can also be stored there. Ask your constructor to install three hinged doors rather than a removable bathtub front panel, commonly screwed in, to allow for future upkeep.
You can spray the doors professionally to make them more humidity-resistant in bathrooms. Also, it's recommended to install wire baskets inside. The wire baskets fit perfectly on the door's width using repurposed single-tier spice racks.
Roll-up DIY Laundry  Drying Rack
Transform the humdrum chore of laundry into a smooth, space-saving operation with this inventive DIY drying rack. You'll Need: A strong curtain rod or dowel spanning the width of your chosen drying area; Lightweight nylon rope or a robust, flexible cord; Reliable hooks or brackets for securing the curtain rod or dowel; Clothespins or clips for hanging your laundry; A pulley system or a cleat to hold the rope when your drying rack is in its rolled-up position
Follow these steps: Set up the hooks or brackets on either end of your preferred drying area. Ensure they are level and securely installed; Place the curtain rod or dowel in the hooks, checking its sturdiness to handle the weight of your damp laundry; Now, tie the nylon rope or cord to one end of your makeshift drying rack, threading it through the pulley system or around a wall-fixed cleat. This feature will enable you to roll up the drying rack effortlessly once your clothes are hung; Attach clothespins or clips to the rope or cord, spacing them at equal intervals to accommodate your laundry; When it's time to hang your clothes, just pull on the rope or cord to roll down the drying rack. Once your clothes are dry, roll them back up and revel in the additional space you've saved.
New use for headboard space
This is just another inventive approach to make use of that unused headboard space. Simply install pull-out drawers inside of it. This is advantageous since it provides different uses. If desired, these drawers can be used in place of a nightstand.
Those who require additional storage can keep a tiny nightstand for their phone, glasses, etc., and utilize the pull-out drawers for books, board games, wires, or whatever other knick knacks they don't have a place for. With this piece of furniture, you'll be using a small amount of space but generating a lot of storage space. It's ideal for small houses. A headboard with a foldable work desk is a clever space-saving idea. This way one can just drop down the platform and work right from the comfort of their beds. When not in use, it can be folded back to create a flushed finish to match with the aesthetics.
Drying rack above the stairwell
If you want to make the most of your space and save floor space, consider a drying rack above the stairwell! This drying rack is a great way to hang your clothes and accessories to dry, freeing up your floor space for other activities. Here's how you can make your own drying rack above the stairwell: Materials: 4 wooden dowels (2 inches in diameter and 4 feet in length), 4 end caps for the dowels, 2 hooks, 2 screw-in cup hooks, 2 metal brackets, Screws, Drill, and Measuring tape. 
Instructions: Measure the width of your stairwell to determine how far apart the two metal brackets need to be; Use the drill to attach the metal brackets to the wall above the stairwell. Make sure they are level and securely fastened to the wall; Screw the cup hooks into the metal brackets; Attach the end caps to the wooden dowels; Hang the wooden dowels from the cup hooks; Screw the hooks into the wall near the bottom of the stairwell; Hang clothes and accessories on the dowels and the hooks for easy drying; Your drying rack above the stairwell is now complete and ready to use! You can now enjoy the convenience of having a place to hang your clothes and accessories without sacrificing floor space.
Using the steps
When you think about it, stairs are a major waste of space, but they are necessary in homes with multiple stories. So, this is a brilliant use of all that empty space. This concept originated in the tiny house movement, where every inch of available space must be utilized, but it has now migrated to ordinary dwellings.
Each step can be a large pull-out drawer that can hold everything from shoes and pillows to books and clothes if done correctly. This way, people get a lot more storage space and it feels like the place is a lot bigger than it really is. Being one of the most trafficked spots in the house makes the stairway a prime spot for clutter. With built-in shelves and cabinets, your family has a place to put backpacks, books, and other things. The traditional-looking stair-and-drawer system is one of the most popular DIY storage solutions.
Bed up high
This little girl doesn't have to be upset about her cramped quarters because she has everything she requires thanks to this ingenious piece of furniture. This space functions as a playroom, a bedroom, and a closet all in one.
Sure, she'll outgrow the small playroom in a few years, but that will coincide with the age when she begins to require more clothing. So, she'll be overjoyed to suddenly have twice as much closet space. The idea is to put the bed in height so that there's space under it, utilizing not only the horizontal sqft but also the vertical space. A multipurpose bed with a closet underneath is the perfect centerpiece for your child's bedroom. The bed itself is spacious, and there's more than enough space to study comfortably below. This loft bed with a wardrobe underneath can also come in handy if you've been looking to add more storage.
Transform Your Electrical Panel into a Stylish Feature with this DIY Slat Wall Cover
Is an unsightly electrical panel throwing a wrench in your home decor plans? Fear not, we have a fantastic DIY solution that hides the eyesore and turns it into a chic statement piece you'll be proud to show off. Here's how to make it happen: Begin by constructing a frame for the cover, extending about 6 inches from the wall to accommodate the electrical panel. Think of it as a shallow closet – functional and discreet. Choose MDF boards to cover the frame. This material is affordable and easy to work with, and it's perfect for adding the slat wall detail that'll elevate your project from ordinary to extraordinary.
Attach a full-height door to the frame using a piano hinge. With the closet fully framed and covered in MDF, it's time to plan your slat wall feature. Opt for primed MDF boards (5/8in x 1.5in) and determine the spacing between the slats – we recommend a 1/2-inch gap for a sleek, modern look. Before attaching the slats, paint your MDF boards with a coat of primer, followed by your chosen color. Attach the slats to the MDF boards using a nail gun, then carefully insert any protruding nails with a Robertson screwdriver and hammer. Fill the holes with wood filler, sand them smoothly, and apply two more coats of paint for a flawless finish.
Create a Cozy Sanctuary with this No-Nails Dorm Room Privacy Curtain
Craving a little privacy in your dorm room? We've got you covered with this Command Hooks hack. Here's what you'll need to get started: A lightweight curtain rod or tension rod, long enough to span the width of your desired privacy area; A curtain of your choice – opt for a fabric that matches your dorm room decor and offers the level of privacy you prefer; Command Hooks – be sure to choose a size and weight capacity that can support your curtain rod and curtain; A measuring tape and a level to ensure proper placement of the hooks.
Start by measuring the width of your desired privacy area and choosing a curtain rod or tension rod that fits the space. Select a curtain that complements your dorm room decor and provides the level of privacy you're after; Time for the magic of Command Hooks! Following the package instructions, adhere the hooks to the wall or ceiling, ensuring they're level and spaced appropriately to support the curtain rod; Carefully thread your curtain onto the curtain rod or tension rod, then place the rod onto the Command Hooks (or extend the tension rod between the walls). There you have it – your damage-free dorm room privacy curtain!
DIY Flip Frame: A Mix Between a Medicine Cabinet and a Table
Transform your tiny house bathroom with this DIY Flip Frame – a sleek and functional combination of a medicine cabinet and a table. Instantly create extra counter space and organize your make-up, medicine, and toiletries with this wall-mounted solution. Upgrade its aesthetic by adding your favorite prints and pictures to the glass frame, turning it into a unique piece of art. This project is a must-try for those looking to maximize their bathroom space while adding style and organization to their tiny house.
Materials: Picture frame with glass front (size of your choice), Hinges, Screws, Screwdriver or drill, Wall-mounted brackets, Wood board (to match the size of the frame), Wood glue, Sandpaper, Paint or stain (optional). Instructions: 1. Cut the wood board to match the size of the picture frame; 2. Sand the edges of the board to make them smooth; 3. Apply wood glue to the back of the frame and attach the wood board, pressing firmly. Allow the glue to dry completely; 4. Sand, the entire frame and board to prepare for painting or staining (optional); 5. Mount the hinges on the back of the frame and attach the wall-mounted brackets to the wall; 6. Hang the frame on the wall using the hinges and brackets, making sure it's level; 7. Fill the frame with your favorite prints, pictures, or even practical items.
The Ultimate DIY Storage Cart for the Laundry Room
Transform this often-overlooked space into a functional, organized storage solution with a DIY rolling cart! Materials: Wire lattices (2); 1 wire shelf or a piece of wood cut to size; Cable ties or metal clips (if using a wire shelf); 4 caster wheels; A drill or gimlet; Measuring tape; A pencil or marker. Step 1: Measure the gap between your washing machine and the wall and the height of the washing machine. Based on these measurements, select wire lattices and a wire shelf or piece of wood that fits the available space;
Step 2: Position the wire shelf or piece of wood in the middle of the two wire lattices, aligning it with the edges. If using a wire shelf, secure it to the lattices with cable ties or metal clips. If using a wooden shelf, drill pilot holes through the lattices into the wood, then secure it with screws. Ensure that the shelf is attached securely to both wire lattices; Step 3: Using a drill or gimlet, create small holes at the bottom corners of each wire lattice. Attach a caster wheel to each hole, ensuring the wheels are securely fastened. There you have it.
Sharing the bedroom
It's a hassle for any parent with multiple children and a small home to figure out where to put them all as they grow. Although not all parents can afford to provide each child their own room, there are methods to make sharing a room with a sibling work.
This very cute triple bunk bed guarantees that each child has their own cozy sleeping space while still allowing plenty of room for all three to play, have wardrobes, and have desks. You can also put small bookshelves by the wall so that each kid has one near his bed. Nevertheless, parents shouldn't push a child who isn't ready to share a room into the new arrangement. But some siblings are naturally very caring and keen to welcome a younger brother or sister into their space. When that is not the case, you will need to have open dialogue with them.
Organizing Under The Kitchen Sink Using a Printer
Gather your essentials for this thrilling project: Permanent Smart Vinyl (black & white); Transfer Tape; Weeding Tool; TrueControl Knife; Self-Healing Cutting Mat; Printer, and Vinyl Roll Holder. Design unique labels tailored to fit your under-sink containers and spice things up with an oversized label for your trash can. Craft your labels in Design Space and hit the Make It button to set up your printer. If you're a Cricut Maker user, you'll be familiar with the cut preview screen that pops up automatically.
Once your labels are cut, weed out excess vinyl, apply transfer tape, and trim them into individual pieces. Now for the exciting part—adhering the labels to your containers! Ensure your container is squeaky clean and free of oils and residue by wiping it down with an alcohol pad or eyeglass cleaner, then dry it with a microfiber cloth. Position your label on the container, burnish it using a scraper or credit card, and carefully peel away the transfer tape. Watch as your under-sink space transforms into a beautifully organized and personalized haven.
Skinny sofa table
A slender couch table like this one is the perfect way to acquire table space without taking up any space. With the addition of lamps and ornaments, it not only adds visual appeal to this living room, but it's also a great location to set down a drink!
This not only gives you more shelf space but it also makes it easier to reach the socket to charge your electronics. A long sofa table with the correct measurements will make a difference in the room. Make sure your sofa table height is a few inches below the top of your couch – do not go taller. Also, your sofa table should be, at minimum, about half the length of your sofa. (So for a 120″ long sofa, 60″ is needed at minimum.) At the most, leave about a foot to half a foot of space on either end.
Two in one
Bunk beds are the traditional space-saving solution for children sharing a room. But that isn't the only option, and it's unlikely that it is the best. Take a look at this fantastic room design. Let's imagine you only have one bedroom, but you have two children who both require privacy.
After having their own room, this is easily the next best thing. They each have a modest but functional sleeping and living area, which may be divided into two rooms with the use of curtains or partitions. The S shape divides the room as if they were two separate spaces. Wooden cabin-style bunk beds are the ultimate sleeping quarter for adventurous kids. If your family's hobby is going on camping, then cozy cabin beds will always remind them of the trips. Made of wood, the comfortable cabin bunks are great for shared space and also as a playroom.
A different night table
Is your bedroom so small that you can only fit a bed and a few other essentials? Do you miss having a night table? A tiny house doesn't rule out the possibility of having something that functions as a bedside table! You want to know how? Keep reading.
This fabric one can be hung from the side of your bed, and it can hold just as much as a bedside table. Books, remote controls, glasses, iPads, and phones are all neatly put away but still accessible, and they don't take up the space that a piece of furniture does. To add a quirky touch to your space, you may go for a swing-style hanging table. It's usually made of a piece of wood of different thickness and rope or yarn of your choice. You may stain or paint it as you like to fit your space the best way possible.
Hidden washer-dryer
Most individuals don't want a washer-dryer as an eye-catching centerpiece whether they live in a studio apartment or other type of compact area. This ingenious solution allows you to conceal them while also providing additional storage space.
It appears to be a standard white closet from the outside, but when you open it, you'll discover a laundry "room" and cleaning supply storage all in one place. When the doors are closed, there is also a reduction in noise. This type of storage space is becoming something more and more normal in big cities, where renting a spacious apartment is super expensive. Create a practical laundry space in an awkward corner. One large cabinet in a bathroom could fit a washer, a dryer and even hide some laundry bins. Stacking a washing machine and a dryer is a great way to fit them perfectly in a narrow but tall cabinet.
Shelf Bed Storage
The first step to having great Shelf Bed Storage is to purchase or make three shelves. Once you purchase these shelves, turn them on their side. Then shape them into a U Pattern. You do this so that you are able to utilize all twelve storage boxes, four on each side, that the shelves would normally give you.
Put materials you don't use much in the middle part of the U so that they are safely out of the way. Some of the things that you could put on the inside U of the bed would be Holiday Decorations, extra cleaning supplies, keepsakes that you don't have room to show off yet, ect. Next step is to put a sheet of plywood over them. A simple square shaped plywood will do. I recommend that you get at least 1/4″ or 1/2″ thick plywood. Finally, put the mattress on.
How to Make a Room Divider Curtain
A shower curtain tension rod is required. You can buy fancy ones or take an inexpensive white one and paint it in a funky pattern. The curtain with a tab top or a plain sheet with curtain clips must go around the rod and then proceed to clip the sheet into place. For this project, you might make or buy beaded drapes. For a few dollars, you may find irregular sheets at outlet stores. Frequently, you may make a used sheet work. Fabric paint is used to hide flaws in the fabric.
For the divider, simply hang this curtain on the wall where you want the divider to be. You mount it in the same way you would in the shower: Your curtain or curtain clips should be strung along the rod.
Magnetic Spice Rack for Refrigerator
If you live in a small space with a smaller kitchen, you need to get crafty to make use of all the extra space there is. One way is to focus on the walls, like for instance, put racks and holders or use the back of the door to hang something. However, you can also use the wall of certain appliances, such as the refrigerator's. You can put some little holders fors things such as spices and cooking ingredients.
For this project, you're going to need: 1 hot glue gun, hot glue sticks, 1 pack of 50 round magnets, 6 pencil holder organizers. Simply, hot glue 5 magnets to the top of each organizer and 4 to the bottom of each equally spaced. Place spice racks on the refrigerator's wall with spices and enjoy!
Using the walls
Although walls take up the majority of a room's space, we often overlook the fact that they can be used for much more than just lining furniture against. Hanging items from the wall may be both ornamental and functional, allowing us to store far more than we could with, say, a chest of drawers.
In this little kitchen, a board has been installed on the wall to accommodate all of the hefty pots, pans, and other culinary tools. They're also quite approachable, which is a plus. This way, no extra furniture is needed and all the existing is fully used. Do you have an old piece of garden fencing laying in your yard? Maybe you've got some pieces of scrap wood you are not sure what to do with. You can turn them into a rustic board for your pots. Pot racks are perfect for farmhouse style or eclectic kitchens.
Space Solutions: Magnetic Spice Tins
If you have more of a budget, instead of pencil holders you can do the same with round metal magnetized spice containers, which are quite fashionable. You simply stick them to the refrigerator's side wall. You can start out with a dozen of them.
However, spices are best kept in a cool dark area to prolong their life. Direct sunlight or heat should be avoided. The most-common spaces to store spices are in a cabinet or cupboard, in a pantry, in a drawer, hanging on a door or wall, or on the counter. So, if you put your spice rack on your fridge, make sure no direct sunlight hits it.
Kitchen Island That Stores Two 5-Foot Tables
To begin, construct the two KALLAX shelving units according to the manufacturer's instructions. The wheels should then be attached. For each unit, use two with a stopper and two without. Then, using a jigsaw, cut two pieces of countertop. Cut each side to around 4.7in x 4.9in (12cm – 12.5cm). After cutting, the countertop's overall dimensions are 25in x 35in (63.5 cm x 89 cm).
Apply some edge banding with a warm iron to cover the cut edge. Next, spread some silicone glue on the KALLAX's top surface and carefully bond the worktop in place. Screw a couple of screws underneath the surface of the KALLAX going up towards the countertop for more security. Finally, attach the door magnet to one of the counters' bottom edge and the metal corner to the other unit's edge. Rep on the opposite side.
Turning a Cabinet into a Pull Out Trash Can
There are numerous ways to make your kitchen appear larger, lighter, brighter, and more appealing. This could entail knocking down a wall, repainting cabinets, installing a new counter or backsplash, or simply applying a fresh coat of paint. There's also a less common approach to upgrade your kitchen by constructing cabinet extensions in various ways that will provide you with more room and a splash of color.
We found these cabinet extensions to help you improve your kitchen, which you may use now or in the future! One of them is to construct a tilt-out garbage can. We converted an old top cabinet into an open lower cabinet, then constructed a tilt-out door with chains to accommodate our trash can. Add a custom tilt-out trash can extension to your new counters if your trash is now out in the open. This will hide your trash and give you more square footage.
Throwback: DIY Laundry Basket Nook
Some apartments have a small nook in the laundry area that is meant to house a laundry sink as an option but then you have nowhere to store dirty clothes. Some owners have even removed the nook altogether in favor of a larger master closet. If you don't get the sink, that area could be too small to fit a vanity cabinet that could be used for a decent folding station. So, a solution to this would be to build your own basket nook.
To build it you will need: (3) 2-bushel size Sterilite laundry baskets. (3) 1x2x8 pine cut into (8) 19″ pieces for the side supports + (1) 24″ piece for the rear support of the countertop, and 3″ wood screws. A height of 13″ in between each support works well. Screw the wood and place the supports. Make sure the baskets can come and go easily.
DIY Built In Railing Bookcase
Measure the depth and height of the bookshelf first, then make any necessary adjustments to your blueprints. then take down the previous railing. Create three 24 boxes (4′′ side on the floor) and fasten them to the floor joists. Leave space between each box and on the ends for a 210 to fit. Cut 4 pieces of 2×10 lumber to the height of the bookcase, insert them between the 2×4 boxes on the end, and secure them. One 2×10 board should be cut to fit on top and be fastened to the 2×10 vertical boards.
Use a 1×12 cut to the height of the end and a 1×12 cut to the shelf's length to complete the top. Include the shelves by adding the 1x10s that have been cut to the necessary height and setting them on with shelf pins. To complete the design, add molding in the following proportions: 1×4 across the bottom and four vertical "posts," 1×3 across the top (2×10 board), and 1×2 covering shelves all the way across. The bookcase's back can be improved by adding sheetrock, taping it, priming it, and painting it!
Moving the bed up and down
Using mobile furniture is one of the ultimate tiny living tricks. If you just have one room to utilize as a bedroom or a living room, this style of bed eliminates the need to choose between one of them. During the day, simply raise the bed to enjoy the living room beneath it.
When it's time for bed, you simply draw it down and done, your bedroom is ready. Plus, for the same price as one, you get a TV in both your living room and your bedroom. With a minimalistic design, the room is going to look bigger than it really is. Some portable beds merely have a stand on one end while others utilize that stand as a display area. Some can even be transformed into a sofa. Furniture like these will help you master the art of space saving and make good use of every room.

Lift your bed
A double bed takes up a lot of room, even in a large room. Elevating the bed is one of the simplest techniques to make more storage space in a small house or apartment. Under the bed, you can store whatever you want just by creating some drawers even though these are not fundamental.
If you have a small budget or can't create a wooden deck with drawers like this one, there are many simpler, less expensive alternatives. Simply laying bricks or wood pallets beneath the four corners of the bed can free up a lot of space underneath it. Bed risers are safe because they have a broader and more stable base than the actual legs of a bed. Choose the right kind of bed riser based on the design of your bed frame and the weight capacity you require. It's a cheap and easy way to elevate your bed.
Headboard with a purpose
Some people believe that headboards are unnecessary. And they certainly can be if they're only there for decoration (and you don't have room for decorative items that don't serve a functional purpose, because you live in a small place).
This beautiful small bookcase is also a charming but basic wooden headboard. And where better to store books than where you read them before turning off the lights at night? If you don't read, these small shelves can be utilized for a variety of different items that you don't have room for, so it's definitely a good idea to have it. You can also go for a headboard that from the front it's just an average wooden headboard, however it has storage on the sides – but hidden.The shelves are not only hidden but can also be adjustable, so you can move them around depending on what you want to store.
Beneath the shelves
We're all accustomed to storing items on shelves, but what about the area beneath them? Why isn't anyone using that? People who live in cramped quarters certainly need to start using them to get more storage space.
This smart design allows you to store all of your spices (or anything you need to store) on and under one little kitchen shelf. This concept can, of course, be used in various rooms. Small arts in jars, for example, can hang from a shelf in the children's rooms. All you need to do is glue the lid of the jar beneath the shelf. The jars will hang from their own caps, screwed into the bottom of the shelf. Your items will be conveniently stored.You can use them to store laundry soap, dryer sheets and other necessities, or if you want an easy way to sort through the supplies in your craft room.
Space for books
Good news! You don't have to give up your favorite books just because you're living in a little space. This lovely sleeping loft has lots of space for all of your favorite books, as well as plants and other decorations. The books are located in the horizontal structure that divides the bed and the couch.
Compact living solutions are not only practical, but they also add a distinctive and unique touch to your living area. Also, have a look at the modest but oh-so-comfy sitting area beneath the bed! In an instant, this room could make anyone feel at ease. You can also place a shelf where a dado rail would usually sit. It is a great way to utilize otherwise wasted space and the full-width shelf can run along just one – or all – of the bedroom walls. You could even stack shelves one above the other to the ceiling.
A bed with many beds
For kids, sleepovers are a lot of fun. But what do you do when your house is barely big enough for your kids, let alone their friends? That difficulty is readily solved with this "inception bed." This three-in-one bed will fit even in a room that is much smaller than this one.
And, because young children are so little, your child might have five pals over for a pajama party and they would all sleep two and two together. This piece of furniture can also be used for large families with little space. They can fit one kid in each sub-bed. Sleepovers are an integral part of kids' childhoods. Whereas many would cuddle up in a sleeping bag on the hard floor, you can ensure your guests sleep in comfort with bunk beds. When you have the space for it, why not build more bunk beds? The more, the merrier.
A Tetris room
When it comes to outfitting or reorganizing a small room, considering it as a game of Tetris is a really good idea. With a little imagination and forethought, you can ensure that all of the parts are exactly aligned and that no inch is wasted.
This lovely wooden multifunctional construction wonderfully exemplifies that. It serves as a distinct barrier between the bedroom and the living area, as well as a large storage container with a lot of books and other decoration items. It looks modern and simple and generates a lot of extra vertical and horizontal space, utilizing the ceiling. The more limited the living space, the more important it's to design rooms as functionally as possible and to use them effectively. Multi-purpose furniture helps you make the most of limited space. Double-duty furniture offers beauty and functionality in one budget-friendly package. Transformable furniture is the newest concept in furniture design.
Vanity table with picture ledges
When it comes to decorating and furnishing a small area, you have to think outside the box to make it work. And, as difficult as it may be, it can result in a far more distinctive design in your home. How many people do you know who have considered using picture ledges as a little table for makeup, perfumes and body creams?
It looks great in this space, keeps it open, and serves the intended purpose of providing a place to store vanity products and get ready in the morning. Don't forget to hang a mirror as well to make sure you're looking good. Make a mighty, minimalist nightstand. Secure one picture ledge 'normally' as intended. Another one above in a mirror image caps it off, so you can protect things inside or display them on top. Add an LED lighting strip to help you see without being startled awake.
The bed up high
Every student, and most adults that work need 3 basic things in their bedrooms: a bed to sleep, a closet to put away their stuff and a desk to work. It might not seem like a lot but small houses with tiny bedrooms don't necessarily have space for them in a horizontal way.
This simple solution produces an extremely comfy sleep loft as well as adequate work and closet facilities. It consists in putting the bed up high and the closet and desk below it. This leaves space for a couch or a table in the rest of the apartment. Check out the Storå loft bed from IKEA; with its black frame affords plenty of open space to create an office, sitting area, or walk-in closet below. This frugal option is easily assembled with the help of a friend. There are countless designs to choose from in-store and online.
A shelf above the door
How can those few inches above doors possibly be useful? As seen in this image, that space can be transformed into the ideal shelf, where you can put a lot of things. Every house has space up there, and using it is ideal for small ones with few storage spaces.
Needless to say, this area isn't very accessible (except for tall people); therefore, it's definitely not the best place to keep daily items. But what about those old, favorite novels you only re-read every now and again but never want to get rid of? This is the ideal shelf for them. Multiple shelves provide more space for smaller collectibles, such as Funko POP dolls or action figures from your childhood. If you have the space for two or more shelves above a door frame, make sure they fit your collection. You will need about 10 inches of the shelf height.
A homier home
Despite being a very modern, elegant design, we adore the old feel of this. It appears as if someone was inspired by their grandparents' large, ancient mahogany furniture and chose to make a smaller, more compact version of it.
The folding table may be used as a workstation, and the lovely small shelves inside and above it provides lots of storage for papers and other office supplies. It's another perfect piece of furniture for a small house or apartment. It can also be used to put decorative items on top of it and to make a home more homey. The best thing about buying vintage or antique furniture is the timeless quality they give your space. If the style of a piece looked good 50 or 100 years ago and it still looks good today, it is a purchase that's likely to look good in another 50 to 100 years.
Wall-Mounted dryers
If you do not have a place to dry clothes quickly, using racks with handles takes up valuable space in the house and look untidy and unorganized. Take advantage of those walls with plenty of space.
Adding a couple of drying hooks directly to the wall would make the room more useful. Keep them out of the middle of laundry by rolling them up when they aren't needed. This is surely a great way to add more drying space. Clothes dryers are an essential component of many households, allowing families to stay on top of the weekly wash without waiting for the weather. Dryer wall brackets allow you to mount your dryer on vacant walls, freeing up precious space in your laundry. Your dryer should be mounted at a minimum distance of 250mm to the ceiling, and 1320mm distance to the floor.
Floor storage
You can use the area beneath the room if there's simply no other space for storage. Obviously, this won't work in every home.
However, depending on the type of floor and built-up area of the structure, it can be a perfect option for a small home's limited storage space (or a big one for a family with a lot of stuff). When closed, this storage room stays fully hidden. What might first seem like an empty room with nothing but a raised platform on which you could maybe place a bed or sofa and a wall storage unit, can be full of surprises. The platform can hide several drawers and hidden storage compartments. Also, using the stairs for storage has become a popular trend in most modern homes. It is a very clever and practical way of saving space somewhere else.
Board game's organizer
Look this way, board game aficionados! Fabric shoe organizers have been around for a long time. However, they are useful for much more than merely keeping shoes.
Board games, for example, are ideal products to store in a hanging shoe organizer because they are hard, thick, and tough to fold. Then you simply tuck it away in the closet while still being able to access the game whenever you want. You can store games in large freezer bags if you have them without boxes. Keep the smaller bits in a smaller Ziploc bag. Rubber bands or hair elastics should be used to keep any cards together. Create a label with the game's name and place it on the front of the bag. After you have put everything in the bag, store it vertically in the hanging shoe organizer so you can quickly pick the one you want to play.
Door towel racks
Towels are a necessity in any bathroom, but it can be difficult to know where to place them in a small one. If that's the case, the remedy may be more straightforward than you think. Simply install towel racks inside the door and hang the towels there.
It can also be very ornamental if you choose colors and patterns that complement the bathroom's design and color scheme. Can you hang towel bars and hooks on a hollow core door? Yes, you can! The secret to hanging towel bars and hooks on hollow doors without them breaking is all in the type of wall anchor you use; you need Molly bolts! They are best when you need to hang something heavy or in the case of a towel bar or robe hook, something you may pull on a hollow door.
The solution to store shoes
It can be difficult for shoe lovers to accommodate all their pairs in a small home, just as it is for clothes lovers that only have one closet. What's the best way to organize and accommodate all those shoes? If you ask us, we think this answer is fantastic.
This unusual piece of furniture allows you to stack shoes on top of each other without getting the bottom one soiled. It also allows you to store twice as many shoes in the same shoe rack. The person who invented this is definitely a genius, and nobody can deny that. Also, slanted shoe racks are adjustable. This helps you ensure your shoe rack only takes up as much space as it needs. Know that you can adjust the rack higher to accommodate taller shoes like heels and boots or bring it lower for your flats, flip-flops, sandals, and slippers.
Smart coffee table
Almost any piece of furniture can be transformed into something smarter and more space-saving. This coffee table is a wonderful example of what we're talking about. Who'd have guessed that coffee tables could be so attractive while simultaneously serving several functions?
This is a retractable work desk with plenty of storage space for office supplies, computers, and other business materials and a comfortable coffee table. The best side of it is that it hides what it's inside so that a small house doesn't look overloaded. All we know is that we need one of these right now. If you are spending a lot of time in your living room—whether to work, binge-watch TV and movies, or both—and you are looking to invest in sleek furniture with added convenience, check out the smart coffee table featuring a built-in refrigerator drawer and Bluetooth speakers that are going viral on social media.
Corner shelves
We're not sure why people don't do this more often because it's so simple and cute. Many living areas, big and little, have those "useless" little niches where nothing important fits. Those with plenty of room can simply install a plant or other ornamental object in such a location.
However, for individuals who need to make the most of every square inch of their home, these floating corner shelves are the way to go! It's a perfect way to have more space for storage without overloading a tiny house. You can put books, plants, decorative items, clocks, or whatever you want. A floating shelf is strong, quick to build, with no visible supports, and made from only two parts. These shelves are handsome, easy to build, and inexpensive. And they're strong even though they have no visible support. They appear to float on the wall, with no clunky hardware or brackets.
Add Storage in Your Bathroom
This is a brilliant solution for bathrooms with limited shelving. Visit your local hardware store to purchase two shower curtain rods. Install them next to each other, leaving a few inches between them.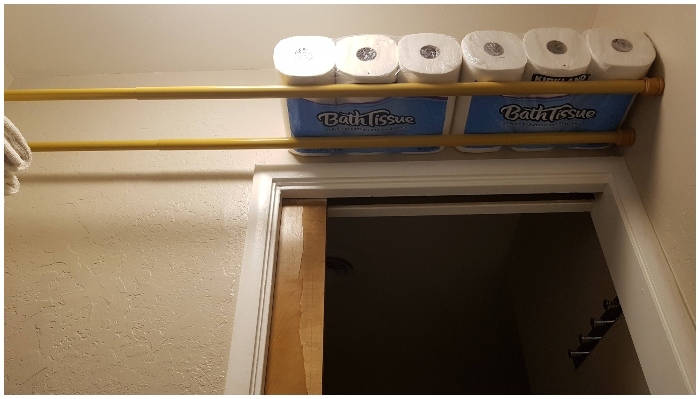 By having more space for your needs, from storage for toilet paper to stylish baskets for your bathroom stuff, you can maximize your bathroom space. It is also convenient to use in the laundry room.
Playroom beneath the bed
Which child wouldn't want their own playroom as well as their own bedroom? However, most individuals don't have a lot of extra space in their homes, so this is a wonderful solution for small families or small houses.
Simply roll the "playroom" beneath the bed and pull it out anytime the youngsters want to play. It also means that all toys will be conveniently placed in one limited location, out of sight, reducing the amount of clutter in a tiny child's room. You can store wooden train tracks, miniature cities, all sorts of toys, or whatever your child wants. Playrooms are special places where a kid can create, pretend, and have fun. By having a space dedicated to playing, you keep all those play-things out of the rest of your house, and the mess will be confined to a small area. Besides, kids play better when their toys are accessible.
Closet beneath the stairwell
Check this out if you thought stair drawers were cool. This ingenious design allows you to install whole hanging closets beneath the stairwell. Once you've removed what you need, it's perfectly cut out to slide back under the stairs and out of the way.
This design is perfect for a tiny house, a small vacation cabin, or even a typical home with limited closet space (or someone who has a lot of clothes!). It looks very nice, tidy and modern and utilizes space that seems useless. You can hide it whenever you need to avoid overloading the small house. It's a great idea. To make your storage space go even further, you need to front your sliding storage closets with shelving units. This not only disguises the function of your under stairs space, but provides an additional cache for your household items. This spandrel area is great for storing shoes.
Murphy-style table
Probably, the first thing that comes to mind when thinking about small houses are the Murphy beds, the ones that fold into the wall when they're not being used, because they save up a lot of space. But other furniture can be made using the same idea.
This little kitchen table elevates Murphy-style design to new heights. It's both minimalist and stylish, and most importantly, it takes up very little room while providing plenty of shelves and storage. It's the ideal spot for your coffee cups and other often used items and it's also perfect for having breakfast, lunch and dinner. The Nuovoliola 10 Murphy Bed is a great option. It looks like a regular three-seat sofa, however it has a queen-size bed hidden behind appearing to be a wall. The furniture transforms into the bed with hardly any hassle. The shelf that sits above the sofa even transitions smoothly into the foot of the bed, offering additional nighttime storage.
An Easy Way to DIY a Hidden Wooden Cutting Board
Cutting boards are everyday cookware with no proper place to go when unused. Some kitchens are like that, at least. Cutting boards are essential for maintaining your countertops clean and saving your dishes from bold knife work, whether chopping vegetables for a salad or slicing meat for a stew. Since they are frequently used, finding a better way to store them only makes sense. Therefore, we came up with a better solution.
This practical cutting board storage solution only costs around $5 in wood pieces and takes less than an hour to assemble. You will need two wood moldings, four wood blocks, wood Glue, a drill, a screw, and measuring tape. How to build it: Create a cutting-board holder from two pieces of wood moldings (trims work, too) and four wood blocks to make height. Use wood glue to stick them together, so they take on the cradle you require.Take your holders and drill connection points in all their blocks so that they pierce through the molding. Drill into the base of your cabinet to match the hole in the holder to the cabinet holes. Mount the holders and form your cutting board's cradle.
A new space for spices
People with teeny-tiny kitchens don't usually know where to keep all of their spices. Usually, the approach is to make use of all those seemingly meaningless empty spaces. For example, by the oven's side.
Put a frame on the oven side and a couple of shelves in it instead of leaving a few unused inches between the oven and door frame. This creates a surprising amount of space for the spice jars while also being highly beautiful. Not to add, they'll be right around the corner from where you utilize them, which will be highly appreciated while you're cooking. Spices, like all foods, have a distinct shelf life and will eventually go bad. The length of that shelf life depends on how the spices are cared for. Heat, humidity, air, and sunlight all have detrimental effects: they break down the chemical compounds that give spices their rich flavors and aromas.
A hidden bed
You don't have a guest room in your tiny house and a friend is coming to visit? That's not a problem! This Murphy style guest bed appears to be a part of the home office, as it has a desk in it.
When a visitor arrives and it's time to go to bed, you simply fold down the brown table, pull out the bed , and voilà – you have a bed! We have a feeling this bed is also found in the offices of a few busy employers. So, if things get too crazy, you can spend the night in the workplace. The majority of Murphy beds on the market require to be firmly secured to a wall. Wall-mounted units attach to studs, however they can generally be moved without causing much damage. Traditional wall-mounted Murphy beds rely on air piston lifting mechanisms to raise the bed platform up and down.
An alternative for restaurants
Many people struggle with limited areas, not only at home. Many office workers have only their cubicles to use for all of their belongings, and many restaurant owners cannot afford to rent a large location. However, there is still plenty of room for creativity in these situations.
Take a look at this restaurant, where they've cleverly designed innovative furniture to accommodate more customers than they could with standard tables in the same space. This furniture looks cheap and useful, which is the perfect combination. We'd love to eat in it on the upper floor and see how it feels to be there. And if the restaurant's kitchen is small, rearranging the kitchen's storage area is an easy and accessible way of maximizing the kitchen's counter space. Vertical storage, like moveable shelves and racks, neatly lays out storage areas and saves wasted time spent rummaging through piles of ingredients or equipment.
Bike trick
When it comes to making a tiny living space feel bigger, space-saving furniture isn't the only item to consider. Find creative ways to keep your surfboard or skateboard tucked away,
If a bike is your primary mode of transportation and you can barely get it through your door, you might want to consider getting a bike with sideways-flipping handlebars. Take a look at how much less congested the space becomes! Like a regular stem, Flipphandle installs between the steerer tube (threaded or threadless) and the handlebars and utilizes a spring-driven conical cam mechanism to keep the bars locked in the forward position for riding. By pressing a button on top, that mechanism is released, and the bars can be turned and locked sideways while the front wheel remains pointing forward. The bicycle can then be brought indoors for storage or even just less obtrusively wheeled down a crowded sidewalk.
Use wicker baskets as drawers
Sometimes when you have open drawer slots without actual drawers. In some circumstances, you may want to utilize them just as they are. With some baskets, though, that area may be made much more useful.
You can stuff a lot more into them while keeping everything organized. It also allows you to fill the shelves with more items. And, if you use colorful ones, it adds to the room's attractiveness. Wicker baskets are a highly practical option when it comes to decluttering and organizing around the house because they're highly versatile. They're excellent for storing all kinds of items, from the very big to the very small. These storage baskets can quickly become an irreplaceable part of your house's style. Unlike a storage box that can sometimes be unflattering to look at, a wicker basket can fit in nicely with the rest of your house décor.
Use Magazine Holders to Store Pots and Pans
Do you have a deep drawer in your kitchen? You can store your pots and pans in it with drawer dividers to avoid clutter. Research shows disorganization and clutter have a cumulative effect on our brains. Our brains like order, and constant visual reminders of disorganization drain our cognitive resources, reducing our ability to focus.
The visual distraction of clutter increases cognitive overload and can reduce our working memory. Use magazine holders to organize your pots and pans as well as lids. This will keep your kitchen cabinets more organized and clutter-free. You can also do them with plywood if you wish for a more resistant material.
More space in the kitchen
Small houses have more than a lack of space in the bedrooms. Tiny kitchens can also be problematic. A slide-out pantry may fit into any room, no matter how small or narrow it is and this image exemplifies this point. This adorable and functional food pantry was crammed into the six inches of space between the refrigerator and the doorway.
Consider how much material may be crammed into a place that would otherwise be unused. Because each can or food container must be placed lengthwise, it's also incredibly easy to keep orderly. Every space counts in a small apartment. Magnetic strips for knives are great because then you can use the drawer space they would have taken up. Hanging pots and pans free up a lot of space in the cabinets as well. It's also much easier to find the one you want when you're not digging around the bottom cabinet.