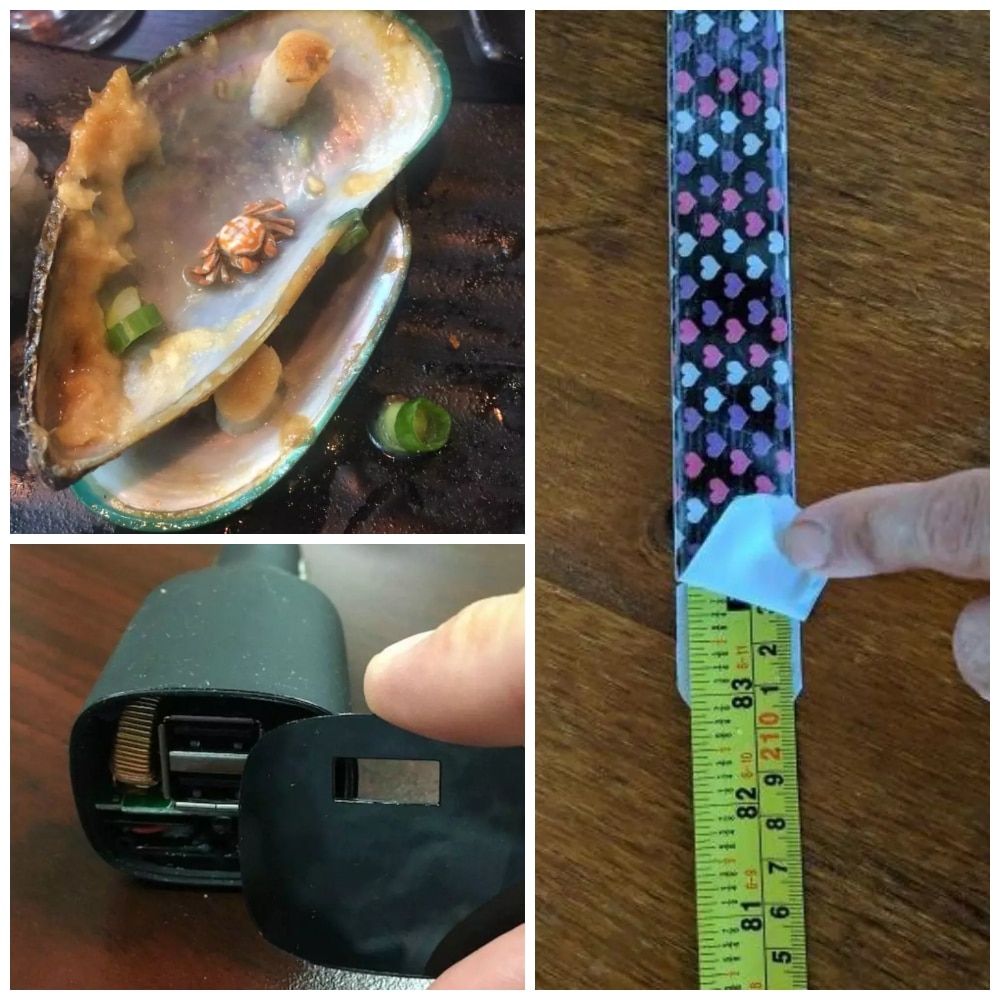 The inevitable disappointment we get when something slips off our hands and crashes into the floor is something we have all experienced. We can only stare in shock at the shattered pieces before slowly cleaning up. But what if we tell you that sometimes there are surprises inside broken objects? This is a case for statues and figurines that have other smaller statues or figurines inside. Also dog chew toys that once torn apart reveal a new plushie or rubber toy. It's as if you were given a second chance at them.
This phenomenon can happen in the realm of nature as well. Sometimes a hidden fossil can be found inside a rock or a tree. These treasures remained underground for thousands of years before a lucky person happened to discover them by accident. In everyday life we see this on a smaller scale such as finding an egg inside a cooked egg or a new onion inside a bigger onion. These seem to be fun surprises caused by rare genetic accidents. We created a list with 30 varied examples of this unique phenomenon that go from deliberate to accidental, natural to artificial, and cute to rather shocking instances.
Toothpaste Fun
So, it's no surprise that something as plain as toothpaste contains so many colors to make it more exciting and approachable to consumers.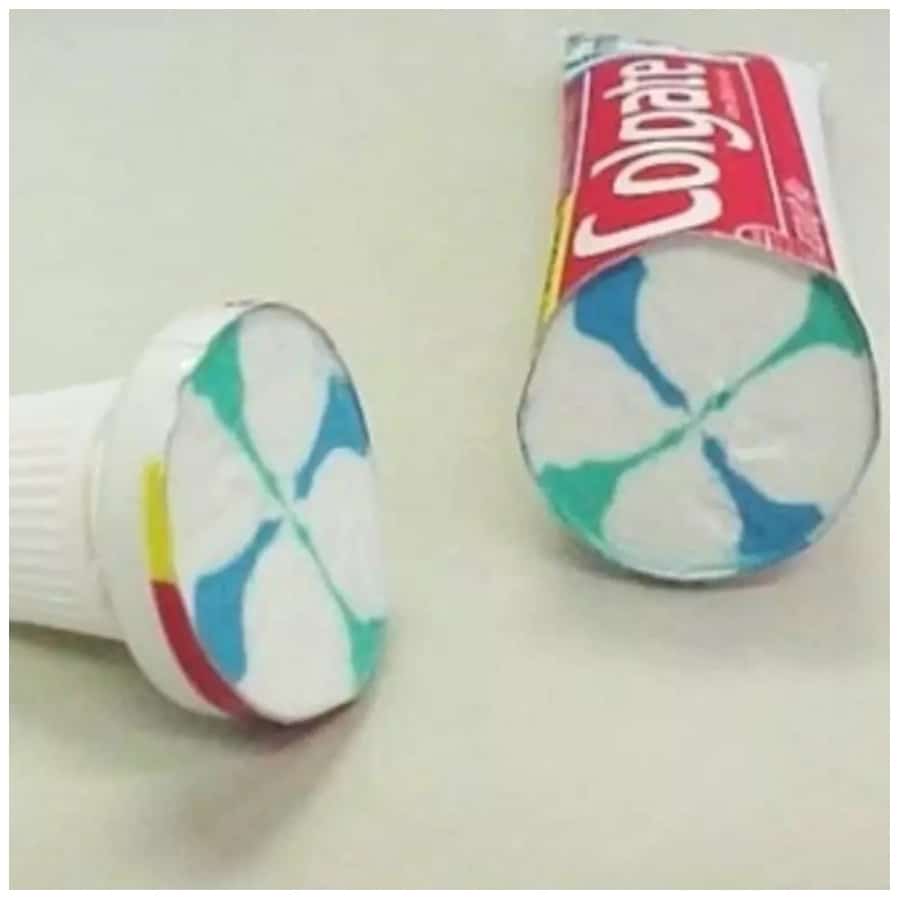 Have you ever wondered how the swirls and stripes of color look inside? In this picture you can check out the intricate color patterns inside a tube of toothpaste.
Double USB Power
Car USB chargers have become incredibly useful gadgets to leave around the car or carry in your purse. Anxious people can now drive in peace without worrying they're going to run out of battery by just plugging their phone to the USB charger.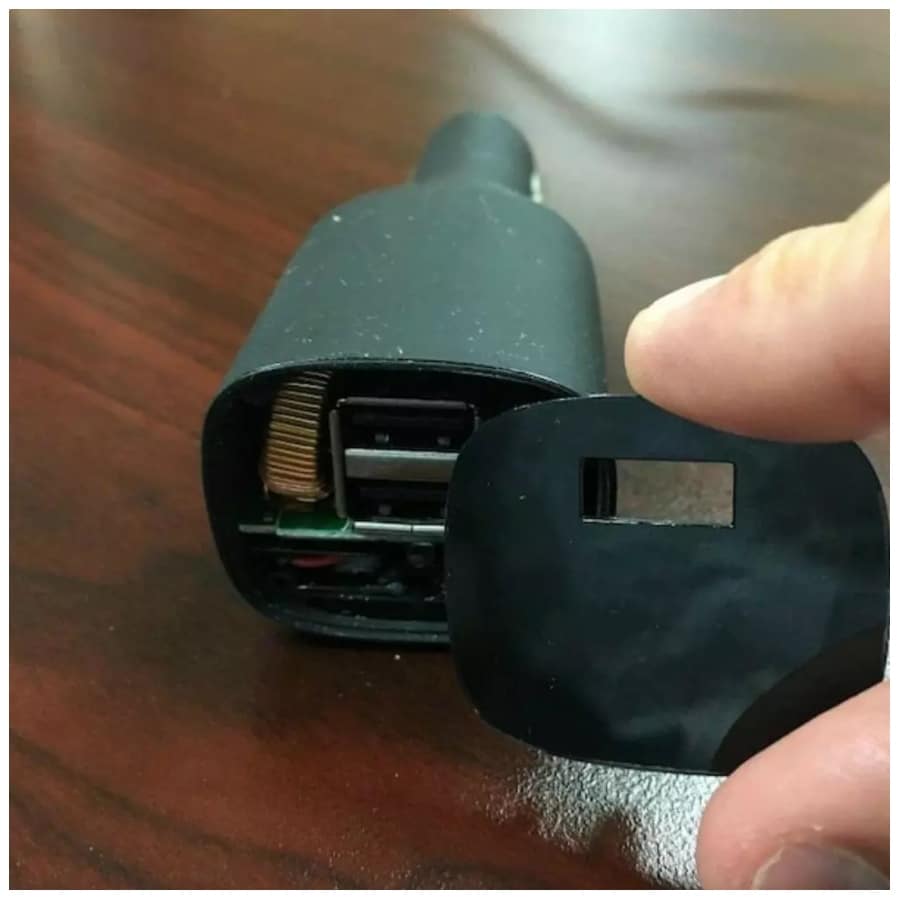 But what happens if more than one person needs to charge their phone? Imagine how surprised this person might have been when they accidentally opened an USB charger and found a double port!
Two Stevens In One Book
Something must have gone down at the printers that day when pages from one book were found in the middle of another completely different book. The curious thing is that both authors were named Steven.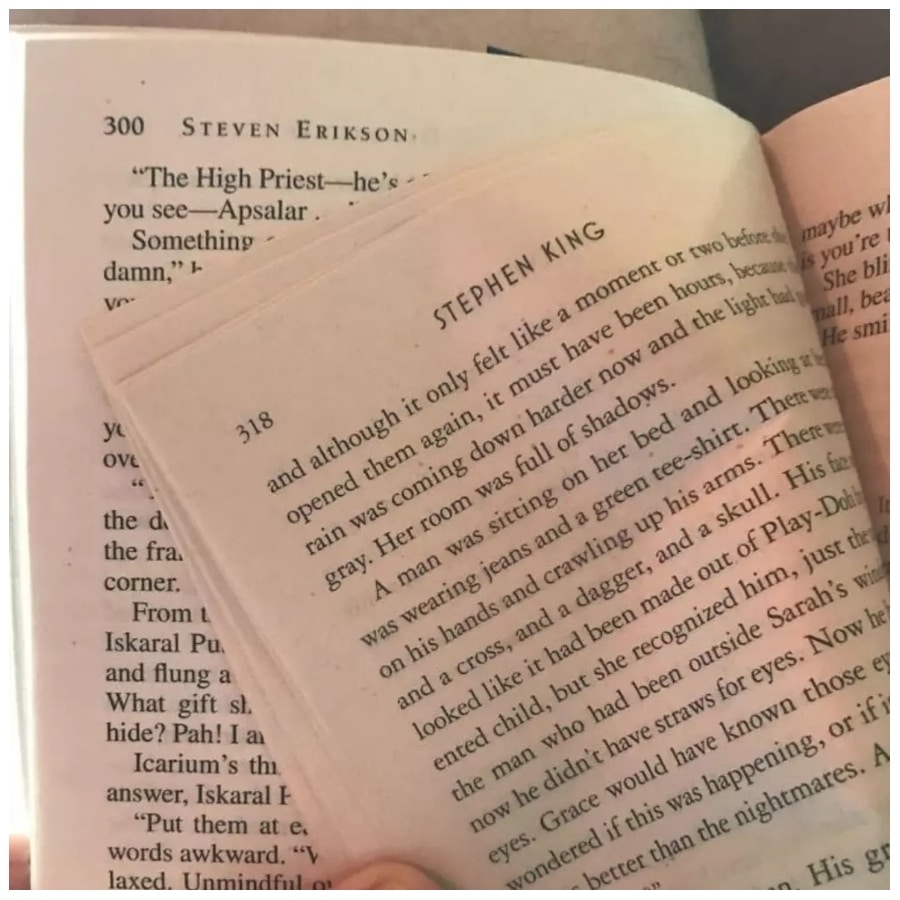 This reader was halfway through his Steven Erikson's novel when he realized the next pages were from a novel written by Stephen King. This book went fantasy to horror with the turn of a page, creating a completely new genre.
Why Not Two?
Oranges are one of the most popular fruits for their unique freshness, flavor and healthy benefits. But when it comes down to peeling and eating it, it can be a bit messy if you are on the go.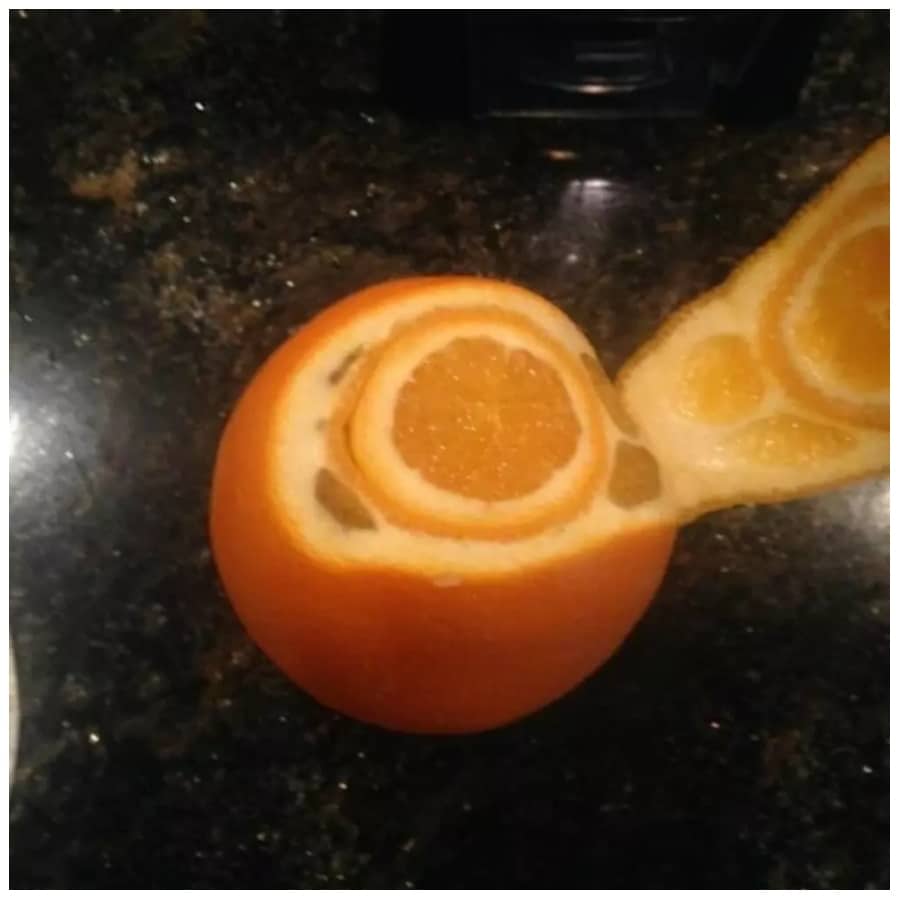 Once you cut through its thick skin, the sticky juice starts to spray everywhere. Imagine if you went through all that hard work only to find out that there is another full sized orange inside of it!
Screwdriver and A Half
We all know and love Matryoshkas, those beautiful sets of round wooden russian dolls that come in decreasing size placed one inside another. The same logic seems to apply to this little screwdriver found inside a bigger one.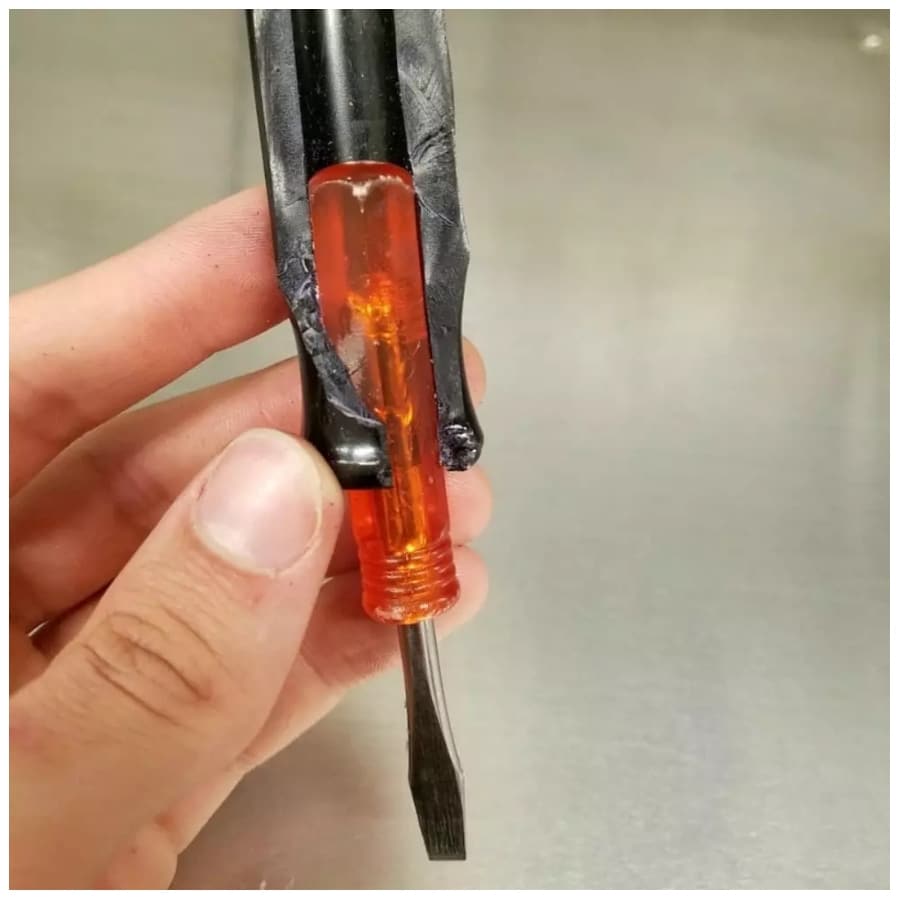 Imagine how clueless the person from this picture must have felt when, the minute they accidentally broke the screwdriver handle, they found another intact screwdriver inside. Who would have known that screwdrivers Matryoshkas could be possible!
Next Level Recycling
In today's world, cell phones are a basic necessity and it's hard to imagine our lives without them. We use it to store important information and pictures. Although purposely built sturdy, it's recommended we use a protective cover against bumps and scratches.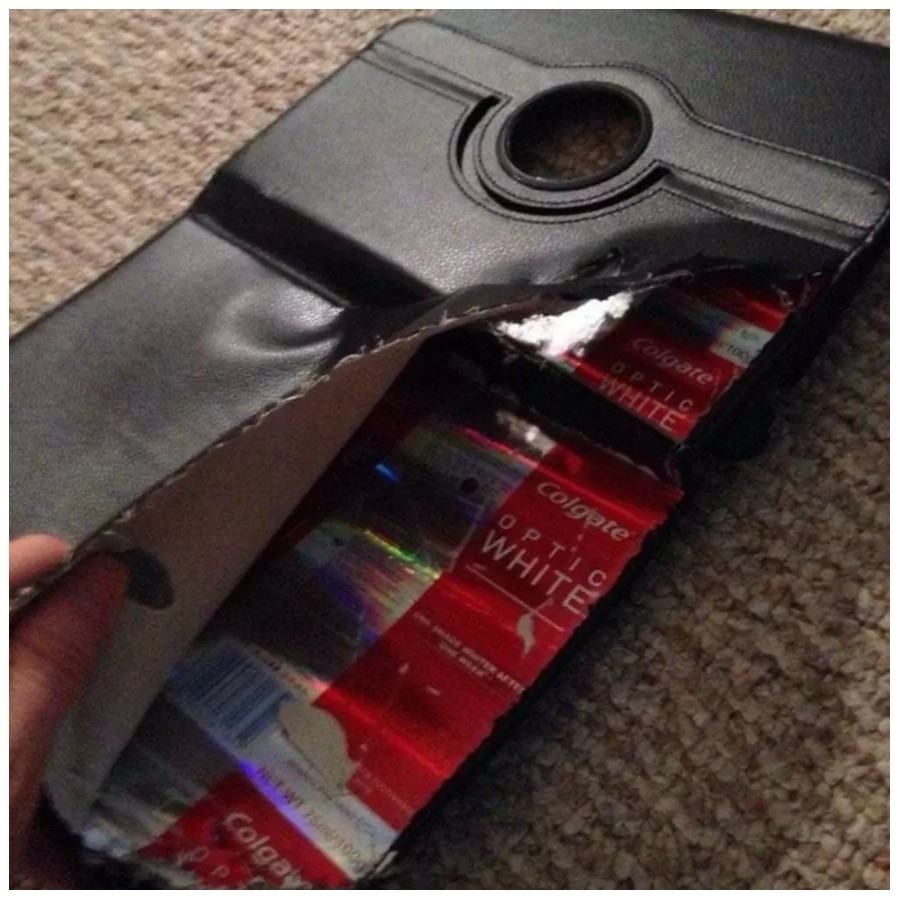 But sometimes we can be scammed like the person in the picture when they discovered a toothpaste box between the outer layers of the case. Hopefully they were able to claim a refund!
Inside The Ball
Going to a baseball game is exciting. You sit down among fans, get a hot dog and you get to watch your favorite team compete. If you are lucky enough, you might even catch a ball that could be worth a fortune in the future!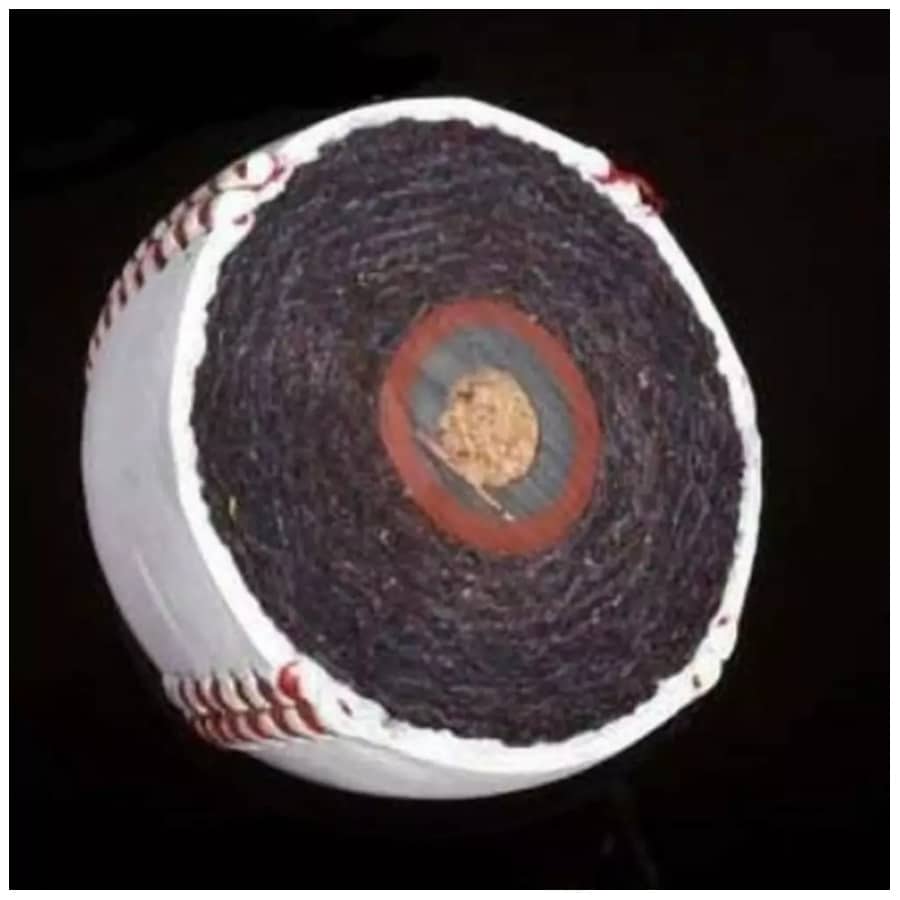 Did you know that the inside of baseballs look like this? The exterior shell is made out of cowhide, with several layers of yarn, and a core of rubber-coated cork.
Happy Cactus, Sad Cactus
Dogs love to chew on their toys, especially puppies during teething. They will chew on their toys until the wadding is all out and the outer cloth is shredded to pieces. But this lucky dog won the lottery after finding a new plushie inside the chewed up one.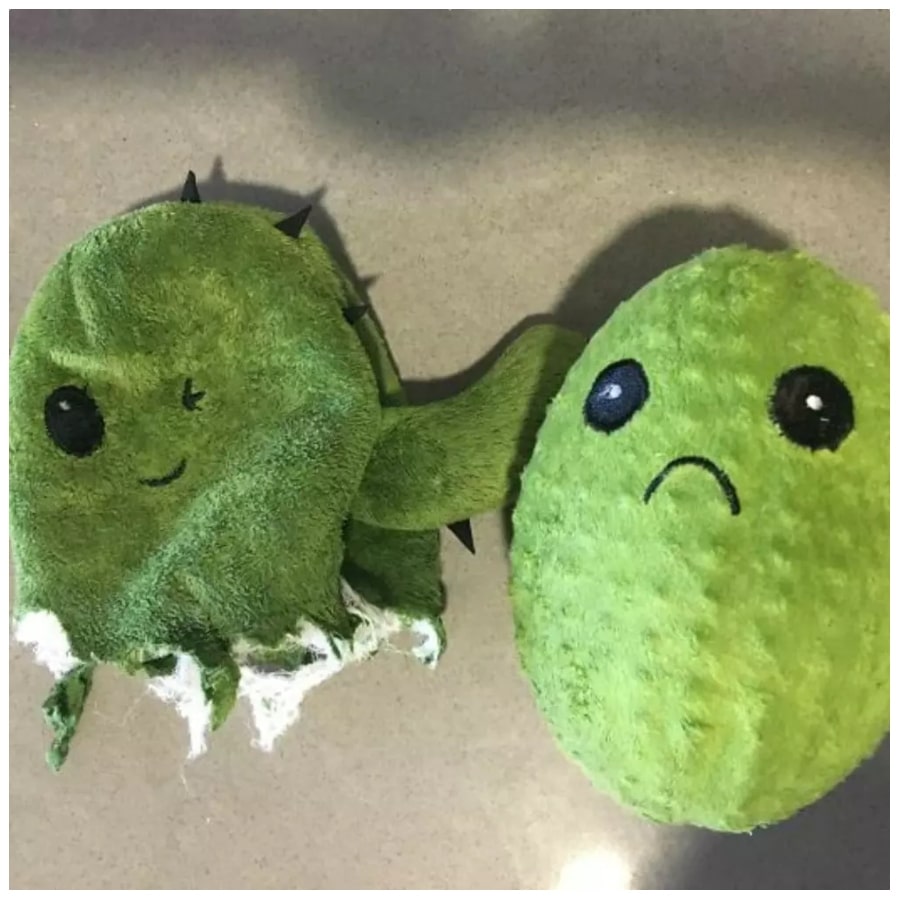 The company that made this cactus plushie knew exactly the destiny they would endure as you can see from the scowled expression on the smaller plushie.
Under Sea Connection Cables
Did you know that there are around 63,000 miles worth of submarine fiber optic cable on the floor of the ocean? These undersea internet cables, that make today's world communication possible, belong to Google and it only makes up little over 9% of the connection cables worldwide.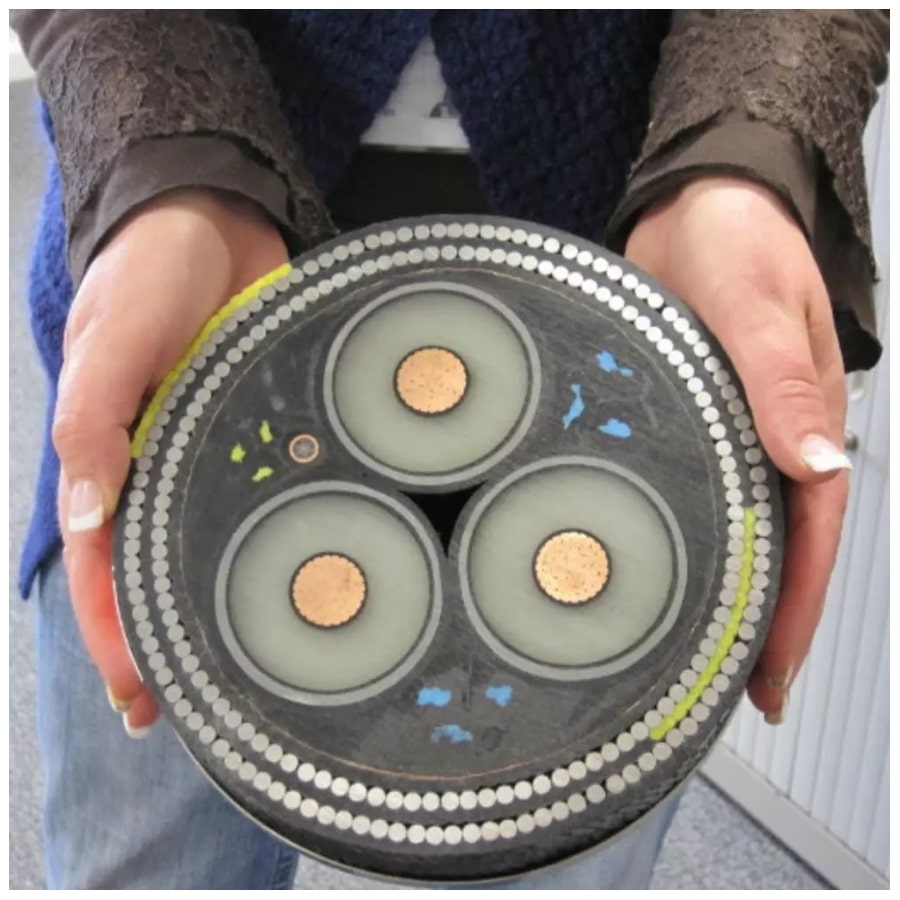 As you can see in the image, these cables have a lot of protective layers as they need to sit under the sea water for many years.
Heart of Yoda
Here is another cool finding, this time when this dog made a hole on his Yoda plushie, a rubber heart came out! Was it put there on purpose? Could they know that a dog would chew it up and get the surprise out?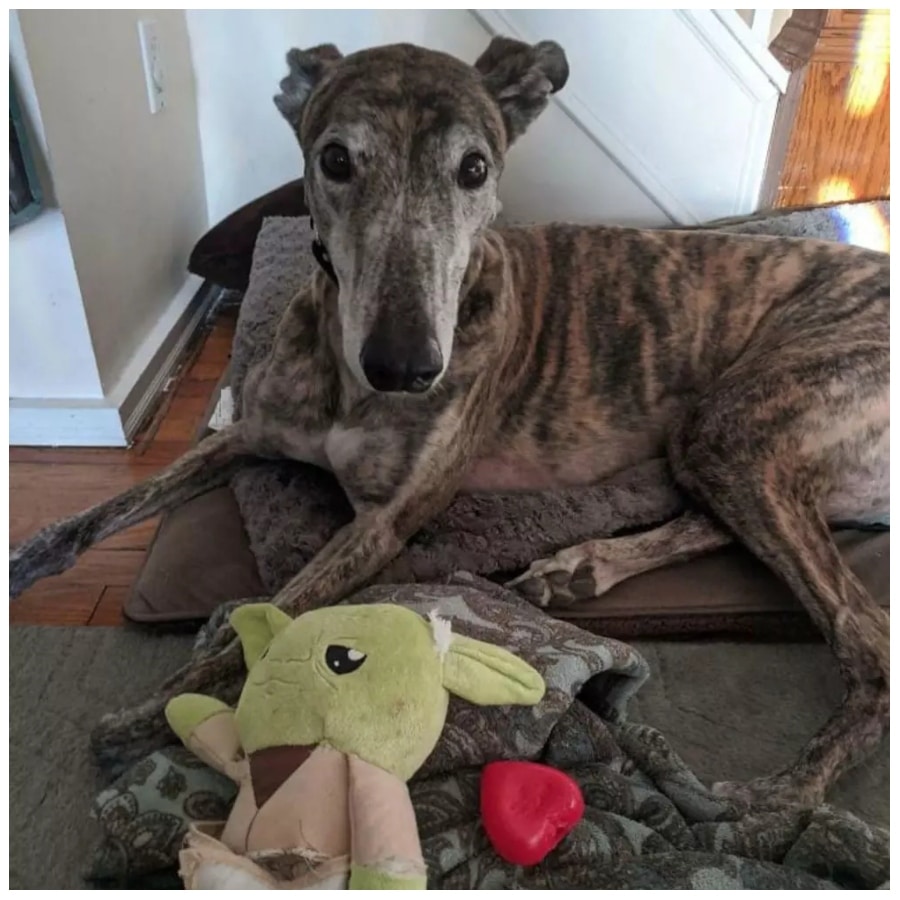 Maybe it's wishful thinking, maybe it's a thought-out marketing strategy, who knows! But we can be sure of one thing, the person who took this picture had a good laugh about it.
Fossilized Oak
From the outside, this simple white Oak tree trunk looks absolutely normal: brown and textured. But once you turn it around you can see that its insides are made out of solid rock!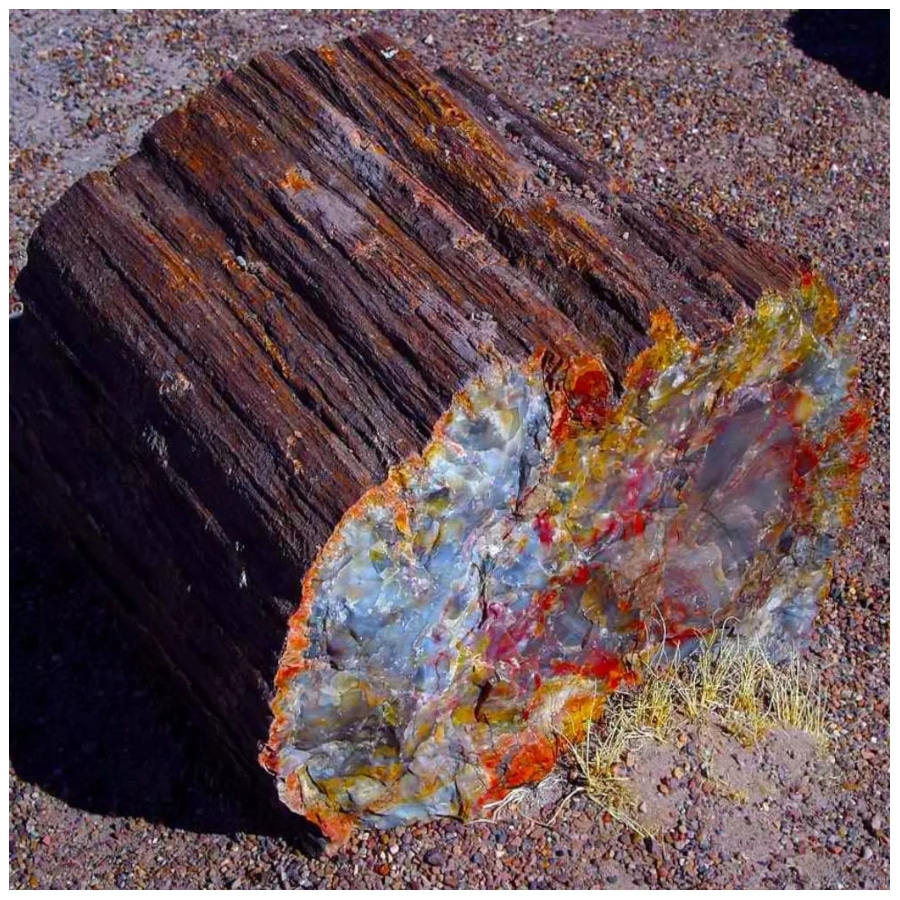 This is because the wood fossilized over thousands of years underground and due to complicated chemical processes, the organic cells of the wood turned into crystal structures. Inside this normal looking white Oak tree trunk hides a plethora of beautiful multicolored crystals.
The Lucky One Within
Are you a board game person? We've all turned to board games on a rainy afternoon to pass the time with our family. There are usually dice involved that will let you how many steps you have to take to move forward in the race.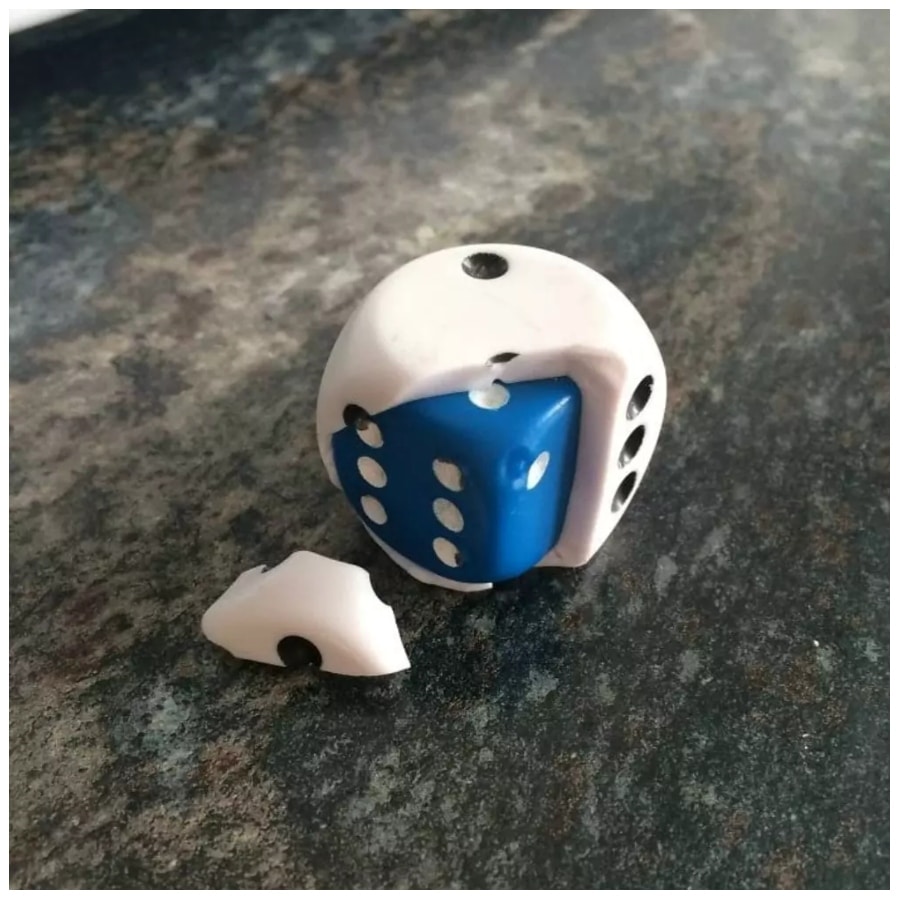 These players must have been shocked to find out that inside this big dice was a smaller one! At least they can take it out and keep playing without interruptions.
Does This Cost Extra?
Among seafood, oysters are considered a rare delicacy. They are quite expensive and need to be served fresh out of the ocean to appreciate their flavor. People usually treat themselves to fresh oysters on very special occasions.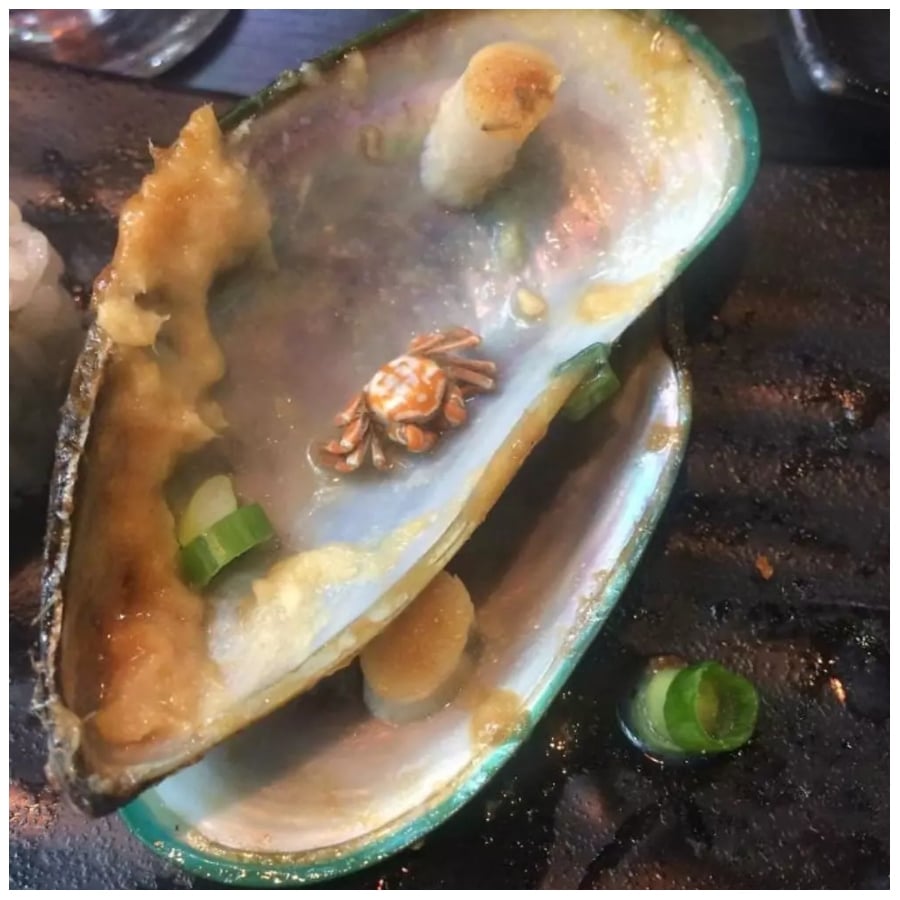 Here we can see an oyster crab, these are small soft-bodied crabs that live inside the oyster's gills and feed on the food that filters in. What a surprise to get two delicacies for the price of one.
An Egg Or Two
Breakfast is the most important meal of the day. It's recommended to start our day with a balanced meal containing fruits, plenty of fiber and protein. Eggs are an easy go-to food to add up healthy protein.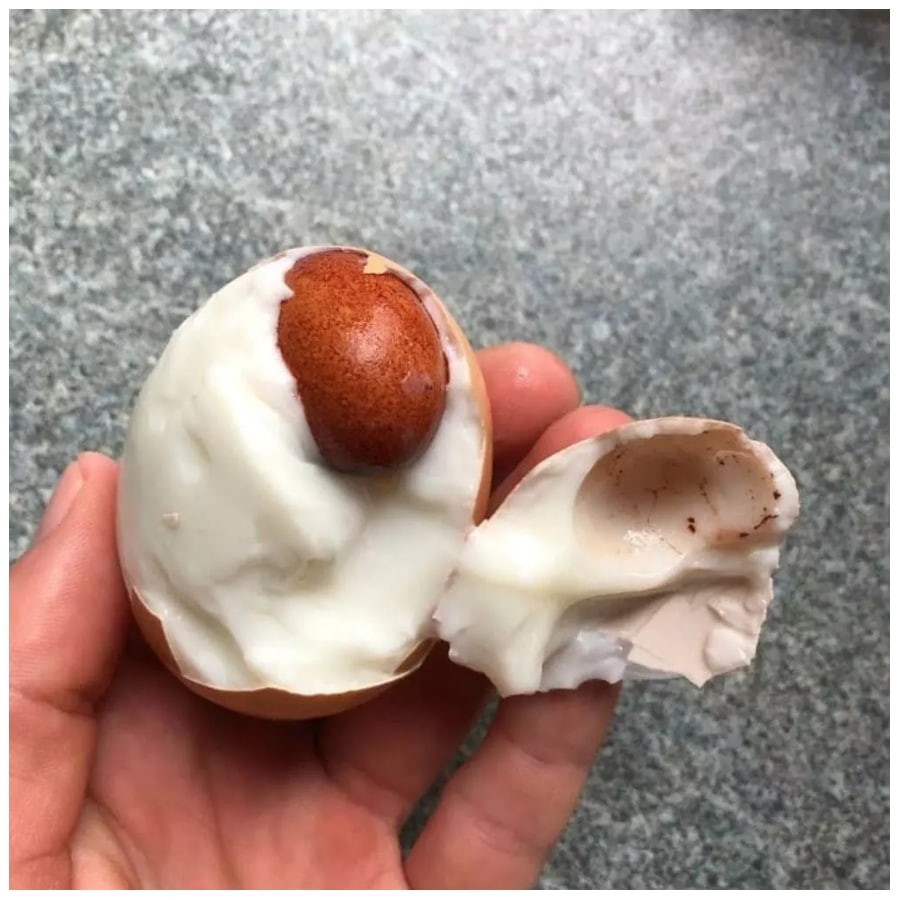 The person in this picture sure had a pleasant surprise when they cut into the cooked egg white only to find another smaller egg inside with the shell included! They got two eggs for the price of one.
Frog and Piggy
We will never know if this was intended by the artist or not, but the reality is that when this frog statue got smashed, the owners found a little pig statue inside of it.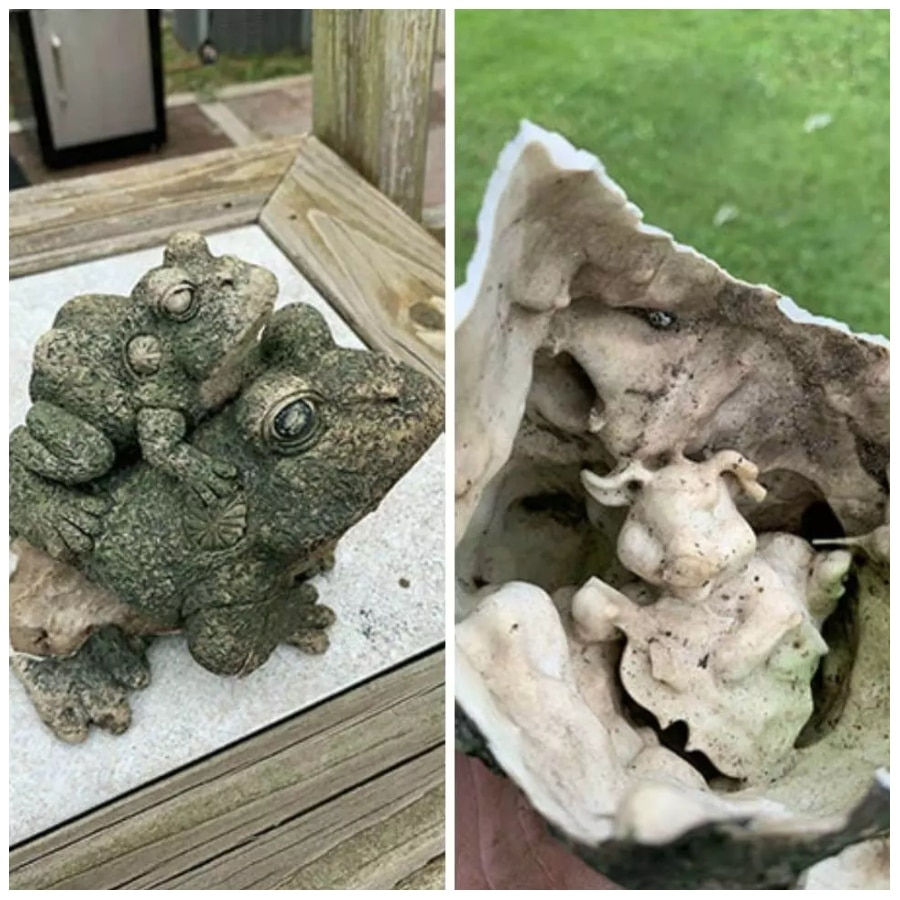 They now have the chance to either glue it back together or change the decorations to a pig theme and make use of this finding. It can become a DIY project to take the pig statue out and hand paint it.
Grape This Situation
Nature never ceases to amaze! This person went to take a bite of a simple grape only for another whole grape inside of it. Thankfully they managed to take a picture of this random revelation before it was too late.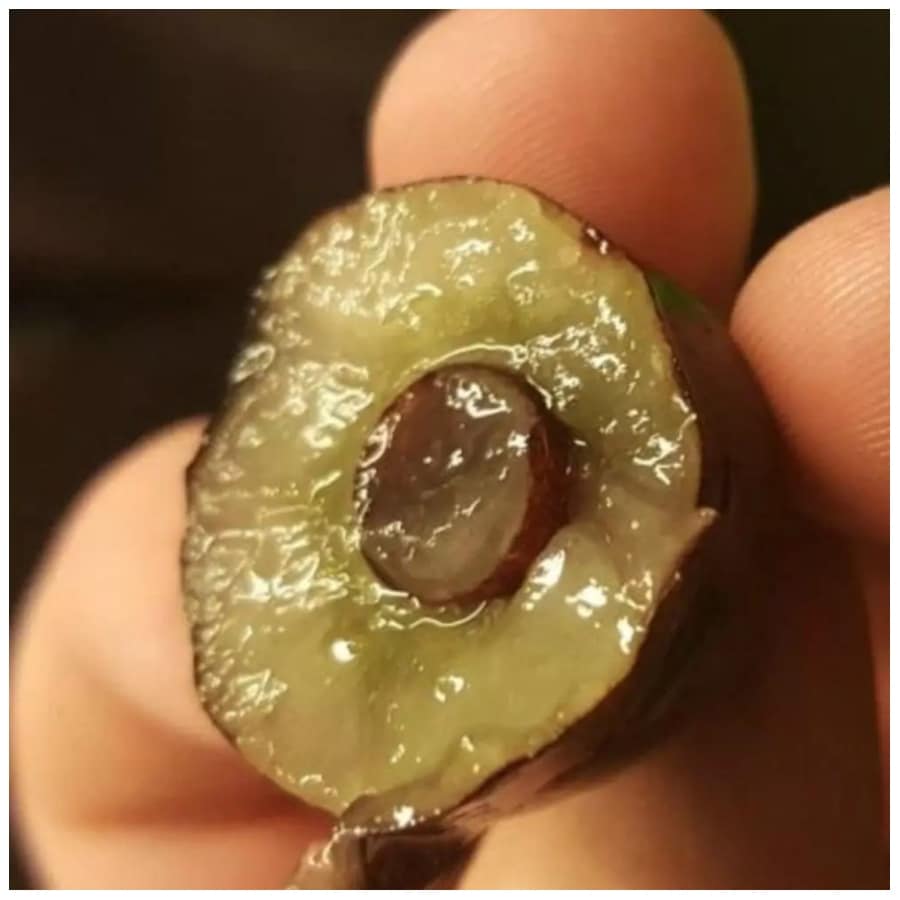 It's still unclear why, but this phenomenon seems to be much more common in nature than we thought from what we gather from this list. Luckily, people are starting to share these weird findings online.
Fashion Icon
If you were a kid in the 90s, then you must surely remember these popular slap wraps every child would wear on their wrists. They came in all possible colors and patterns that you could match to any outfit.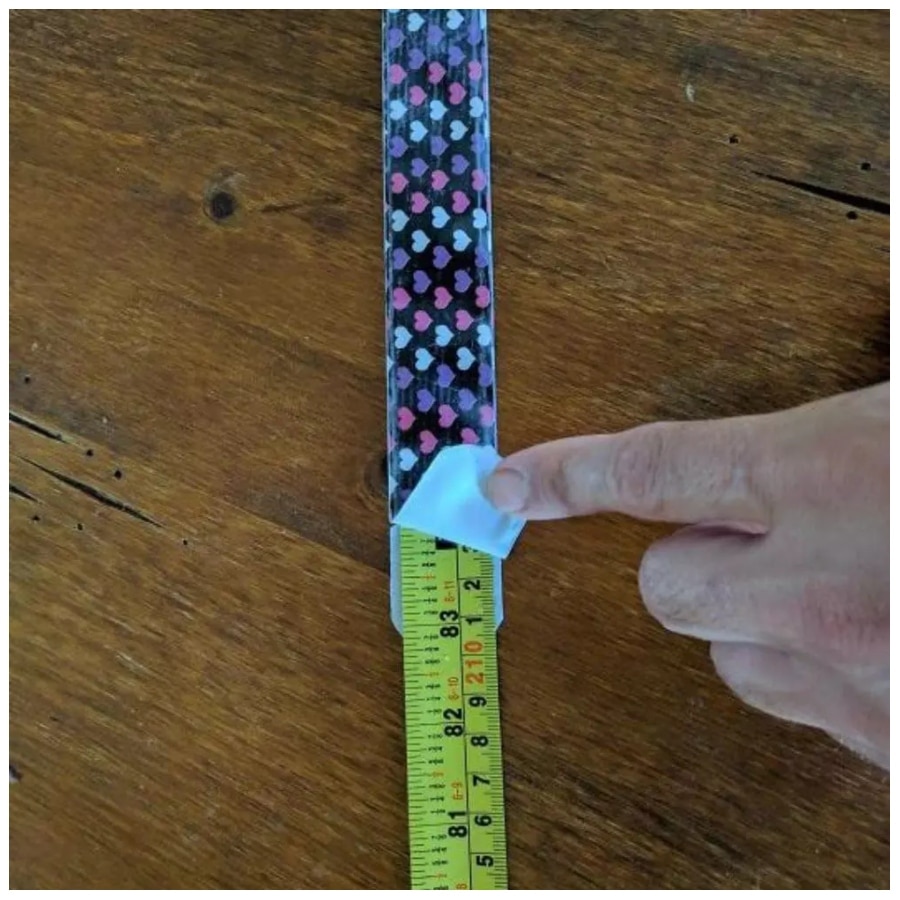 Who would have known that underneath the fun patterns it was only measuring tape? This could turn into a fun retro DIY to do with your friends; make slap wraps out of some old measuring tape!
Critters
Sometimes we are unlucky enough to find foreign objects in our food, such as hairs, little pieces of shells or even bugs.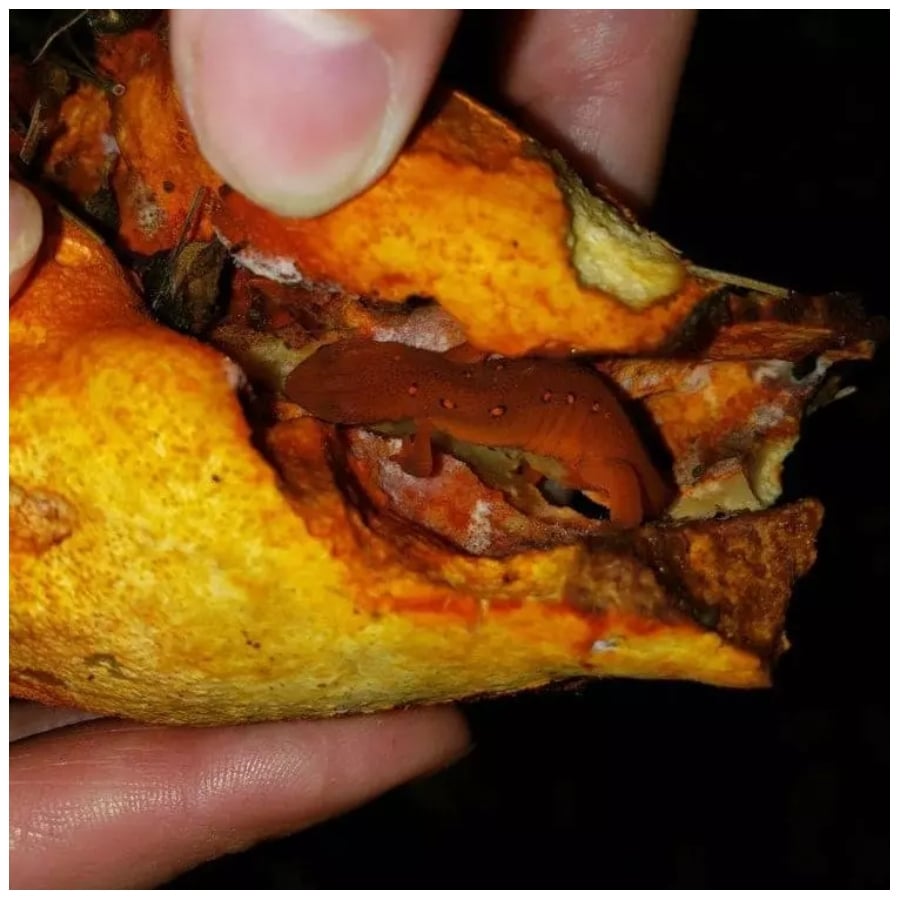 Imagine the shock of this person when they were about to take a huge bite of their sandwich and suddenly realized there was a small live critter on it. A very cute little critter, we might add!
Glue Or Not Glue
With today's globalization, we have access to a large variety of imported products to choose from. When we buy an imported item, we expect it to be what it says on the label.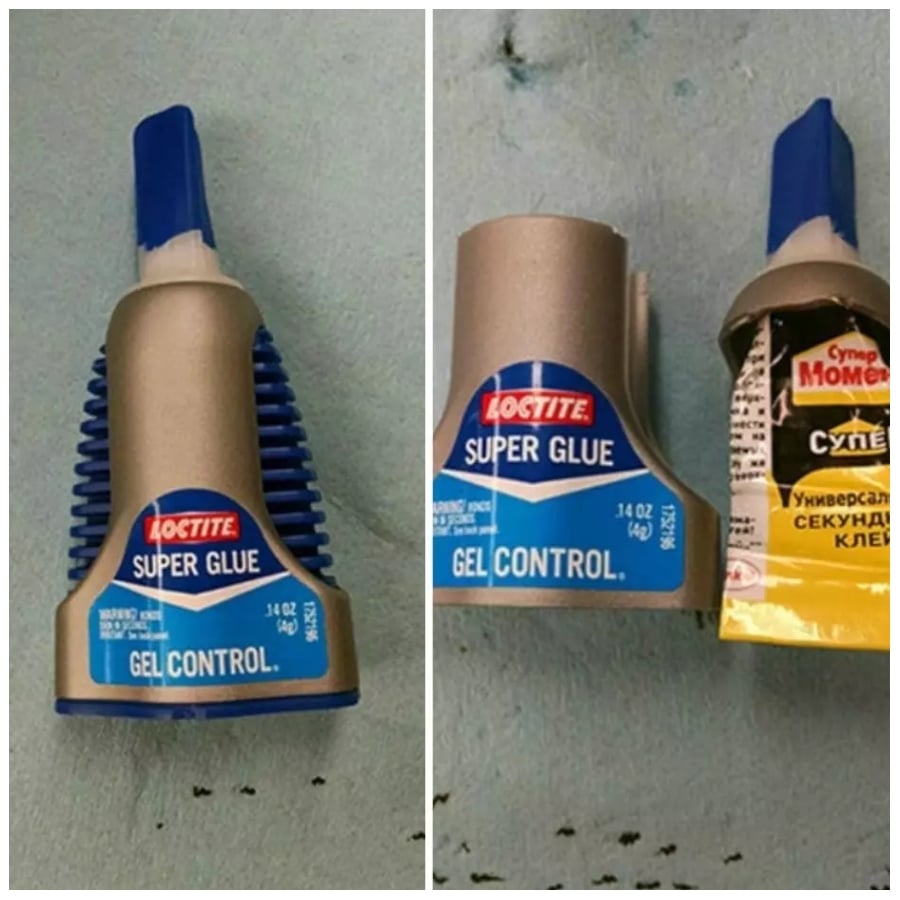 From what we can gather from this picture, this customer was scammed when they realized there was a tube of russian super glue inside their glue bottle.
Hey Queen
Chess is a game of pure strategy where you need to figure out defensive tactics to creatively outsmart your opponent and capture their queen to win the game. But as shown in this picture, something extraordinary happened.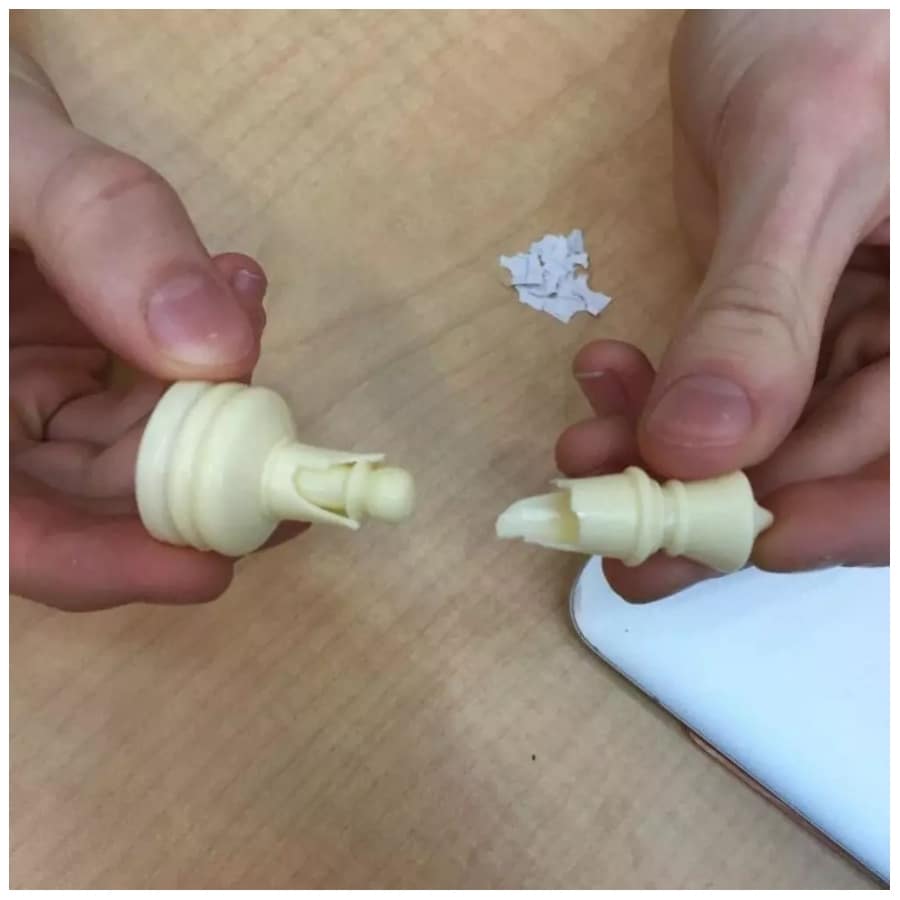 Inside the queen chess piece a small pawn was found. Does this mean now that the pawn is the new prince of chess?
A Fossilized Gem
This is a clear example of treasures that hide in plain sight! This fossilized shell was cut in two to reveal the layers of opal crystals inside. Unless you are trained to spot this special type of gem, these treasures will forever go unnoticed.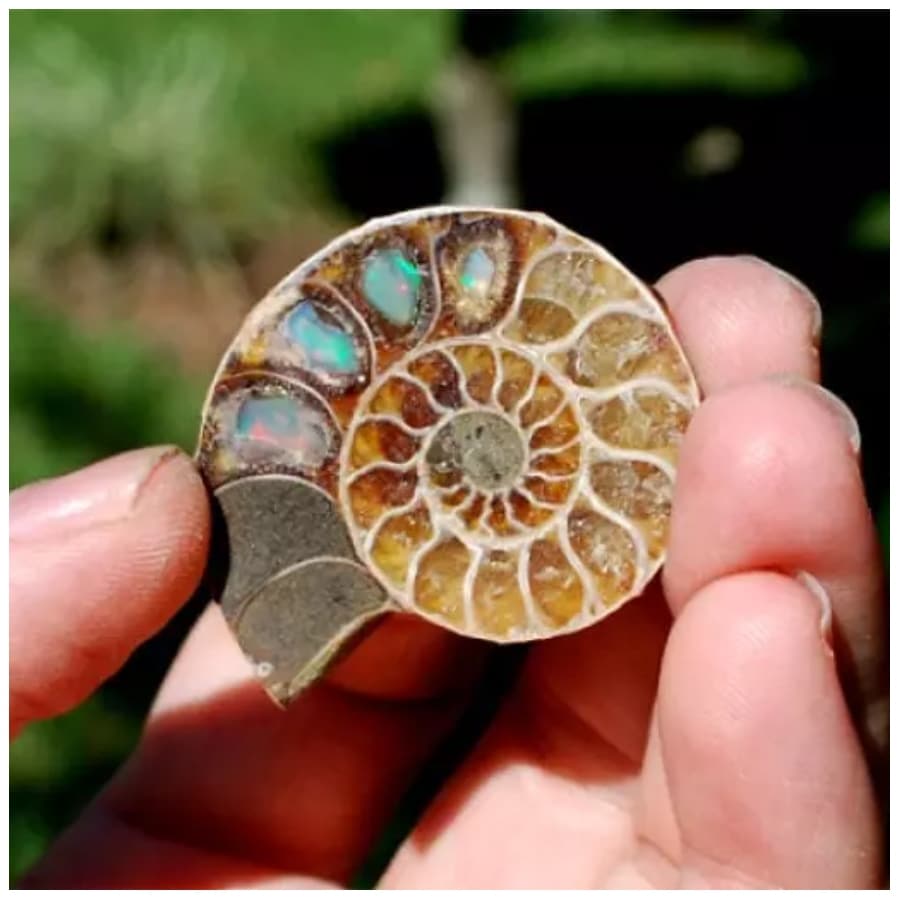 You can find these sought-after fossilized shells with opals for high prices in certain boutique jewelries.
Lucky Bowling Ball
A cool trivia fact is that bowling balls are nowadays made out of solid polyurethane, a type of hard plastic very heavy in weight.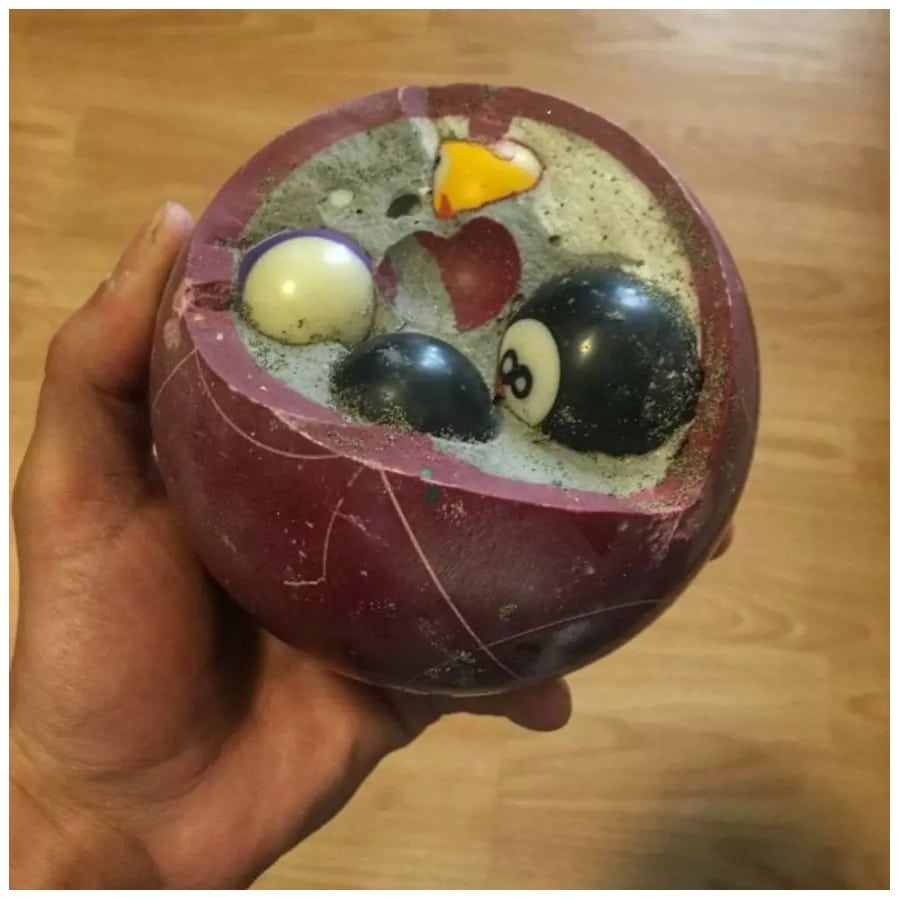 So, it's a true mystery how the bowling ball from the picture looks to be made out of a solid combination of pool balls and cement. Whatever the reason, at least they seem passionate about recycling!
Apples Don't Fall Far From Their Tree
This person cut into an apple and noticed a miracle in the making. They found seeds with sprouts at the apple's core ready to be planted on the ground. However, big things have small beginnings.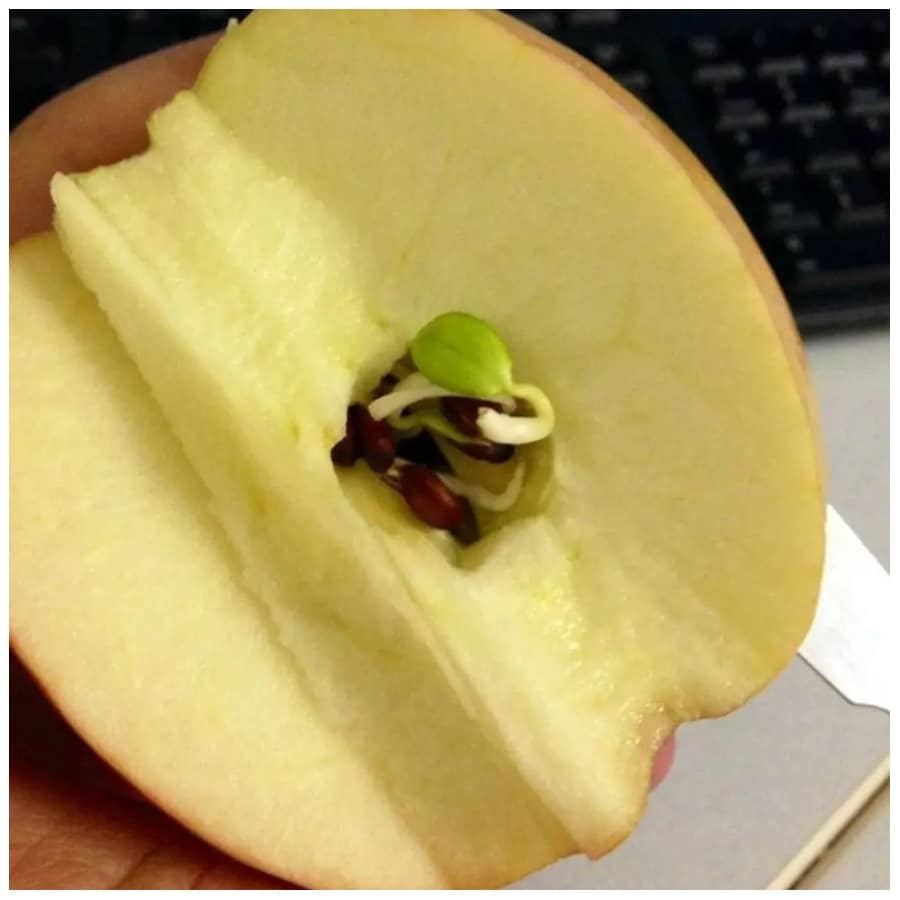 Hopefully this person went ahead and carefully planted them in their garden, although they won't be seeing any apples for many years to come.
An Extra Layer
Nature has done it again! This time it's an onion within an onion. The person in the picture sliced an onion and discovered a little baby onion inside.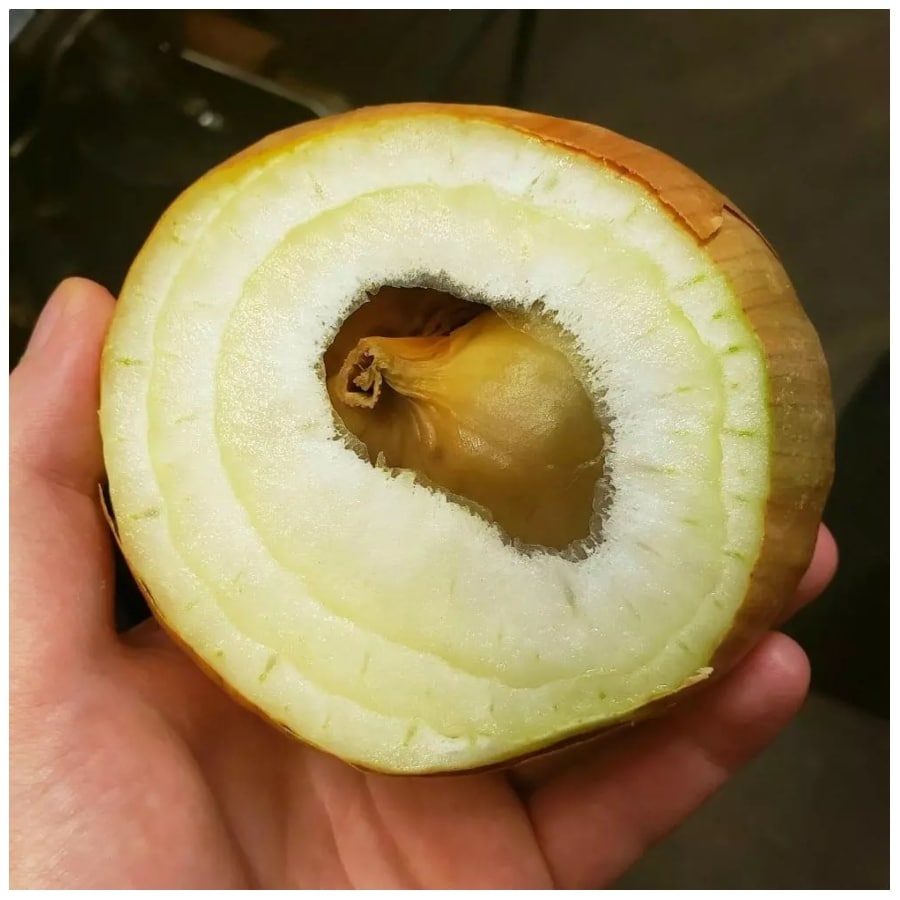 A possible explanation for this phenomenon is that as a flowering plant, the onion's white layers should be thought of as leaves. These leaves sometimes "develop into whole shoots," meaning another onion.
Christmas Decorations
Christmas has the best decorations from all the holidays, some of them can be quite fragile like figurines and ornaments. We need to be extra careful while handling them so we don't accidentally break them.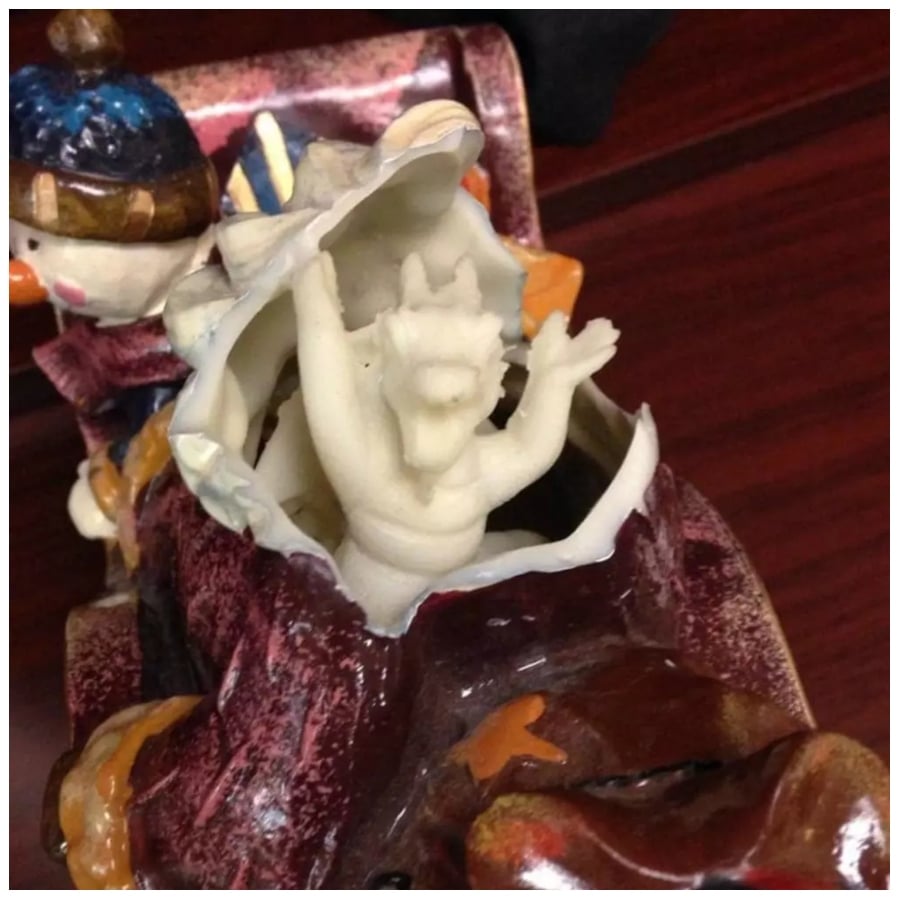 But when this snowman statue broke into pieces, a new figurine of what seems to be a creepy horned creature was found inside of it.
Optical illusion?
What is it you see in this photograph? If you thought of an onion, let us shock you and let you know that it's not an onion, but a single massive clove of garlic. Anyone could be easily confused by this bizarre image though.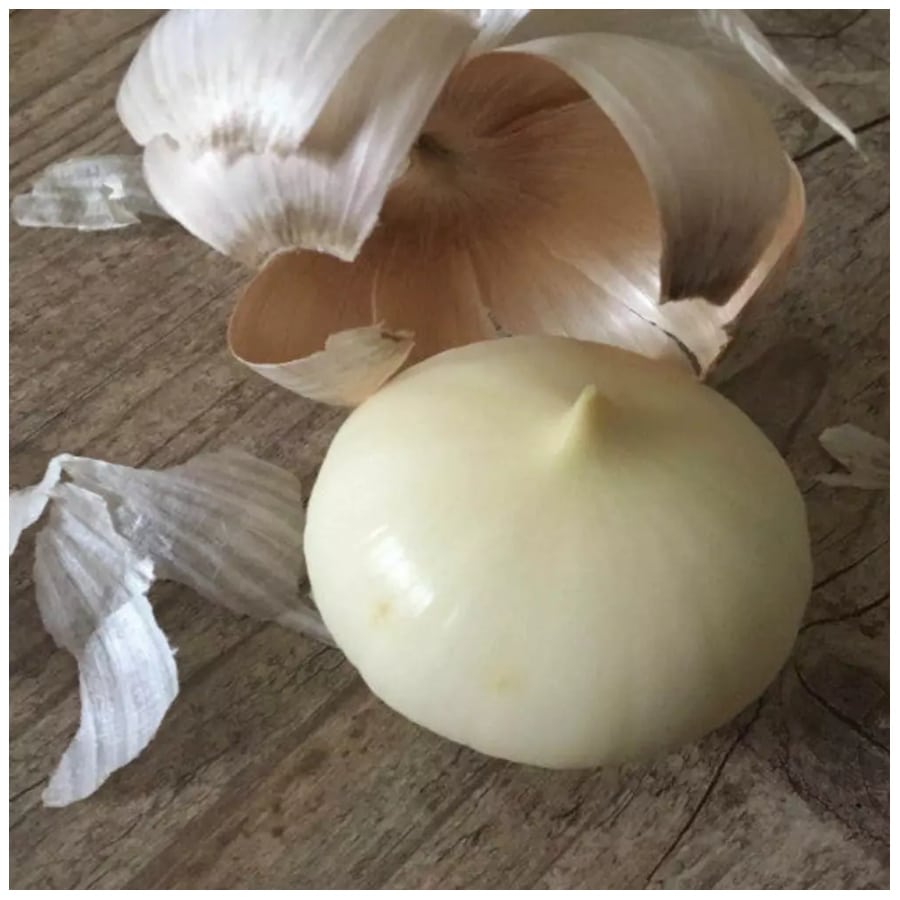 Apparently this garlic did not develop separate cloves and remained a compact mass of garlic flesh.
To Good To Be True
Second-hand shopping can be both fun and affordable, people always seem to find hidden gems for cheap prices in charity shops. and thrift stores. But be aware that you can also be scammed like the person in the picture.
They bought a fairly priced study table only to find out at home that it was made out of corrugated cardboard!
The Mummy
Back in the 1900s, researchers made an incredible discovery on a thousand-year-old Buddha statue. As part of the restoration process, an x-ray of the statue was taken to analyze its structure. To their surprise, they found a mummy tucked inside of it.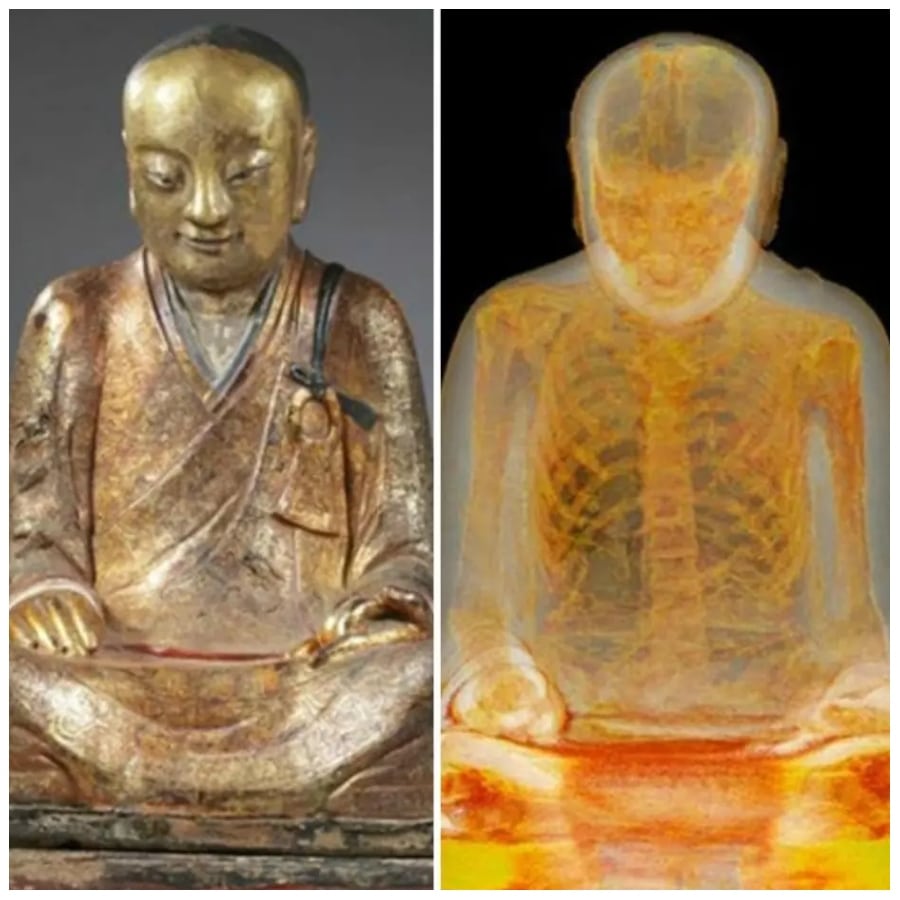 They were not expecting to find such a thing at all. To this day, the mummy remains safely inside the Buddha statue since they fear it would disintegrate if they took it out. Color psychology is the study on how colors affect perceptions and behaviors and impact consumers' impressions of a brand when applied to marketing.
Nat Geo
The beach can sometimes be the best and most interactive geological museum out there! This family was taking a stroll on a beach in Wisconsin when they bumped into this cracked stone with a fossilized shell inside of it.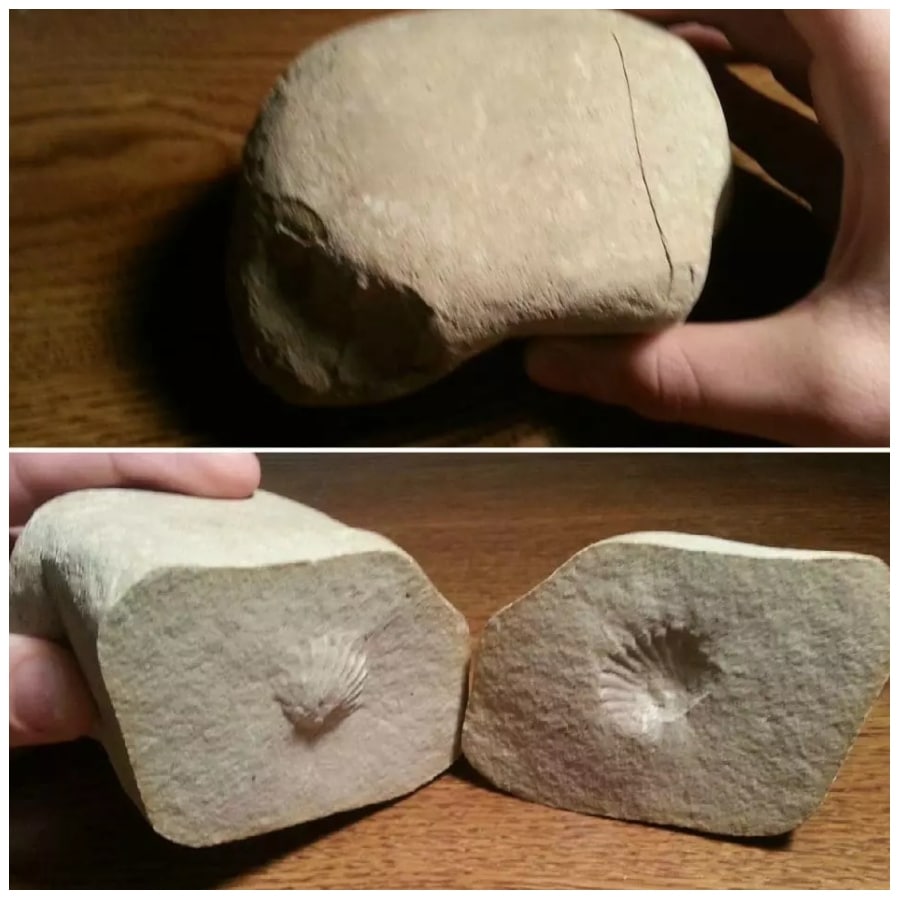 It took thousands of years for this shell to turn into solid rock and it was casually discovered by pure chance.
The Toy Within
It appears that chew toy companies really want to give their customers their money's worth. They know that once you give your dog a plushie to chew and play with, it's only a matter of days before it's completely gone.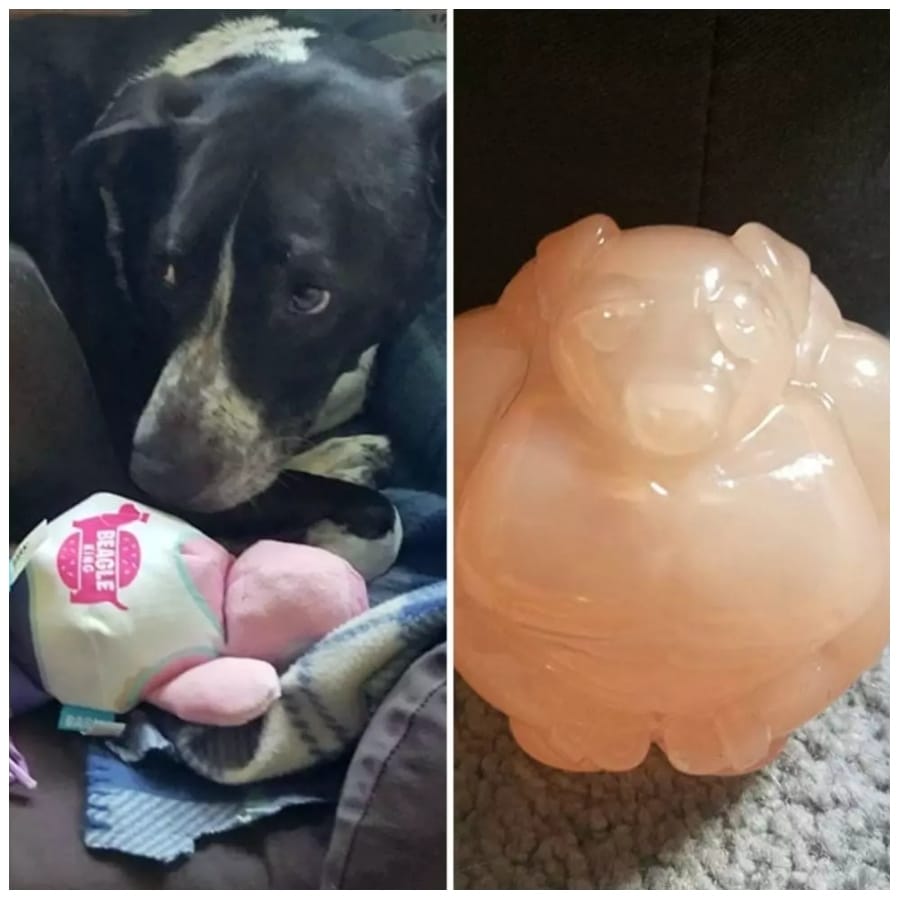 We can only hope for the durability of this rubber pig to be long enough for him to get tired.