It's not often that Hollywood power couples manage to remain faithful throughout years in the pubic eye. Yet Goldie Hawn and Kurt Russell have defied the odds. The couple's love story, spans decades, so fans were surprised when they made this announcement…
Long Lasting Love?
Though the couple have seemingly been in love since they first began their romance in 1983, a recent announcement may suggest otherwise. The announcement came as a surprise to their millions of fans as well as their own children.
Is Monogamy Outdated?
Goldie Hawn has long admitted that making a marriage last, takes work. In an interview with People Magazine, the award-winning actress stated, "Monogamy is a very tough order. You're in the prime of your life; you are attracted to other people, potentially, you have fantasies about that." The statement left many wondering if the couple had indeed managed to remain faithful throughout the many years of their marriage.
Was This The Beginning Of The End?
Recently Goldie spoke out about her relationship, revealing, "At the beginning, you want to see each other all the time". The couple allegedly bought a new home and began to live separately, leading many to speculate that their partnership was anything but happy.
How Did It Start?
The two stars were first introduced on the set of The One and Only, Genuine, Original Family Band, way back in year of 1968. For Russell, the handsome actor's professional relationship with the blonde bombshell, would soon take an interesting turn…
Age Matters
Sparks flew between the costars but their brief romance would not last long. Goldie stated, "I thought he was adorable, but he was much too young," in an interview with the BBC. At the time of their initial meeting, Goldie had just turned 21, but Kurt was just 16 years old. At that point in their lives as their careers were beginning to thrive, the age gap proved to be too much to take on.
Breakout Star
Kurt and Goldie left the movie behind and moved on to establish their budding film careers. Only a year after The One and Only, Genuine, Original Family Band, Hawn received an Academy Award for her role as Supporting Actress in the feature film, Cactus Flower. Her career quickly skyrocket as she became a sought-after breakout starlet. Audiences were enamored by her charisma, sex appeal and good looks. She earned another Oscar nomination for her role in Private Benjamin. Young Goldie seemed to be unstoppable.
A Honky Tonk Woman
Goldie was the bonafide it-girl of the 1970's. She hosted two memorable television specials, Pure Goldie in 1971 and The Goldie Hawn Special in 1978. She even went on to sign a record deal with Warner Brothers. She recorded her very own debut album, with renowned country legends Dolly Parton and Buck Owens making notable cameos on the album. It seemed, there was nothing the blue-eyed blonde couldn't do.
The Action Hero
For young Russell, success didn't come quite as easily. He received small roles in television and film. He eventually gained recognition when he received an Emmy nomination for the made-for-TV movie Elvis, in which he played the lead role. His career reached new heights after the nomination, he went on to play anti-hero Snake Plissken in John Carpenter's dystopian film Escape From New York and its sequel Escape from Los Angeles.
Walt Disney's Premonition
Few people know of the actor's surprising involvement in a Hollywood mystery. Before Walt Disney's death in 1966, the last written words of the media giant were found, he left a small scrawled note which read "Kurt Russell." Long before he met Goldie, Russell was a child actor for Walt Disney Studios. Many rumors have since swirled about what the strange note could have meant…
Baseball Or Acting
Kurt Russell once had big dreams of becoming a professional baseball player before he made his Hollywood debut. He followed in his father's footsteps and joined the minor leagues. He played second base in the California Angels' farm system, rising to class AA in 1973. He seemed set for stardom on the pitch but a torn rotator cuff would lead to the unforeseen end of his sporting career. After his injury, he decided to return to acting.
Two Separate Lives
With their professional lives veering in different directions, their personal lives also diverged. In 1969, Hawn married dancer Gus Trikonis, but the high profile marriage would only last seven years. Not long after her divorce, Hawn remarried musician Bill Hudson of the Hudson Brothers. The couple had two children together, Oliver and Kate Hudson. Russell also found other loves The actor married Season Hubley, his on screen wife while filming Elvis, and the couple went on to have a son, Boston.
Matrimony No More
Kurt and Hubley stayed together for four years but would divorce in 1983. Hawn became engaged to Hudson while she was still married to, but separated from, Trikonis. Sadly, the beauty's second marriage would also meet a bitter end when she filed for divorce in 1980. So what would become of the two gorgeous, single stars? Their paths would soon cross once more.
Fate Brings Them Together
As fate would have it, in 1983, at an audition for the upcoming film Swing Shift, Goldie and Kurt would come face to face, once again. Time had passed but the spectacular chemistry between the two actors still lingered. The usually confident actor was speechless when confronted once again with Goldie's beauty. As a guest on Conan O'Brian's talk show, Russell admitted his opening pick up line was "Man, you've got a great figure."
A First Date To Remember
Despite the actor's weak attempt at a pick up line, the two rekindled their steamy romance. Their first date proved to be particularly memorable. After dinner, a movie and a few hours dancing at a nearby club, the pair went back to Hawn's new house. After discovering that Hawn had lost her key, the mischievous couple broke into the mansion. As their relations became a little more heated, police made their way into the home after receiving a frantic call from a neighbor.
A Family United
After three blissful years together, Hawn fell pregnant. Wyatt Russell was born on July 10, 1986. They would become loving step parents to each other previous kids. The lovely Kate Hudson looks to Kurt as a role model and beloved father figure in her life. Hudson would follow in her mother's footsteps to became a talented Hollywood darling.
Like Mother Like Daughter
Kate inherited her mother's easy charm and gorgeous good looks. She has starred in several blockbuster romantic comedies, has authored two books and mothered two beautiful children In 2000, her career would take on new gravitas when she landed a now iconic lead role.
Breakthrough Role
As a young and blossoming actress, Kate wanted to establish herself in her own right and distanced herself from her famous parents. In 2000, Kate landed the role of Penny Lane in Cameron Crowe's award-winning film, Almost Famous. Kate earned an Academy Award nomination for Best Supporting Actress for her nuanced performance as the fragile and beautiful groupie of the fictional band Stillwater.
Kate And Kurt
For many children, accepting step parents can be a difficult life change, but young Kate embraced her new father figure. She has been quoted stating that she actually regards Kurt as her biological father. She has had a tense and estranged relationship with her father, Bill Hudson. Kurt raised Kate from when she was just 18 months old, so the two have an extremely close and loving bond.
Kate And Oliver's Relationship With Bill
Kate also has a brother, Oliver Hudson. The siblings have been open about their struggles with their biological father. They have repeatedly reached out to Bill, but with no success. Kate and Oliver found refuge in their relationship with loving and protective Russel. Like his sister, handsome Oliver is also an actor.
The Absent Father Speaks
In 2015, Oliver publicly took to Instagram to post an open critique of his father, Bill on father's day. His caption read "Happy abandonment day." Bill Hudson spoke out to The Daily Mail in response to the post. He claims that Goldie "poisoned" his children against him. After his divorce, he attempted to stay close to the kids, but Goldie began to pull them away when Kurt reentered her life. After years of estrangement, Bill stated that Oliver's hurtful post was "the last straw. "
Bill's harsh words for Goldie
When Kate Hudson had a public and bitter split from her long time partner, Matt Bellamy, Bill Hudson clearly made a dig about both his ex-wife and his daughter, claiming that Kate followed in her mother's footsteps. He was quoted, saying, "She has a wandering eye, just like her mother."
Kate And Goldie's Relationship
Goldie and Kate are very close relationship. Kate attributes her success to her mother, who she has said set a strong example for her from an early age. Kate has said that everything valuable in life that she was taught has come from Goldie. This mother and daughter duo are often photographed enjoying their time together.
Wyatt Is A Budding Star
Kurt and Goldie's son Wyatt has also joined the acting world. He looks startlingly like a young Kurt Russell, and had starred in the ensemble cast of college party film, Everybody Wants Some! His parents gave him some straight forward advice on making it in Hollywood: "Be on time, know your lines, and be a nice guy."
Goldie As A Grandmother
Goldie and Kurt's relationship is still as strong as ever, and as their children have grown up, they have begun raising families of their own. Kate has two children, one with ex-husband Chris Robinson and another child with Matt Bellamy. Sadly, neither of Kate's marriages have been long lasting. Oliver Hudson also has three children.
Raising Families
Goldie raised her two kids Kate and Oliver as Jewish, but the entire Hawn-Russell family are said to practice Buddhism. Kate has commented that daily meditation calms her and has changed her life. Oliver also practices meditation and Buddhism. When he married his lovely wife Erin, the ceremony was officiated by a Buddhist monk.
Living And Working Together
The couple's red-hot chemistry was so strong in the film Swing Shift that audiences could simply not get enough. Their next film together, Overboard, was considered a success and made $27 million at the box office. Russell has since mentioned the possibility of appearing on screen together again.
Wedding Bells
Goldie and Kurt have been together for 34 years, but have publicly stated they will never marry. The devoted partners do not seem too interested in the traditional institution. Hawn once asked in an interview, "What is marriage going to do for us?" With the idea of marriage rejected, Goldie and Russell were recipients of another very special celebration.
Staying Together Sans Vows
The celebrity couple have stated that they do not need vows to stay strong and committed. In an interview with Vanity Fair, Goldie shared how not marrying has actually kept them together. She said that she would have been "long divorced" if they had. She believes that "there's something psychological about not being married because it gives you the freedom to make decisions one way or the other. For me, I chose to stay. Kurt chose to stay, and we like the choice."
A House Together Yet Divided
Goldie and Kurt are very respecting of each other's need for privacy. They designed his and hers quarters in their multimillion-dollar home. Goldie's section boasts floor-to-ceiling windows and sacred rooms for meditation and yoga. Kurt's man cave focuses on his interests such as hunting and sport.
Dynamic Duo
The dynamic duo was honored with a celebration to remember, on May 4, 2017. Hawn and Russell walked united hand in hand down a Hollywood Boulevard red carpet to celebrate the climatic success of their Hollywood careers. They received their much-deserved stars on the Hollywood Walk of Fame. Hawn and Russell had their stars placed next to each other symbolizing not only their successful careers but also their long lasting love for one another.
Guest List Of Honour
Plenty of famous faces joined in the momentous occasion. Big Little Lies star Reese Witherspoon and renowned director Quentin Tarantino were both in attendance. Russell has acted in two Tarantino films, Death Proof and most recently, The Hateful Eight. Radiant Kate Hudson honored her mother and stepfather with a moving and heartfelt speech.
Kate's Speech
Kate's speech brought her mother to tears, the actress's daughter also joked that "I always thought I'd be talking about them at like a wedding or something. But since a wedding doesn't seem to be in our near future, ever, this may be my only opportunity." Wedding or no wedding, this was an occasion of a lifetime.
Goldie's Wedding Sense Of Humour
As Hawn approached the podium to say a few words of her own, she responded to Kate's joke. She greeted the audience by saying, "Did we just get married?" Goldie thwarted any speculation of a future wedding by cheekily stating, "I'm not going to pop the question."
Her view on marriage
"Marriage is an interesting psychological thing," the stunning star recently opened up to the hosts of the British talk show, Loose Women. "If you need to feel bound to someone, then it's important to be married." But she went on to add that if you've got enough money and your own sense of independence, "there's something psychological about not being married. It gives you the freedom to make decisions one way or the other."
Forever in Love
The Oscar winner, said her long union with Russell works because both choose to be together. "For me, I chose to stay, Kurt chose to stay, and we like the choice," said Hawn. Heres to another 34 years!
It Was A Good Year
A week after the wonderful ceremony, Hawn's movie Snatched premiered. The movie marked her first film appearance in 15 years, co-starring comedian, Amy Schumer. As she spoke at the podium, Hawn recalled her humble start in the film world before becoming a popular working star.
A Good Year For Him Too
As well as receiving his Hollywood star, Russell's two most recent films, Guardians of the Galaxy Vol. 2 and Fate of the Furious were two of the biggest films of 2017, grossing over $2 billion combined at the box office. The loving couple wowed the crowds at the ceremony with an unanticipated kiss on the red carpet.
A Good Year For All
Their children have also recently experienced some wonderful professional success. Following the notable publication of her book, Pretty Happy: Healthy Ways to Love Your Body, Kate has also been filming the upcoming movie, Marshall, alongside, Chadwick Boseman. The film is due for release later on this year.
A Family Business
Kate and Oliver have gone into business together combing their passions for fitness and functional fashion. Kate announced that Oliver would join her fitness company, becoming head of the menswear range. The company was launched in 2015 and continues to grow in popularity and revenue.
Family Is Everything
The family is a true testament to the strength of the Russel and Hawn team. Goldie and Kurt have shown their children an example of everlasting love. It seems that love doesn't always have to lead you down the wedding aisle…
What Do The Kids Think?
Hawn and 65-year-old Russell once asked their kids about their relationship, about 10 years into their romance, they asked if they'd prefer mom and dad got hitched. "And they went, 'No!' " Hawn said. "They loved it. It was perfect the way it was."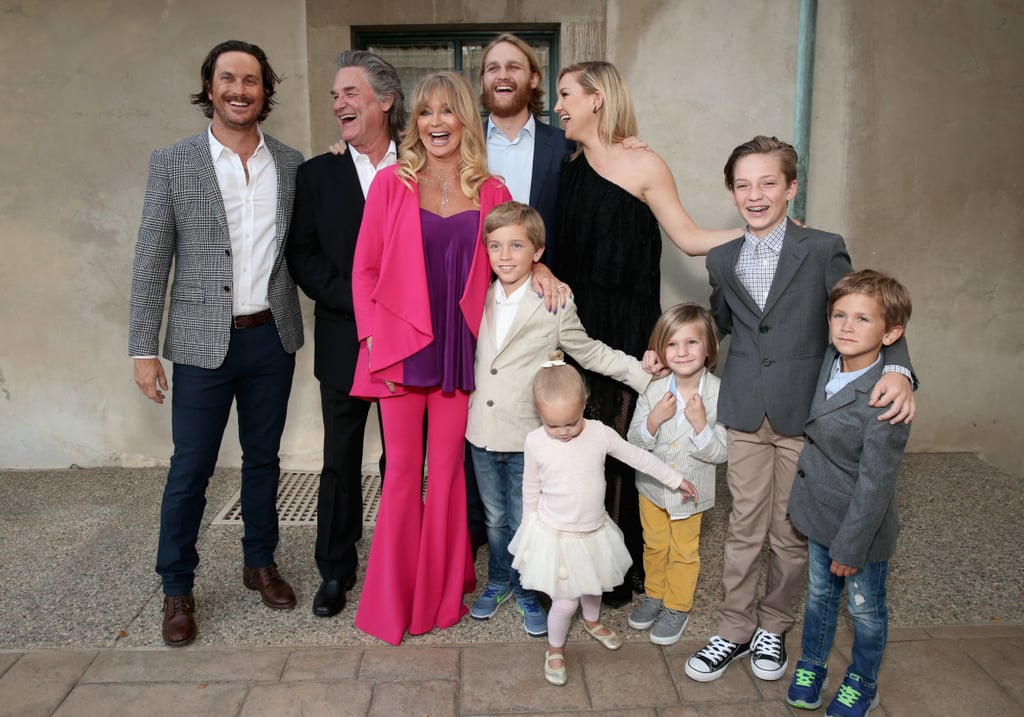 Everlasting Love
Their journey has not always been smooth sailing but the couple have managed to remain strong throughout the ups and downs that come with living a personal life in the public eye. They continue to prove that traditional avenues are not for everyone.
The Perfect Words
Russell stood on the podium and turned to his beautiful partner, simply stating, "To you, I owe my wonderful life. Simply put, Goldie, I cherish you. All of the stars in the sky or the boulevard don't hold a candle to that. There's no one else I'd rather be next to than Goldie Hawn."
Still Loved Today
After all this time, fans still cannot get enough of the dynamic duo. There are talks of producing a remake of their 1987 classic film, Overboard. While Russell and Hawn may never appear in a film together again, we can always continue to hope we will get to experience their electrifying onscreen chemistry again.
The Secret To Their Success
The Private Benjamin star revealed some intimate details about the couple's first night together, "It was so much fun. It was a great night. A night to remember. A very beautiful night. That was the beginning." Perhaps we should all take a leaf out of the fabulous couple's book.