It seems crazy that there are people out there who are genuinely so love-blind, that they would be willing to do almost anything to get their ex back. Well, one woman decided it was all too much, and she had to do everything she could. Unfortunately, she decided to do it at the most inappropriate time. Weddings are meant to be one of the most precious memories in a couple's relationship, although it seems these guys might need a do-over after this.
Ready to say 'I do'
One couple were ready to say the words to each other that would mean the rest of their lives, they had found a partner in each other, and wanted a future together. The two thought nothing could go wrong, and nothing was going to hold them back.
However, this couple would have something massive to overcome during their ceremony, something that would test their relationship to the maximum, and in front of all their loved ones.
Saying goodbye to the past
Not many people are lucky enough to find their lifelong partners the first time around, if at all, but these two had seen something in each other that made 'forever' seem more complete by doing it together.
By doing this, the two would be letting go of any past relationships and focusing on the person in front of them. However, sometimes those exes can't let go, to them, what you had was special, and there's no letting go. Maybe there was a reason it broke down, they could be looking at a way to right that wrong and makes everything okay.
She knew what she had to do
In the age of social media, it's not hard to find out what someone is up to these days. However, that's not always a good thing since this person discovered her ex was now engaged to someone else and found out their wedding was going to be soon.
She realized she was running out of time if she was going to get him back, and decided to plan something shocking that would surely make him double-take, there was no way he could refuse her with what she had planned. She was going to win him back on his special day.
Nothing was holding them back
Neither the bride nor the groom had any idea what this ex was even thinking, they were too caught up, as any couple would be, with preparing for their wedding. This was huge for both of them, but it felt right.
Everything had gone perfectly up until this point, and it was turning out to be a dream for both of them. After all the bustles and bows had been fitted and placed, the groom's flower pinned, and the morning passed, it was time for the couple to meet each other where they would pledge themselves to each other. Only, the tidings were not going to be happy.
They finally said 'I do'
It was that very special moment, the one no one ever forgets where they utter the words that make them 'Mr and Mrs.' Everyone was watching, some people even had tears streaming down their faces, as they uttered the binding words.
However, before they could seal it with a kiss, someone came bounding onto the stage, ready to stop the wedding even after it was too late. The couple looked around and saw his ex stood on the stage, eyes wide and ready, but the most shocking part was what she was wearing. Their stomach dropped as they realized what was happening, the crowd was silent, and tension filled the air.
She was in a wedding dress
Did you think this kind of thing only happened in movies? Not quite. This woman may have got her inspiration from a Hollywood movie, but she was the real deal.
This woman was dressed head to toe, ready to be married, it was as if she was legitimately hoping she could take the bride's place after winning her ex over by looking ready to be his wife. She must have spent a fortune only to ruin someone's special day.
No one knew what she was going to do
This woman was clearly unpredictable. She had turned up to someone else's wedding dressed as a bride, and the guests knew that things were going to get dramatic. The only problem is, what do you do in that situation?
Everyone did what most people would do, and that was waiting to see what happened. Of course, that proved to be a pretty lousy move once the woman got on stage and tried to win the groom over.
It was a desperate attempt
The real bride and groom were trying to feel happy about what had just happened; instead, they were faced with a second bride and a massive problem. Safe to say, the bride was not pleased.
The ex made her move, grabbing on to the groom's arm as hard as she could to try and pull him toward her. Her way of getting him back was by frantically leaning backward, hoping he would submit and follow her. He was still hand in hand with his new wife.
Caught in the middle
The bride was somewhere between shock, fury, and sadness that this was happening on her wedding day; probably the one day you can't afford to do-over. She stood there, watching as another woman clutched onto her husband.
The groom was on stage, between his new wife and his ex-girlfriend, embarrassed, enraged, and dumbfounded, what was he supposed to do with this woman who had grabbed on to him? He was visibly working out what he should do without hurting anyone.
Get off
This groom had finally clocked on to what was happening, and decided enough was enough; he wasn't going to tolerate his ex gatecrashing his wedding day, making a fool of all of them, and manhandling him into her arms.
He made it clear where his heart lies, pulling his arm out of hers with a robust and firm pull, removing himself from her grasp. She was tenacious, stretching her arms out in front of her to signal him to come back.
They had a play-by-play MC
Aside from the guests, the MC was also in an incredibly awkward position. He was supposed to be commentating on the wedding, not the fiasco in front of him; but he was going to do his best no matter what.
He attempted to lighten the mood by claiming that everyone was witnessing a 'truly unexpected occurrence' before giving his insight on his this might be part of reality when it comes to love. That's nice, but no.
On the floor, broken and confused
While it's not fair to walk in and destroy a couple's happy day, the ex was clearly broken and hadn't overcome her emotions from the break-up. Something inside her genuinely believed they had something special and she could win him back.
The groom looked toward his wife, holding her hand in his and stroking her hair, while the ex sat on the floor, bewildered and scratching her head, deliberating, and the guests looked on with horror and confusion.
She wasn't done
Most people would have given up by now, well, most people would be at home watching romance movies and eating ice cream; but this woman wasn't giving up after coming all this way to get the love of her life back.
She tried again, but she couldn't reach his arm, so she reached for the back of his jacket, pulling him back. He had already got her off once, but she was pulling him again with no intention to relent.
He needed her to stop
The ex was making it difficult on everyone, she was now latching on to his suit jacket, while he was trying to console and be with his wife. It just wasn't fair. He didn't want to be forceful or hurt her, but he also didn't want her hanging off of him.
He pulled forward, which caused her to fall over, however, if she had let go, she wouldn't have fallen and would have remained upright. She kept clinging on; it was getting ridiculous.
The bride needed to get out of there
This bride had a lot of patience, waiting just after her wedding ceremony while her husband's ex kept clinging on to him, shouting words like 'it was my fault' and so on. However, after a while, it all became too much.
No one was doing anything, and she certainly didn't want to stand up there being repeatedly humiliated. Rather than get involved, she removed herself from the situation, hopefully prompting people to deal with the other woman.
The groom could only do one thing
After his new wife had pulled her hand from his, giving up hope on finishing their wedding ceremony together, and fed up of waiting for this woman to leave, he knew what he had to do. At this point, he didn't care what happened to his ex, she had created this situation, and it wasn't fair.
He followed his wife without a moment to lose, making it very clear who he had chosen. Would the ex follow them, could she really face them privately?
The clean-up
It didn't matter what happened at this point since there was now a massive mess that everyone now had to clean up. This was supposed to be a beautiful day filled with peace and happiness, and instead, one woman chose to destroy this memory.
It doesn't matter how in love you are with someone, if they're getting married to someone else, then there's no excuse to burst in on their wedding day as this woman did. Not to mention, she was too late anyway.
Was she going to hijack it?
The question has been raised whether this woman was going to hijack the entire wedding, after all, she was dressed for the occasion. Did she think that her ex would choose her there and then, allowing them to be married in front of everyone?
It seems like a crazy idea, but then, she dressed as a bride and crashed her ex's wedding just after vows had been exchanged, so would it sound so strange to her?
She stayed there
It looks as if she chose not to follow the bride and groom; hopefully, this means she let it sink in that this was a terrible plan that had not worked. She remained on stage, looking devastated. It's hard to feel sorry for her after what she'd done.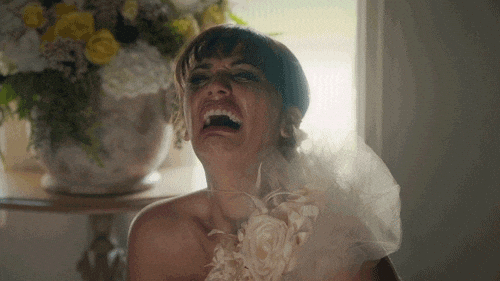 Finally, guests, family, and friends woke up from their fixed stupor to realize what was going on, and decided enough was enough, they needed to step in and help sort this day out.
The aftermath
This couple would sadly have to gather themselves and decide what was going to happen for the rest of the day, how did the ex discover where they were getting married, how did she know the time of the ceremony? Something wasn't right.
Would they decide to go back to the venue and try and finish their ceremony, would they go home and give up, or would they choose to make the most of their wedding reception?
Could something have been going on?
Could something have been going on behind the bride's back? This woman knew an awful lot about what was happening and how to get into the venue, how would she have this information if everything was over?
She could well have discovered that from another guest, or done some serious digging, but some people have wondered what would make this woman believe so thoroughly that this man really would choose her over his current fiancée? It's all rather strange.
She was too late
Most people know the words 'speak now or forever hold your peace' as an invitation to say why the bride or groom should not be wed. Most weddings experience nervous giggles at this point since it seems a strange thought these days.
However, this ex had made it late, she had turned up after vows had been exchanged and the couple was 'just married,' making it weird and awkward, not to mention a downright terrible thing to do.
The internet reacted
Of course, this went absolutely viral because people just couldn't believe what they were seeing. Most people felt sorry for the bride, upset that her wedding day had been taken over by another woman.
However, in between the range and the angst, people were also worried about the mental health of the ex on the stage, she had clearly struggled through some terrible emotions and didn't know how to deal with them. After all, you have no idea what might have happened between those two.